Branding & Bottles: A Creativity Experience for Solopreneurs
Description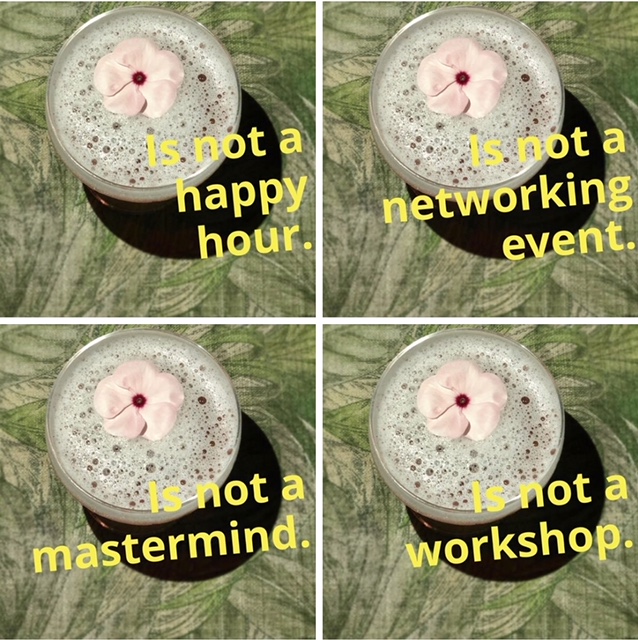 Is really a mix of all of them in one. We call it a creative experience.


Spend a Sunday afternoon with other local solopreneurs in colorful Jungle Bird @ La Placita del Mercado, while you get feedback for your biz ideas - and get inspired with new ones - while having some drinks.
"Branding & Bottles" is a different creative experience for entrepreneurs & independent professionals, who mostly work on their own from home.
The event will help you get in touch with how you see yourself, how people see you and how you want to be seen.....while you connect + collaborate with other creative entrepreneurs like you.

Think of it as a creativity mini-retreat for your biz....where you go to for a mental tune-up.
HOW IT WORKS?
Give your sales pitch some creative juice.
Throughout the 3-hour experiential style event, you will be self-guided through solo and social activities that will encourage you to think creatively about who you are, what you sell, and how you want to communicate it.
At the end of "Branding & Bottles", you'll know how to describe who you are & what you sell in a more memorable & authentic way.
Investment: $25
(Advance tickets only)
Available Food & Beverage for Purchase.
Full bar selection. Kitchen will open @ 4pm.
In order to maximize the experience, we encourage you to bring:
- notepad & pen
- printed promo materials of you or your business
- business cards
- openness & smile
And be ready to have a blast .
See you in the jungle!
Anllelic (MarketingParaTuCarrera.com), Dino (InfocusTribe.com) & Emir (PuertoRico-DJ.com)