Description
It's the dawn of a new decade - is your brand ready to make an impact?
On Saturday, February 22nd, join Upward Citizen and esteemed graphic designer Danielle Hunter for an all-inclusive session on the basics of branding. This workshop is perfect for small business owners, emerging entrepreneurs, and startups that want to take their visual identity to the next level.
The skills learned throughout this course can be applied to how you attract new clients and present your core products or services. You will walk away knowing how to refine your personal or business branding, communicate your design aesthetic with a relevant brand voice, and market yourself more seamlessly with a strategic social media plan.
At the close of the session, intellectual property attorney Jamie Sternberg will speak to the class about the importance conducting a trademark search prior to investing in a brand name, logo or slogan, the benefits of federal trademark registration, and the trademark registration process.
What's included:
Interactive Workbook

Personalized Feedback/Instruction

Group Exercises/Critiques

Catered Lunch

Unlimited Coffee, Tea & Filtered Water
What to bring:
Your laptop*

Examples of your current branding* (if you're looking for specific feedback)
* Not required
Agenda:
10:00am – 12:30pm
Lesson 1: Intro to Branding
Lesson 2: Creating Brand Guidelines
Lesson 3: Defining your Brand Voice
12:30pm – 1:00pm
Catered Lunch Break
Special Guest Jamie Sternberg presents Protecting Brand IP
1:00pm – 3:00pm
Lesson 4: Planning a Strategic Social Media Presence
Personalized Instruction/Feedback
Final Group Exercise/Critique
About the host:
Danielle Hunter has been working as a designer in the industry for over a decade, and also teaches Visual Design at Quinnipiac University. In 2018, she left her agency job in New York City to start her own design studio where she helps clients create clean and purposeful graphic design solutions. Danielle has experience working for companies like the Brooklyn Nets, Cape Cod Potato Chips, Macy's, and many small businesses across New England.

About Jamie Sternberg: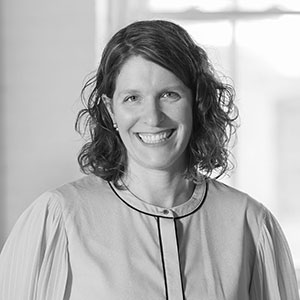 Jamie Sternberg is a trademark, copyright, and domain name attorney at Saunders & Silverstein LLP, a leading U.S. intellectual property law firm trusted by some of the most well-known brands in the world, including Hershey, Under Armour, The North Face, Vans, and American Eagle Outfitters. Jamie has been practicing in this field for more than 14 years. She advises her clients on the availability of trademarks, logos, and slogans for use and registration, assists clients with the federal trademark registration process, develops and implements brand protection and enforcement programs, and defends clients against claims of infringement.
About Upward:
In 2017, Upward transformed 34,000 square feet in Hartford's iconic "Stilts Building" into an intersection of innovation. From a humble coworking space to a thriving community hub, Upward Hartford is home to some of the world's most ambitious change-makers and entrepreneurs who come to connect, collaborate and create with fellow innovators. Upward embraces the shared workspace and coworking movement by bringing diverse groups of solopreneurs, startups, and corporates together in a communal setting.