BrandHack for Startups: A Day to Hack Your Marketing
When and where
Location
1111 Light St Baltimore, 21230
Description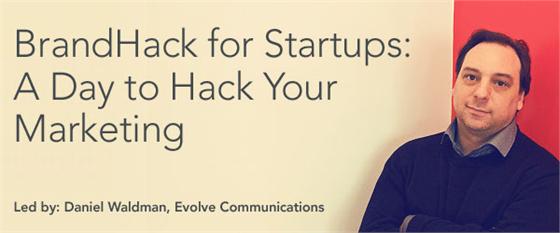 Saturday, January 19th from 9:30am - 3:00 pm
You might be used to hacking a product over the weekend, but here's your chance to hack your company's marketing!
Join us for BrandHack for Startups, a marketing bootcamp where you'll learn everything you need to build and promote your product and brand. From doing market research to build marketable products, to marketing strategy to PR and social media—and beyond—you'll learn the entire marketing process so you can promote your company like a rockstar.
All attendees will receive a FREE copy Marketing in the Round, by featured speaker Geoff Livingston.
Lunch provided by SmartLogic Solutions. Please bring your laptop or tablet.
Part 1: How to Hack Your Brand (10 am - 1 pm)

Marketing is a vast universe. Where does a startup begin?

Our team of speakers will guide you through the marketing process, giving you insights and action items to help you start putting together your marketing plan. You'll learn how to do market research to improve your product development, how to build a marketing strategy, what tools you need, and how to get people talking about your company and its products.
Featured Speakers:
Part 2: Build a Plan to Hack your Brand! (1 - 3 pm)

In the second half of the day, you'll get a chance to start working up your own marketing plan, while having a stable of industry marketing experts at your disposal to critique and guide your progress, bounce ideas around, and basically give you the push you need to get moving.

Got a plan already that needs some tweaking? No worries. Our experts are here to help!

Workshop Mentors:
Maisha Hoye (Twitter) has developed marketing programs for B2B and B2G organizations, some with limited budgets and resources, in very competitive and innovative marketplaces.
Jim Kucher
Kara Redman
Daniel Waldman
Daniel Wiznitzer (Evolve Communications)
Organized by: Daniel Waldman is an accomplished public relations and digital marketing specialist with more than ten years of experience working with organizations big and small to develop and execute their communications programs. He is the founder and president of Evolve Communications, a PR and marketing firm specializing in working with startups. (Twitter: @danieldubya)
REFUND POLICY: Please let us know at least 7 days before the scheduled event if you cannot make it by emailing us at registrar@betamore.com. No refunds will be issued within 7 days.