Description
Branded in Boston
Presented by Dirty Water Media
An exciting, engaging and exclusive event at Liberty Hall at Revere Hotel Boston Common that celebrates the best brands in Boston and beyond while putting Boston's Best Brander/Influencers in the spotlight for an evening of sipping, nibbling, exploring, experiencing, shopping, engaging & #NeverNotDancing!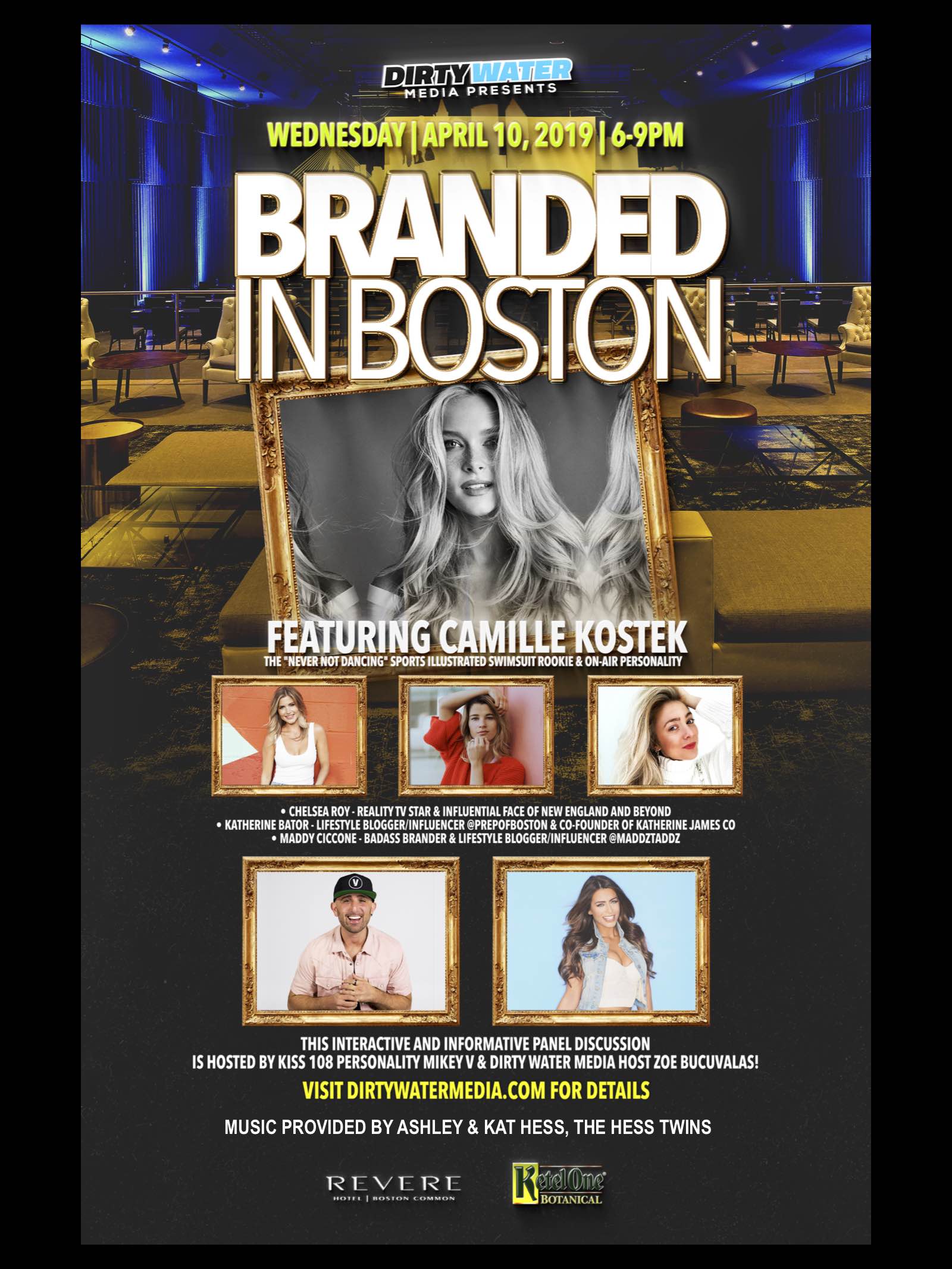 Your ticket to this exclusive event includes complimentary Ketel One Botanicals cocktails, passed hors d'oeuvres - including Mushroom Arancini, Chicken Empanada, Goat Cheese Stuffed Dates, Mini Cuban Sandwiches, Artichoke Fritters and Coconut Shrimp - and decadent displays that include Asian inspired gourmet bites, flatbread table, Mezza themed spread - and decadent desserts by SeaCoast Sweets. That pre-panel reception is followed by an informal and engaging VIP Branded in Boston panel and DJ entertainment by The Hess Twins.
KISS 108 Personality Mikey V and Dirty Water Media Host Zoe Bucuvalas host an informal, interactive and informative panel with Boston's Best Branders/Influencers who are making waves and leaving an impressive mark, including:
Camille Kostek - The "Never Not Dancing" Sports Illustrated Swimsuit Rookie & On-Air Personality
Chelsea Roy - Reality TV Star & Influential Face of New England and Beyond
Katherine Bator - Lifestyle Blogger/Influencer @PrepofBoston & Co-Founder of Katherine James Co
Maddy Ciccone - Badass Brander & Lifestyle Blogger/Influencer @MaddzTaddz
Natalie Negrotti - Latina Reality TV Personality, Influencer, Casting Redruiter & Philanthropist
Following the panel, it's time to mix, mingle and interact with Boston's most impressive brands as you jam to the DJ stylings of Ashley & Kat Hess, aka The Hess Twins. ***Tickets are limited!