BrandConnect: Toys R Us, Mobile Marketing "must knows" for Brands

Tuesday, July 16, 2013 from 6:00 PM to 9:00 PM (PDT)
Event Details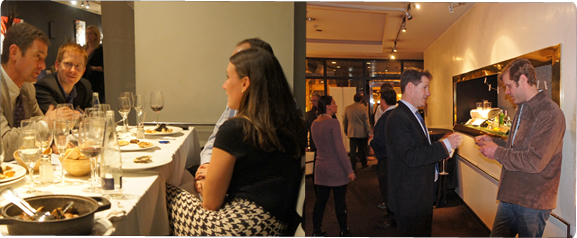 BrandConnect is a forum for brand marketers and the tech ecosystem to meet and exchange ideas, experiences, and just get to know one another. Each dinner is a hand chosen group of influential brand marketers and young technology companies. 

Our goal is to help facilitate the conversation between brands and tech to drive deeper discussions and relationships...all the while enjoying some good food and drinks.


"…Dots connected. Ideas were shared. Referrals were made. It ranks at the top of the list among networking events."

   – Peter Polson, CEO, Dashwire


July's topic: The Future of Mobile Innovation for Retail Marketing and more
Our guests, Retailigence, Venuelabs and Toys R Us will discuss how the mobile retail ecosystem is evolving and how retailers, brands and startups are working together to accelerate the process of innovation to introduce new technologies and services into the marketplace.
Whether you are a startup or a brand, you will learn how to bring new technologies to life within an organization; identify opportunities, overcome challenges and find champions for your ideas.

Speakers:

- Michael Scharff, SVP, New Ventures at Toys R Us
- Matthew Shevach, SVP Ad Solutions, Retailigence
- Neil Crist, Founder and CEO, Venuelabs
Note: venue capacity is 65 max, so please hurry and register today (the event will quickly sellout). 

REGISTER NOW
Mark & Cheryl and our co-hosts:



Retailigence:
"Retailigence is an Online to Offline marketing and commerce platform which utilizes direct
local inventory (15+ million product SKUs) to
leverage a hyperlocal path-to-purchase. Retailigence's
API
powers 1000+ registered app developers, while
our turnkey mobile ad solution, adPOP, utilizes location-based targeting to serve relevant product advertising and drive in-store sales."

Venuelabs

Venuelab's mission is to connect brands to their local customers, by transforming social media and location-based consumer content into actionable business insight.

"88% Of Local Consumer Feedback Missed By Brands"

- Forbes
Should you have any questions at all please email us at ccheng@brv.com or mark@brandgarage.co



 

 

Note: venue capacity is 65 max, so please hurry and register today (the event will quickly sellout).
 
If you would like to nominate others for future BrandConnect dinners, please let us know.  

These events are as good as the people who attend!
Hope to see you there!

Mark & Cheryl and our co-hosts:

 

 

 

 

 
When & Where

Thirsty Bear Restaurant
661 Howard Street
San Francisco, CA 94105


Tuesday, July 16, 2013 from 6:00 PM to 9:00 PM (PDT)
Add to my calendar
Organizer
BrandGarage is a platform for connecting startups and brands to drive innovation.
BrandGarage is a collaborative effort produced by Mark Evans and Cheryl Cheng and both the brand and tech communities across the US.

Mark is the founder and CEO of Converge Labs. Converge Labs, produces leading conferences at the intersection of mobile, location and social, including Mobile-Loco, Geo-Loco, and Social-Loco.

Cheryl is an Operating Partner at BlueRun Ventures.  She focuses on Marketing and Business Development across the BlueRun portfolio.  Prior to BRV, she was a Brand Manager at Clorox where she worked in new products and retail marketing.