Description
BRAND YOURSELF LIKE A CHAMPION
Authentic, disciplined, purposeful, accountable and self-aware individuals achieve the most success in life. Uncovering how each of us can capitalize on those traits can promote positive change.
CWEL invites students, athletes, faculty, staff, coaches, and aspiring entrepreneurs, from across Babson's community to join us for a productive morning of coffee, conversation, and connections with Pasha Cook, personal branding expert and author of Brand Yourself Like a Champion.
In this interactive session, you will learn to identify your individual value, style, and purpose, assess your personal strengths and to build and promote a brand designed for success, in business and life.
Continental breakfast will be served. All are welcome!
FEATURING PASHA COOK
1st Female College Ambassador for the NFL | International Speaker | 2x Author | Consultant for Minority Pro-Athletes and Entrepreneurs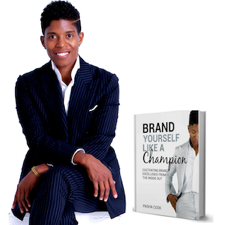 Pasha Cook is the founder of Pasha Cook & Associates, an International image and branding consulting agency that educates her clients on how to develop their brand with excellence. She helps clients position themselves for career advancement by taking their personal brand to the next level, through coaching, training and consulting services.
As the author of, Brand Yourself Like a Champion, "Cultivating Brand Excellence from the Inside Out," she helps readers build their personal brand, by evaluating and maximizing their skills, strengths, and personal style.
In 2018, Pasha made history by becoming the first female speaking ambassador for the National Football League. Pasha has been featured in Black Enterprise Magazine, Essence Magazine, Houston Business Journal, Huffington Post, and on MSNBC.
SPECIAL OFFER
Babson community members receive $5 off Brand Yourself Like a Champion!
Purchase Online: https://bit.ly/2JfygUc
Enter Promo Code: BABSON2018