BRAND YOURSELF: Align your image with your brand
Description
You heard the saying, "NEW YEAR, NEW YOU"!
And January is the perfect time to kick your personal and business life into high gear. It all starts with how you present yourself to the world, ie. how you BRAND YOURSELF!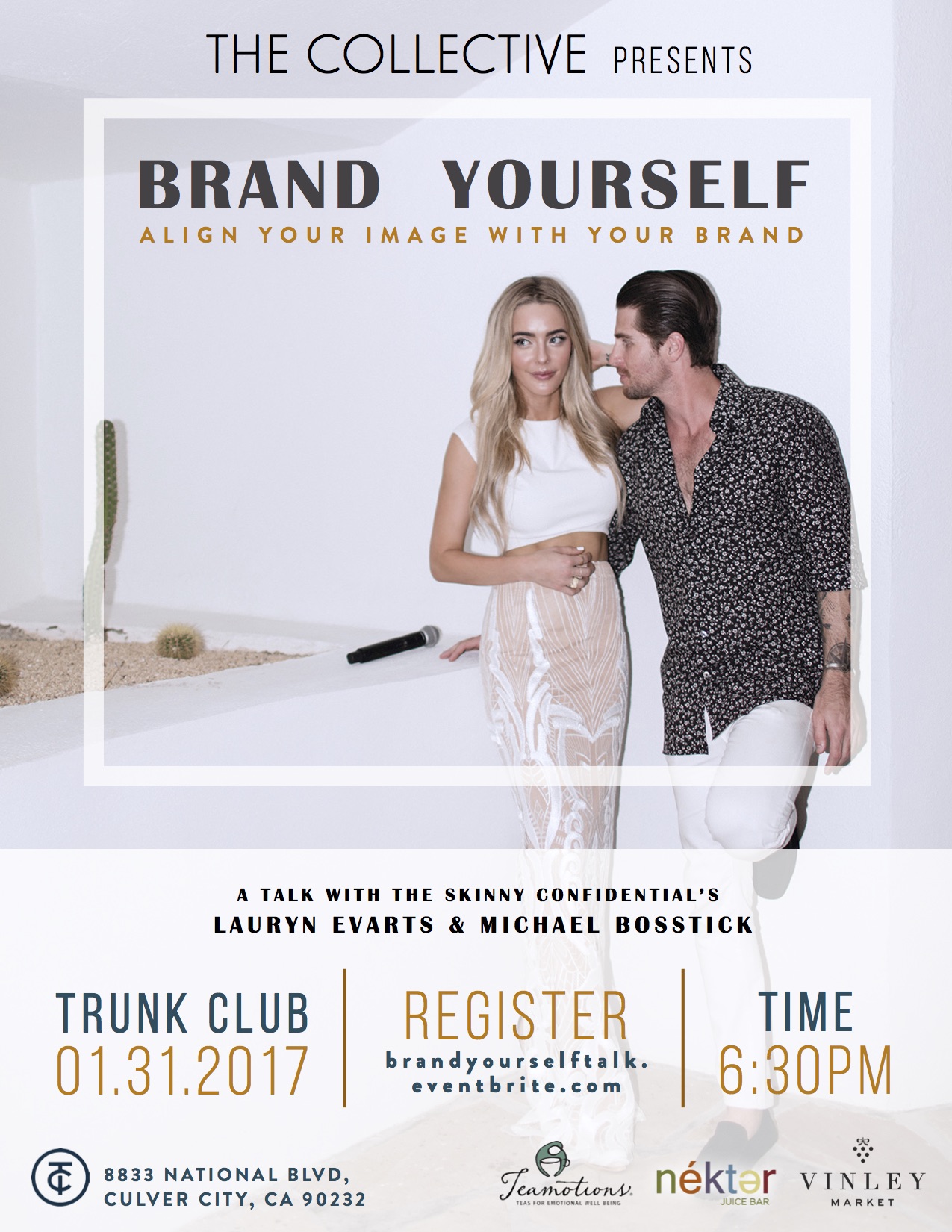 Why is personal branding so important?
Because if you don't stand out from the crowd, that means you're just like everyone else – a white jelly bean in a jar full of white jelly beans. And if you're just like everyone else, why should customers or clients choose you over your competitors?
Answer: They shouldn't, and they probably won't!
Do you want to learn how to stand out while clearly expressing WHO YOU ARE + WHAT YOU DO?
It all starts with knowing how to align your image with your brand!
Lauryn Evarts + Michael Bosstick, the power couple behind the blog, The Skinny Confidential, will show you how to stand out from the crowd by crafting an authentic personal image that reflects your brand's purpose.
PROGRAM RUNDOWN:
6:30 PM: Arrivals & Networking with wine from Vinley Market, tea from Tea Motions, juices and chia seed pudding from Nekter, and savory light bites. Meet and mingle with your fellow attendees made up of influencers, entrepreneurs, media professionals and marketing execs. The Trunk Club staff, The Collective team, and Lauryn and Michael will be there too!
7:00 PM: BRAND YOURSELF talk with Lauryn Evarts & Michael Bosstick of The Skinny Confidential
8:30 PM: Style session by Trunk Club
9:00 PM: Closing
ABOUT THE SKINNY CONFIDENTIAL, LAURYN & MICHAEL:
The Skinny Confidential is a brand & blog created by Lauryn Evarts.
The Skinny Confidential is all about creating your OWN healthy lifestyle through balance. Think kale in one hand, champagne in the other.
Lauryn Evarts created The Skinny Confidential while studying at San Diego State University. Throughout her studies, she was inspired to create a platform for women to connect through their tips & tricks.
Since then, the blog has grown into a full-on lifestyle brand, book, fitness guide, YouTube channel & social network, with a product line coming soon. The blog is Lauryn's home base, where she shares recipes, workouts, fashion, home décor, travel itineraries, personal stories, & more. You can also find her actively involved on social media, Snapchat being her current favorite.
Lauryn's fiancé, Michael, has recently become more involved with the launch of HIM, a page solely created to provide tips & inspiration from the male perspective that lives on TSC. On HIM you'll find everything from relationship advice, to business advice, to what books should be on your 'must read' list.
The most recent addition to The Skinny Confidential is The Skinny Confidential: Him & Her Podcast which features both Lauryn & Michael. On the podcast the duo spends time answering their followers' questions about business, blogging, branding, relationships, traveling, and more.
SPONSORS & PARTNERS

FAQ's:
Why should I attend?
You'll discover how to use your personal image to promote your business.
You'll learn how to craft your authentic personal brand

voice to gain an edge on your competition

You'll i

ncrease your personal and business value

You'll network with other creative entrepreneurs,

professionals, influencers, and trendsetters

in the fashion, food, and travel spaces

You'll get to nibble on some savory light bites,

a tea tasting from Teamotions, wine tasting from Vinley Market, and juices and chia seed pudding from Nekter.
Where do I park?
Trunk Club has a lot where you can park right in front of the building.
What do I get with my ticket:
The super early bird, early bird and general admission tickets give you access to the networking session where Taste of LA will happen, the talk with Lauryn and Michael of The Skinny Confidential, and the style presentation from Trunk Club. The Women Entrepreneur Bundle gives you access to all that was previously mentioned plus Stiletto Gal's Secrets of Successful Women Entrepreneurs hosted on January 30th.
Will there be snacks?
Yes! There will be light bites, a tea tasting from Teamotions, wine tasting from Vinley Market, and juices and chia seed pudding from Nekter.
Can I get my ticket refunded?
Tickets are non-refundable. But they are transferable so you can sell them to someone else. Just make sure to email us about the ticket change. Our email address is info@thecollectiveconf.com