Description

Taking ownership of your personal brand is a critical component of standing out positively in today's landscape and in

making the impact you seek.
If you're struggling with articulating your value, overcoming self doubt, stuck in comparison or simply wanting to feel more confidence in your authentic voice
all in service of creating the outcomes you desire

, then this is the program for you.
We'll delve deep into the concept of a personal brand: what it is, what it isn't and why it matters. How do you stand out? What makes someone want to work with you versus another? What's your value add? We'll explore what may be uncomfortable and work to shift into a space of personal power and owning your unique identity!
Join Kym and Nicole - your hosts - for a FUN FILLED interactive day of exploring the best parts of who you are and how you show up! Your participation includes a follow up 1 on 1 coaching session with Nicole or Kym, each a certified professional co-active coach (CPCC).
Through exploring the mindfulness arc (awareness-attention-intention-action) you will leave the session with clarity of your brand promise, new ways of connecting to it in work and in life and an integration strategy. Pre-work will include uncovering a specific area you'd like to tackle, whether realizing a project vision, marketing your business or even a career shift.


We're excited to wrap the day with a

panel of local kick-ass leaders

who embody their brand. They'll share their journey to authenticity and answer your questions. Our panel includes Annie Campbell, City of Oakland Vice Mayor and Councilwoman, Gene Kunde, CEO of The Diabetes Hands Foundation and former CEO Birkenstock USA, and Nadine Burg, Family Law Attorney and Chair of ACFLA, the Alameda County Family Law Association. Learn more about these inspiring leaders here.
Whether you are a job seeker, business owner, emerging or established leader please join us to uncover, celebrate and leverage your unique identity to drive high performance on your terms - at work and in life!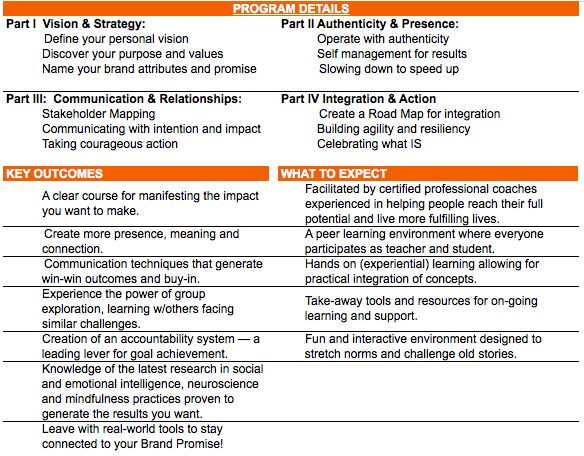 Your investment includes:
pre, in-session and post event materials designed to boost engagement and strengthen learning.
breakfast, lunch, snacks and all beverages.
up close and personal interaction with local inspiring leaders.
follow on one-on-one coaching session with Nicole or Kym. After you've had a chance to 'live' the learnings, this session will provide additional insight and help ensure you stay on track!
YOUR PANEL: Annie Campbell, Oakland CIty Couniclmember; Gene Kunde, Executive Director of the Diabetes Hands Foundation and former CEO Birkenstock USA; Nadine L Berg, Family Law Attorney.
YOUR HOSTS: Kym Cadle, CPCC and Founder Pure Ambition, Nicole Silverman, PHR, CPCC and owner of Nicole Silverman Consulting. With special session led by PopUpCoach Megan Sullivan!