Description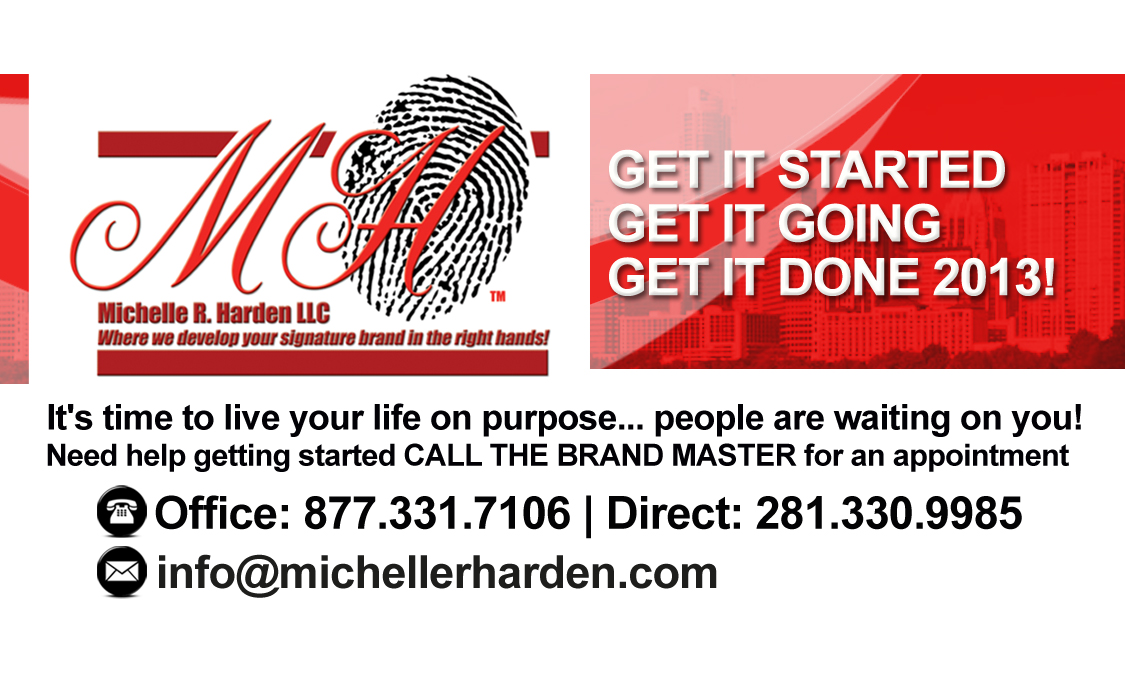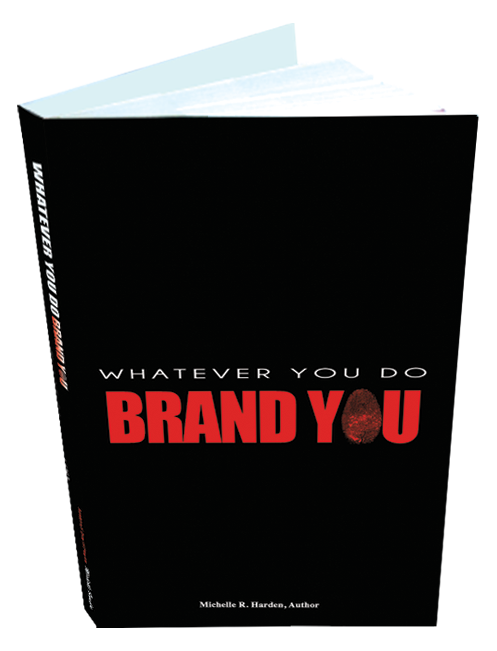 Michelle R. Harden Branding & Marketing Strategist
Michelle Harden, CNC, PRC (Certified Non-Profit Consultant & Peer Recovery Coach) entrepreneur extraordinaire in the marketplace. She is a full-time student at Houston Baptist University, continuing her studies for BA degree in Fine Arts Mass Communication. Founder Non-Profit Organization - Kingdom View Empowerment Center, servicing The Naomi's House for women coming out of incarceration.
Congressional Recognition for "building lives and helping people". Under her leadership, community leaders and pastors wives were invited to tour the East and West Wings at the White House. Their trip was hosted by President Barack Obama's Senior Advisor, Valarie Jarrett. Michelle engaged her delegates in a round-table conversation led by Ms. Jarrett on Human Trafficking. As stated by the late Dr. Myles Munroe, "Michelle is an agent of change." She empowers individuals who have lost all hope in finding their purpose and natural potential in common places.
She is truly a philanthropist of goodwill to all mankind, showing the love of Christ and changing lives for the Kingdom along the way. Michelle has been named as the 'Harriet Tubman" in this time, leading people to their promise land and experiencing the freedom of enterprise. She is a midwife to those seeking encouragement and motivation to birth their dreams and visions in the form of a business, book or whatever passion that may be dormant, the inspiration from Michelle transcends in her book she authored and released, "Whatever You do BRAND You."[A1] [B2] [B3]
Michelle is married to Randy L. Harden, President of Kingdom View Radio Network (KVRN) who is also a radio personality for the web-based Christian station, KVRNRadio.com. Together they have four amazing adult children and three grand-children.
WHAT PEOPLE ARE SAYING ABOUT MICHELLE
"Michelle, you are the picture of VISION FULFILLED"
Inmate at Lockhart Prison in the Mastering Your Life & Purpose Program

Ambassador – the late, Dr. Myles Munroe
"Michelle Harden & Kingdom View – An Agent of Change! This is a program that we all must support, because this definitely reflects the King's View." From an exclusive interview with the host March 2011 – Rediscovering the Kingdom.

Attorney Leslie Cross & the Cross Firm
"Ms. Harden is a dynamo. In my years of legal practice, I have rarely had the pleasure of working for and with an individual who works as diligently toward turning visions into reality. In accomplishing the above, Mrs. Harden has the rare capacity of building competent teams around her who are extremely loyal to her protocols. In the time I have had the honor of serving as her legal counsel, I have seen Michelle go from one successful project to the next. And with each completed project her circle of influence increases exponentially;
because everyone who comes into contact with her wants to work with her again.
Education & Accomplishments
k White House Guest 2014 – East Wing and West Wing and participated in round table discussion with Sr.
Advisory to President Barack Obama, Valarie Jarrett. Subject Matter: Human Trafficking & My Brothers'
Keeper
k Certified Peer Recovery Coach March 2016
k Receiving her first Honorary Doctrine Degree from Juliana King University May 2016
k Press Conference & Live Reception Announcing "The Fabric of a Woman/The Naomi's House"
k Dean's List 4.0 at HBU 2015
k Steering Committee for Congresswoman Sheila Jackson Lee & Democratic Leader Nancy Pelosi
"When Women Succeed, America Succeed"
k Vice President of the HARCTY Board of Directors
k Marketing Director for Gospel Music Heritage Celebration (September)
k Currently enrolled in degree program – Christian Counseling at ACOCE
k 2013 Completed her CNC – Certified Non-Profit Consultant with Major Gifts Wrap-UP
k Project Manager for the largest gospel event in Houston - Take it to the Bridge 28K in attendance
k Hosted 2013 San Antonio Inauguration Ball
k Hosted Kingdom View Television Talk Show 2010 – current
k Kingdom View Radio Network with 15 weekly shows
k Platinum Member of Powerful Women International
k Author of Whatever You Do BRAND You
k Author & Publisher of Houston's First Ladies First Story Book
k Co-Author, Authorpreneurship
k Coached over 20 new business owners in her GET IT STARTED | GET IT GOING | GET IT DONE!
Workshops
k Partner with the IRS Small Business Program
k Member of Houston West Chamber of Commerce
k Member of Bethel's Place Chamber of Commerce
k Member of Tri-County Chamber of Commerce
k Conducted prominent interviews with Charnele Brown, (Kim - Different World), Andre' Pitre (played in Not
Easily Broken), local pastors and business owners

k Keynote Speaker at conference, seminars and workshops
k Trainer for Prairie View Cooperative Extension Program
k Guest Speaker at Kingdom Builders Entrepreneurial Learning Center
k Partnered & Sponsored several events: Congresswoman Shelia Jackson-Lee's Gospel Heritage Event,
Love & Fire Gospel Play, Jack Yates High School of Communication, and others