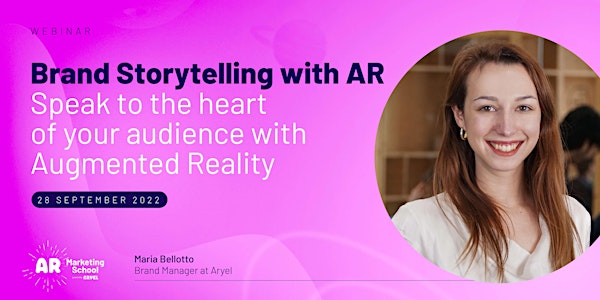 Brand Storytelling with AR
Speak to the heart of your audience with Augmented Reality!
About this event
This webinar is part of our AR Marketing Month, an incredible 30-day round of free online webinars dedicated to immersive technologies, marketing, and metaverse with 1st class speakers, talking about the hottest trends.
👉 Do you want to know more about Brand Storytelling and discover how to tell your story in a new and exciting way that blows your audience's mind?
If yes, you found the perfect webinar to discover more about AR Brand Storytelling and why it can leverage your brand awareness and give extra gear to your content strategy! 💥
This webinar is loaded with first-hand knowledge about AR-powered Branding and Storytelling. You will leave the session with a complete understanding of how Augmented Reality can change how we interact with brands and businesses, and how they can tell their story, and share their values.
⚡️ What will I learn?
We will give you a live demonstration of:
An overview of AR for Branding and Storytelling
How to use AR to tell a story and boost awareness
How to boost your marketing strategy off- and online with content marketing
🎙 A bit about your speaker:
This webinar is run by Maria Bellotto, Brand Manager at Aryel 🚀
🚨 Essential information:
Please note that this webinar will be held on Zoom.
Once enrolled, you will receive the Zoom webinar link and password to join the call.
Ensure you join the webinar 5 minutes before the scheduled start time.