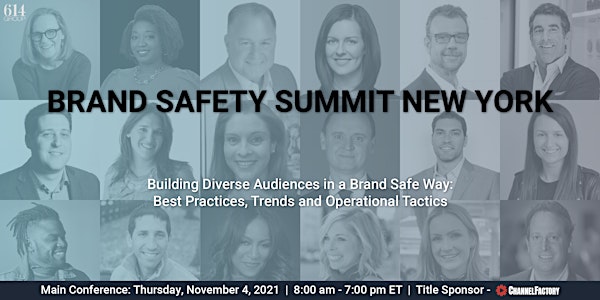 Brand Safety Summit North America in New York
Brand Leaders and the Brand Safety Community: Moving from Transactional to Strategic Solutions
When and where
Location
SECOND. (2nd Floor of the Eventi Hotel) 849 6th Avenue New York, NY 10001
About this event
In-person tickets are sold out. To be added to the waitlist, please email Amanda Forgione at amanda@614group.com.
Welcome Breakfast -- 8:00 am
Opening Remarks -- 9:00 am
Rob Rasko, CEO, Brand Safety Summit Series
Shauna Derby of UberEats Delivers Keynote -- 9:20 am
Shauna Derby, Global Head of Brand, Delivery, Uber Eats
What to Know About SPO in CTV & Video -- 9:40 am
Presented by Unruly
Chris Kane, Founder, Jounce Media
John Rogers, Vice President, Business Development, Unruly
As programmatic buying continues to rise across digital video and CTV/OTT, supply path optimization becomes increasingly more important in order to maintain quality and transparency. But like much in the programmatic space, there isn't an easy solution or a one-size-fits-all approach to SPO. Join Jounce Media founder Chris Kane and Unruly's VP of Business Development John Rogers as they deep-dive into SPO challenges, solutions, and predictions for its future.
Virality Versus Suitability: How to Walk the Line in the Wild West of Video -- 10:00 am
Presented by Channel Factory
Joshua Palau, Chief Media & Activation Officer, PHD
Jeremy Kim, Co-Founder, Nectar
Melissa Frank, Paid Social Lead, GroupM
Jed Hartman, President, Channel Factory Americas
David Murnick, Advisory Board Member, Brand Safety Institute
Companies that make viral content may often yearn for a video to go viral, but is that always a win? Could advertisers face consequences if they're associated with viral content that is unsuitable for their brands? How does virality affect outcomes, positively, negatively or both? In a session moderated by David Murnick, hear from Melissa Frank, Head of Paid Social from GroupM, Jeremy Kim, CEO Nectar Hard Seltzer, Joshua Palau, Chief Media Officer at PHD, and Jed Hartman, President North America at Channel Factory.
Setting a Course for Context: Driving Advertising Outcomes With a Purpose-First Mentality -- 11:15 am

Presented by IAS
Pam Ariyakulkan, Director of Global Media, American Express
Chance Johnson, CRO, Integral Ad Science
Advertisers know that the best virtual engagements prioritize meaningful connections through the screen. But it takes more than just strong messaging to make an impact with consumers. How should advertisers think about creating high-impact and purposeful connections in a virtual, data-driven world?Join Chance Johnson, CRO at IAS, and Pam Ariyakulkan, Director of Global Media at American Express, as they explore how to drive engagement by taking a holistic approach to media quality and messaging.
How To Lose a Consumer in Ten Ways: A Deep Dive Into Building Brand Trust -- 11:40 am
Smita Reddy, U.S. Chair, Brand, Edelman
Join Smita Reddy, Edelman's U.S. Brand Chair, for an in-depth look into how today's brands build trust with consumers. From maintaining cultural relevancy to purpose-washing, she'll unpack the latest findings from Edelman's 2021 Brand Trust report.
North America Fraud Research Reveal -- 12:00 pm
Presented by TAG 
Rachel Nyswander Thomas, COO, TAG
Joe Barone, Managing Partner, Brand Safety North America, GroupM
Rachel Nywander Thomas and Rob Rasko open the conversation speaking about the latest research from TAG about IVT in North America. Joe Barone then joins in to add his insights as head of Brand Safety in North America at GroupM.
Lunch -- 12:30 pm
Are Suitability and Mentality at Odds? -- 1:45 pm
Erika Nardini, CEO, Barstool Sports
Rob Rasko, CEO, Brand Safety Summit Series
Thanks to our friends at Sightly, we will be sitting down with Erika Nardini, CEO of Barstool Sports, to talk about her fans, her audience, and how to connect her brands and her partners properly
What Every Agency Should Know About Brand Suitability, Safety, & Performance on YouTube -- 2:15 pm
Presented by Pixability
David George, CEO, Pixability
Rob Rakowitz, Initiative Lead, GARM
Our friends at Pixability give us the chance to have our audience learn about the latest research from GARM, on how to achieve safety within the YouTube platform. The research shows the important steps that YouTube has taken to ensure 99% brand safety on its platform--and how you can achieve that goal.
Protecting Brand Integrity and Equity at Scale Across Screens, Including CTV -- 2:40 pm

Presented by DoubleVerify 
Sherrill Mane, Chief Strategy Officer and Partner, Fathom, a 614 Group Business Unit
Yale Cohen, EVP, Global Digital Standards, Publicis
Joris Stevens, SVP, Global Account Management, DoubleVerify
As consumers evolve their media usage habits, recently and most notably evidenced in the rise of streaming media, marketing and advertising are tasked with greater creativity, better strategic approaches to reaching audiences, more agile implementation and greater vigilance in protecting brands as ads traverse screens. The digital transformation of the TV marketplace has opened new possibilities and new challenges. Ad-supported CTV is growing and with it new opportunities for safeguards and revenue. Join us as a top agency leader in Global Digital Standards, Yale Cohen of Publicis, addresses the issues, the challenges, and the nuances in measuring and maintaining brand suitability including the latest tools from third-party vendors. Learn more about the latest trends as reported by DoubleVerify in its 2021 Global Insights Report. 


Marketing Through the Latest Consent and Data Challenges -- 3:15 pm
Presented by Media.net
Max Jaffe, VP, Managing Partner, Global Head of Programmatic, GroupM
Ryan Kelly, Programmatic Practice Lead, Wavemaker
Larry Gelfand, VP Buyer Development, Media.Net
Advertising in today's marketplace has many challenges, in large measure resulting directly from changes in data and privacy protections. Which tactics might advertisers use if, say, a platform removes the permission for them to contact their own customers? Leading programmatic practitioners will share what they think are the best next steps you should be considering for your automated advertising in this new data paradigm.
Brand Safety: It's Not What You Think -- 4:00 pm
Presented by Twitter
Sarah Personette, Chief Customer Officer, Twitter

As culture evolves and demands more from businesses, institutions, and society at large, the industry has a meaningful role to play in reimagining how we define brand safety. It's not only about the context in which our campaigns appear, but the communities and shared values built around. This session explores how we, as marketers, can evolve from a vision of safety limited to brands, to one that emphasizes humanity, and how this can help us solve our most pressing business obstacles.
DE&I: What Does It Mean to be Proactive About It Even When It's Not the News Lead? -- 4:30 pm
Presented by Allyship & Action 
Nate Nichols, Founder, Creative Director, Palette Group
Arnetta Whiteside, VP, Multicultural, Publicis
Gonzalo Del Fa, President, Multicultural, GroupM
Nate Nichols, Founder, Creative Director, Palette Group, leads a discussion with Arnetta Whiteside, VP, Multicultural, Publicis, and Gonzalo Del Fa, President, Multicultural, GroupM, on the right to be safe at work, deciding which content to create or align with, and deciding how to make your media choices... All those, and more, questions are among what we as an industry need to keep top of mind about DE&I even when it's not in the press headlines.
Wisdom from Legends of Advertising: What Brand Safety Has Always Meant -- 5:00 pm
Darline Jean, Global COO, Matterkind
Mainardo de Nardis, Entrepreneur, Investor, Board Director and Advisor, Former CEO, OMG Worldwide
Darline Jean, Global COO, Matterkind, leads a discussion among industry legends including Mainardo de Nardis on what brand safety has always meant--and means even more now in digital.
Cocktail Reception -- 5:30 pm 
Afterparty -- 6:30 pm - 8:30 pm