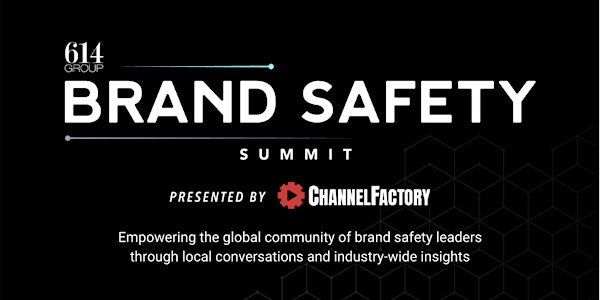 Brand Safety Summit Europe in London
Empowering the global community of brand safety leaders through local conversations and industry-wide insights.
Refund Policy
Contact the organizer to request a refund.
About this event
The Brand Safety Summit Series is the most important gathering of industry experts on this critical topic. Brand safety has never been more central to the work of marketers, agency leaders, ad tech experts, and publishers, and this year we'll cover the biggest brand safety issues in new and interesting ways.
As a member of our global brand safety community, you'll want to join us for the opportunity to participate in discussions that feature global and regional perspectives from the most forward-thinking leaders in advertising. You'll gain high-level strategic insights as well as useful day-to-to-day tactics you can put to work immediately. These learnings are available only to this exclusive community.
9:30 AM - 12:00 PM Morning Networking
12:00 PM - 12:15 PM Welcome Remarks
Rob Rasko, President, The Brand Safety Summit Series
12:15 PM - 12:40 PM What Does it Mean to be Proactive Versus Reactive in the Areas of Diversity, Equity, and Inclusion?
Presented by Channel Factory
Everyone is talking about diversity, equity, and inclusion, but what does it take to be proactive versus reactive? Chris Kenna, CEO of Brand Advance, and Tamara Littleton, CEO of The Social Element, join Rob Blake, Country Manager UK, Channel Factory in this timely discussion on how we as industry leaders can take a pragmatic and operational approach to these important issues.
Rob Blake, Country Manager UK, Channel Factory
Tamara Littleton, CEO, The Social Element
Chris Kenna, CEO, Brand Advance
12:43 PM - 1:15 PM TikTok, Creators and Brand Safety: Helping Brands Sell Safely
Presented by TikTok
In discussion with Group M's Stevan Randjelovic, Director of Brand Safety and Digital Risk for EMEA, TikTok will provide an update on its brand safety roadmap, and how creators play an important role in how they deal with brand suitability. Joined by highly successful TikTok creator Sherice Banton (@shericebanton), Stevan and the TikTok team will then discuss how creators consider safety and suitability when working with brands, along with some practical guidance for brands on working with creators.
Julien Wettstein, Creator Solutions Lead, EU, TikTok
Bahar Bozdogan, Brand Safety Product Lead, EU, TikTok
Stevan Randjelovic, Director, Brand Safety and Digital Risk, EMEA, GroupM
Sherice Banton, TikTok creator, (@shericebanton)
1:15 PM - 1:50 PM A Dive Into the Results of the 2021 TAG European Fraud Benchmark Study
Presented by TAG
Hear findings from the 2021 TAG European Fraud Benchmark Study. Jules Kendrick, MD UK & Europe, TAG, will discuss how the Trustworthy Accountability Group has led the fight against invalid traffic (IVT) during the COVID-19 pandemic, and share the latest trends in IVT.
Jules will join in conversation with Stevan Randjelovic, Director of Brand Safety and Digital Risk, EMEA for GroupM, and Rob Rasko, President of the Brand Safety Summit Series.
Rob Rasko, President, The Brand Safety Summit Series
Stevan Randjelovic, Director, Brand Safety and Digital Risk, EMEA, GroupM
Jules Kendrick, MD UK & Europe, TAG
Diana Romero, Manager, Digital Standards & Partnerships, RoW, Publicis Media
1:50 PM - 2:10 PM Networking Break
2:10 PM - 2:30 PM Digital Piracy: An Update
The conversation regarding digital piracy is evolving as are the pirates, hear about the history of tactics of copyright infringement from the global leader in Anti Piracy efforts.
Graeme Grant, Director of Content Protection & Enforcement, IFPI
2:30 PM - 3:00 PM A Data-Driven Investigation into the COVID-19 Vaccine Conversation Gap on Twitter, and How Brands Could Be Playing a Role to Fill It
Presented by Twitter
As COVID-19 vaccines become increasingly available worldwide, the challenge shifts to creating widespread demand and adoption across communities.
Every day, people are coming to Twitter to talk about what's happening with COVID-19 vaccinations. The Insights Science team from Twitter Next conducted a first-of-its-kind analysis of over 1M Tweets from January 1 to April 30, 2021, to understand:
--How the conversation is spreading
--Who the conversation is reaching (and not reaching)
--What influences someone to Tweet about COVID-19 vaccinations
--Why brands Tweeting about COVID-19 vaccinations have a significant impact
Ian Ardouin-Fumat, Insights Scientist, Twitter Next Lab
Tom Chirico, Lead, Twitter Next Creative Lab
3:00 PM - 3:30 PM An announcement of a transparency pilot from TAG's Trustnet with an interview with O2 about some key results
Presented by TAG
Tim Brown, Co-founder, Fiducia
Sohel Modi, Ad tech Strategy and Implementation lead, O2 (Telefonica UK)
3:30 PM - 4:00 PM Cookieless Advertising, Identity and Measuring Outcomes
Presented by Nielsen
Over the past few years, new regulations in relation to data privacy and security resulted in fewer cookies and ad IDs available. As a result, marketers across the industry soon started to feel the direct impacts this would have on measuring the value of their campaigns.
Join Nielsen's Vikram Kulkarni, VP Customer Success and Barcelo Hotel Group's Ruben Vinagre, Manager Adtech, Martech & Attribution as they speak to our own Ellie Edwards, for a deep dive into the evolving impact of a cookieless future, as they unpack what this means for advertisers who are looking to optimize their ad spend to its full potential in this new world.
Ellie Edwards-Scott, Co-Founder, The Advisory Collective
Ruben Vinagre, Performance Marketing Manager, Barcelo Hotel Group
Vikram Kulkarni, VP Customer Success, Nielsen
4:00 PM - 4:30 PM A Fresh Perspective on Transparency & Accountability in Programmatic Advertising
Presented by Unruly
Where does that 15% go? This question seems to be in the lips of advertisers and the market for the past couple of years. Can we look at and share data which makes this question disappear or are there roadblocks which we just cant overcome? Today, with SPO and DPO as common practices, we need to work together to build the next generation of programmatic media with transparency and accountability at the core.
In this session, industry experts will discuss how to solve today's programmatic media transparency challenges and share real-life experiences and fresh insights into exactly how transparent the programmatic ecosystem is.
Justin Pearse, Editor, New Digital Age
Sturae Hickley, Head of Programmatic, GroupM
Nigel Ashton, VP Global Client Partner, Unruly
Emily Palmer, Digital Marketing and Media Consultant, Emily Ad Woman Ltd
4:30 PM - 5:15 PM A More Consumer Responsible Approach to Brand Safety
As brand safety matures across the globe, many advertisers and agencies are expanding the concept of brands being more socially aware and pushing for alignment to corporate values. These values now include diversity & inclusion, algorithmic fairness, data ethics, sustainability, truth, and a balanced approach to sources of (mis/dis)information. Media buyers are putting a finer point on their market approaches and are discussing how to manage through to achieve a better complement of media "responsibility". Some have dubbed it "Responsible Investment", while other have focused on "Brand Integrity" or "Brand Assurance". Hear from the practitioners on why these definitions matter.
Louis Jones, Media & Marketing Consultant & Brand Safety Officer, Brand Safety Institute
Yale Cohen, EVP, Global Digital Standards, Publicis Media Exchange. Publicis Media
Robin O'Neill, Managing Director, Investment, GroupM
Elijah Harris, Global Digital Partnerships and Media Responsibility, MAGNA
5:15 PM - 5:30 PM Open Mic Discussion on the Cookie and Identity
5:30 PM - 8:00 PM Networking