Brand Innovation Through Personal Transformation - 2 days Workshop
Description
To be successful in today's fast-paced, highly competitive and constantly evolving environment, leaders, entrepreneurs and start-ups need to act fast, be innovative.
---
IMPORTANT: This is a 2 days workshop on from 9:30 am to 3:30 PM. Lunch is provided.
---
SPEAKER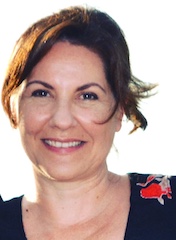 Author of the Awakened Brand, Virginie Glaenzer is a digital evangelist, marketing technologist, and innovation thought leader with 15+ years of industry experience, specializing in converging marketing (digital
 & offline), technology, and digital innovation strategies to deliver connected and omnichannel customer experiences that inspire customer behavior and drive top-line growth. Connect on LinkedIn.
She is passionate and curious about humans and about why we do what we do, and she is also a painter and a poet using the pen name Silomene.
---


WHO IS THIS FOR?
This seminar is created for leaders, entrepreneurs, and aspiring game changers. It is intended for individuals with a strong desire to discover their genuine expression voice and who possess an appetite for change.
---
WHAT YOU CAN EXPECT
Combining the latest neuroscience discoveries, behavior reprogramming, philosophy, and cutting-edge brand strategies, this seminar will transform the way you see your "reality". It will help you break away from your current way of thinking and open your mind to innovative possibilities; resulting in a freedom to experience and choose a different path for yourself, your brand and your business.
Innovation requires us to go beyond our current knowledge and beliefs. In order to expand our mind and generate new ideas a personal and deep dive is required to revisit our current matrix and reality which we have created for ourselves.
This workshop will trigger personal and business insights. Prepare yourself to go beyond what you have considered as the truth and feel your brain firing like never before.
---


AGENDA
DAY ONE – PERSONAL TRANSFORMATION
A- How the Mind Works
What causes us to change?
Three Neuroscience Studies
B- How the Body Works
Increase focus through awareness
Use energy to shift
Breathe to be present
C- Awakening Process
We are conditioned
The two voices in your mind
Revisiting your beliefs & opening to possibilities
Practicing detachment
Understanding your hero story
DAY TWO – BRAND INNOVATION
B- Brand Story
insights from day one
Follow the instruction activity
What is a Brand?
The emotional experience quadrant
C- Evaluating the Health of your Brand
Working with brand quadrants
SWOT Analysis
The Missing insight from all market research
D- Mapping the possible activity
---


DETAIL OF THE EXPERIENCE
Day One
We'll start by suggesting to the attendees that in order for this seminar to open their minds to new ideas and a new level of creativity, we'll practice negative capability. To prove how difficult this is, we'll talk about two psychological bias that our mind uses to avoid changing which prevents creativity from happening.
Then, we'll talk about how the mind and body work by:
Discussing what causes us to change
Discovering three neuroscience studies
Reconnecting with our body through awareness, energy and breathing techniques
Once our minds are opened and relaxed, we'll start a process to awaken our creativity by:
Understanding our social and academic conditioning
Recognizing the two voices in our head and the ongoing battle that prevents creativity from happening
Understanding and revisiting our self-limiting beliefs
The last section will consist of exploring our potential by practicing emotional detachment and understanding our own social story.
Day Two
We'll start with redefining what is a brand is and do a series of exercises to apply this new definition to our brands and businesses using a simple framework.
Then we'll talk about various strategies to assess a brand's health utilizing quadrants and the data attendees had been asked to gather before the seminar.
Finally, we'll conclude with a few exercises created for the purpose of inspiring new ideas and then do several brand exercises to unleash our creativity.