Sales Have Ended
Ticket sales have ended
Thank you for your registration and attending our event!
Sales Have Ended
Ticket sales have ended
Thank you for your registration and attending our event!
This is for you if you're finally ready to step into confidently be seen, be heard to make the impact & income you deserve & desire!
About this event
You are invited to be with us for the 3 Day LIVE Virtual BRAND CURRENCY BOOTCAMP created to lead you from overwhelm and disconnect to owning your brand and confidently Be Seen. Be Heard. Make The Impact & Income You Deserve & Desire!
Struggle with not feeling confident putting yourself out there, because you feel unworthy of asking for the kind of money that you know you deserve & desire ?
Tired of playing small, and ready to take control of your business- instead of having your business control you?
Ready to let go of overgiving, overserving, feeling depleted, defeated?
Ever wondered exactly how to "look the part" in order to attract high-paying clients?
You're not alone.
Many women feel like they aren't truly seen or heard, and this holds them back from making the kind of money and impact that they crave.
If you know you're READY to launch to your next level, but you want specific guidance from branding experts, and a clear path for authentically getting your message to your ideal audience, this workshop is for you!
Together, Debbra Sweet, business & brand strategist, Marcy Browe, brand photographer and Emily Klawans, brand styling fashion expert are bringing their personal branding expertise to you!
IN THIS 3 -DAY INTERACTIVE BOOTCAMP YOU WILL:
❤️ Discover the four cornerstones that anchor your brand so you can confidently Be Seen, Be Heard, anytime, anyplace, anywhere - to increase clients and income with ease and grace
❤️ Gain skills to lead your business with a personal brand that creates impact
❤️ Learn how to use your personal brand to increase your income
❤️ Ditch the disconnect, between how you think you SHOULD show up and how you WANT to show up in the world.
❤️ Get a professional photographer's tips and tricks for being comfortable & confident in front of the camera
❤️ Get insider information from a wardrobe stylist about how to dress for your brand
❤️ Learn specific tools for cultivating confidence so you can show up and shine — in your marketing, in your business and in your personal relationships
❤️ Get clarity on the importance of your brand language, so you can intentionally attract your ideal clients
❤️ Uncover saboteurs that have been holding you back from making the money you desire
❤️ The simple approach to designing your impact and income producing brand plan (and what even many veteran marketers get wrong)
❤️ The biggest mistake marketers make when branding
❤️ The BRAND YOU! formula that opens the doors to your high converting raving fans (it's likely not what you think it is)
❤️ Connect with a like minded community of heart centered, get it done, resilient women who ready to grow and support you along the way
Daily Agenda at a Glance:
8:45 - 9 am - Check In
BRAND CURRENCY BOOTCAMP Kickoff, networking and Opening Keynote on Ditching the Disconnect with Debbra Sweet, Trailblazing Business & Brand Strategist
Morning Segment: LIve Event teaching, breakouts, time to learn, get things done, have interactive shares, network, be seen, be heard.
Noon: Lunch Break (30 min)
Early Afternoon Training & Interactive Segments.
Stretch Break & Attendee Hot Seat Coaching. Will it be you? :)
Mid afternoon Training & Interactive Segments, Special Guest Panel, Laser Coaching Sessions with all Access Attendees. You could be here too!)
Dinner Break (Thurs & Friday Only)
Live Event: Be sure to attend these evening sessions on Thurs & Friday Only. Special EVENT ENTERTAINMENT on Thursday & Special Event EVENT SESSION on Friday.
SAT: afternoon session includes Wrap up, final Q & A segment, take aways, your next steps and interactive celebrate reception !
Note: reserve your seat now. Be sure to watch your emails for event acccess details.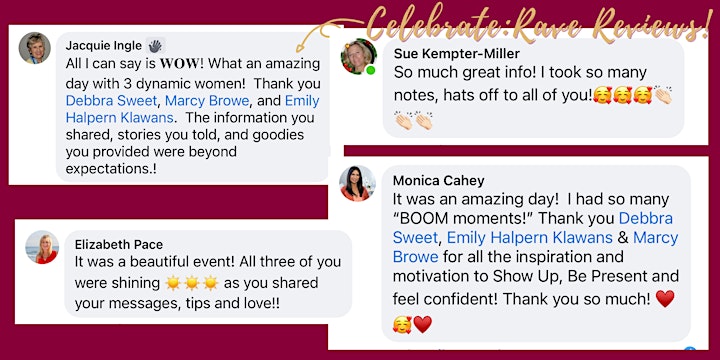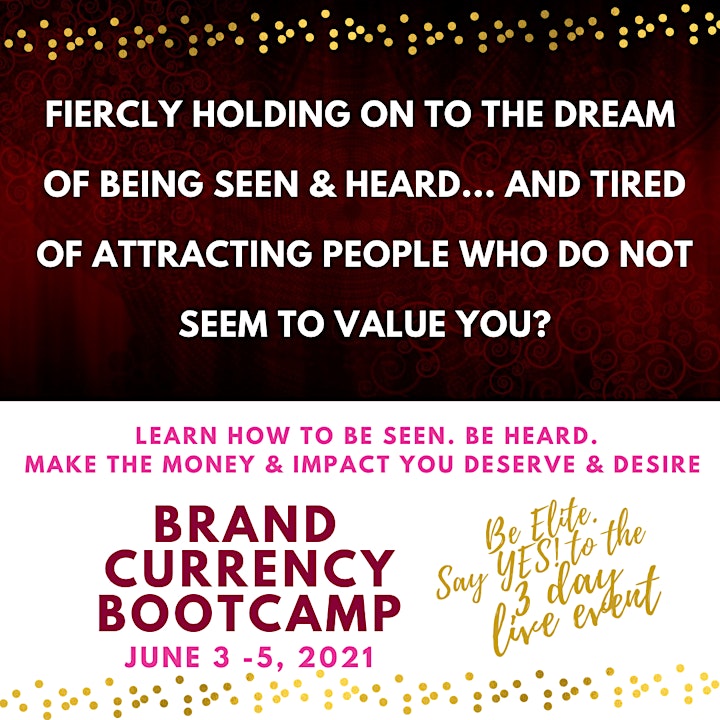 Organizer of Brand Currency Bootcamp 3 Day LIVE Online Training Event
Why Thrive?
Thrive. Why not?
To thrive is to:
1. To prosper; be fortunate or successful.
2. To grow or develop vigorously; flourish.
Each day you have a choice.  You can choose to continue to live your life the way you have been, or, you can choose to do something a little different. You can choose to create change in your life that takes you closer to achieving your goals and dreams.  Or, you can choose to simply continue to wish your dreams to come true. Wishes without actions only remain dreams. They are not able to come to fruition on their own.
People who choose to THRIVE realize they CAN make a choice. They CAN make positive things happen in their life.
Thrive Right Consulting is the culmination of passions, expertise, knowledge, wisdom and collective focus to help others become better leaders in business, health & wellness and in their own lives for the sake of effecting change in the world.
Founded by Debbra Sweet, a believer that change, on a larger scale starts first with the individual she's an advocate for the power and potential of human capital.She is a living example of the unlimited creativity of mind, the resilience of the physical body and emotional spirit- and a supporter of systems for accountability that tie it all together.