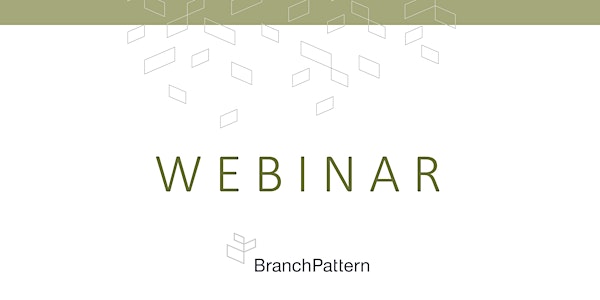 BranchPattern Webinar: The Human Side of Successful Lighting / Daylighting
Conferences and workshops have been canceled, so please join us for a webinar where you can earn AIA LUs! Hosted at 10:00 AM CST.
About this event
For lighting and daylighting solutions to be successful and truly sustainable, we must have a holistic, contextual understanding of the building/occupant interface, and how that is influenced by human factors, including relevant physiological, psychological and social/cultural factors. This is the only way to effectively align occupant and other key stakeholders wants, needs and behaviors with lighting/daylighting system capabilities and operational policies. Otherwise building performance and occupant health and productivity are negatively impacted, limiting a project's ability to meet its lighting and sustainable goals. Using previous master planning, design, retrocommissioning and post occupancy evaluation case studies, the presenter will demonstrate how these human factors can be accounted for and integrated into solutions moving forward, as well as what happens when they aren't effectively accounted for.
Learning Objectives:
Learn how human factors can holistically be accounted for and integrated into lighting/daylighting solutions, and the financial and sustainable benefits for doing so.
Develop and understanding of the unexpected impacts that some well-intended lighting/daylighting design concepts and value engineering decisions can have on occupants, building performance and sustainability goals.
Develop an understanding of what human factors consist of, how they've been shaped by our specie evolutionary history and what impact they have on occupant needs/behaviors related to lighting, daylighting and personal control.
Learn how this can be applied to various project types, including master planning, design, retrocommissioning and post occupancy evaluations.
Speaker:
Marcel Harmon, Senior Associate
PhD, PE, WELL AP, LEED AP O+M
Truly effective and sustainable commissioning, O&M, design and construction require a thorough understanding of the human element – the highly contextual mix of needs, behaviors and relationships that influence building operations and performance. As an anthropologist and engineer Marcel is very excited to see and be a part of the industry's increasing recognition that building and occupant performance, as well as occupant health, suffer when human factors aren't adequately addressed.