Description
Joe Furst (Speaker)
Joe creates vibrant neighborhoods through thoughtful curation and human-centric development, with an emphasison programming and entertainment. His projects transform the built environment and delight users with memorable experiences. Joe currently has investments throughout Florida, including Wynwood, Doral, and St. Petersburg.
Prior to focusing on his own ventures, Joe spent ten years as Managing Director and Principal of Goldman Properties' Wynwood portfolio. Goldman's Wynwood portfolio consists of over 30 properties comprising over 400,000sf of land. Joe oversaw all development, financing and leasing initiatives withinthe portfolio, including The Wynwood Garage (www.thewynwoodgarage.com), a 250,000sf mixed use development.
Joe serves as the Chairman of the Wynwood Business Improvement District ("BID"), which he helped create in 2013. Under Joe's leadership, the BID champions policy initiatives to ensure Wynwood's growth while preserving its unique character. The BID, in cooperation with the City of Miami, created the Wynwood Neighborhood Revitalization District ("NRD") zoning overlay. The NRD establishes regulations to guide the neighborhoods transition into a diverse, mixed-use area. Also as chairman of the BID, Joe led public relations initiatives responsive to the 2016 Zika crisis and coordinated with city, state and national health officials. Joe previously served as a founding member of the Wynwood Arts District Association.
Joe was born and raised in Miami, Florida. He graduated from Hamilton College and obtained a law degree from the University of Miami. After practicing law, Joe returned to graduate school to obtain a Masters in Real Estate from the Warrington College of Business at the University of Florida.
Wifredo "Wifi" Fernández (Moderator)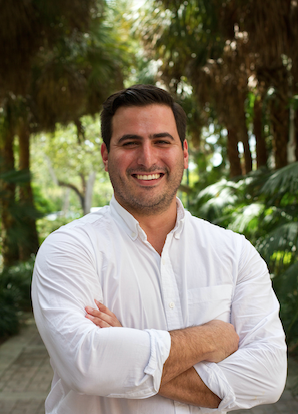 Wifredo "Wifi" Fernández is a social entrepreneur and educator. Currently, he is a Public Interest Law Scholar and J.D. Candidate at the University of Miami. Previously, he worked worked in the Division of Innovation & Economic Development at Florida International University, helping lead StartUP FIU, and taught entrepreneurship in the FIU Honors College. He is the Co-Founder and former CEO of The LAB Miami, a leading startup community hub in South Florida. Prior to joining FIU, Wifredo was a Founding Director of The Idea Center at Miami Dade College, a student startup incubator.
He serves on the Board of Trustees of OurKids, which manages the foster youth system of care in Miami-Dade/Monroe counties. His civic duties also extend as a member of the City of Coral Gables Parks and Recreation Board.
Before moving back to Miami in 2011, Wifi was a Teach For America corps member in Washington, D.C., where he taught five different grade levels of Spanish, Math and Social Studies. He was selected to the inaugural cohort of the Young American Leaders Program at Harvard Business School and is a graduate of the Miami Fellows Leadership Program. His work has been featured in Forbes, USA Today, CBS, Le Figaro and The Atlantic, and was named to The Miami Herald 20 under 40. He holds an M.A. in Teaching from American University and B.A. in Political Science from University of Pennsylvania.

---
Brainfood is a monthly, hands-on discussion with local entrepreneurs who share the secrets of their success. These monthly gatherings will help Miami startups and entrepreneurs understand the opportunities and challenges of launching and growing a business. Every participant will leave with a wealth of new ideas and key, practical advice to advancing one's own entrepreneurial career. Brainfood is presented by Endeavor Miami and takes place at The LAB Miami in Wynwood, generally on the last Tuesday of each month.
#BrainfoodMIA #LABventures #TheLABMiami