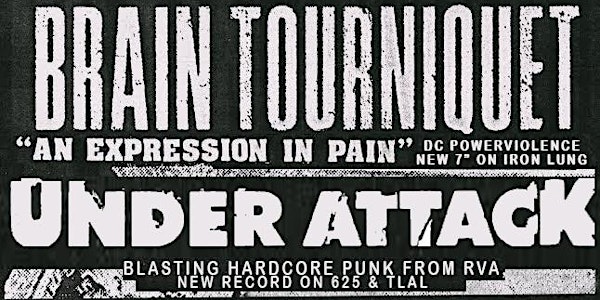 Brain Tourniquet w/Under Attack, Excavate (Pres. by To Live A Lie Records)
The Pour House Music Hall & Record Shop
Location
The Pour House Music Hall & Record Shop
224 S Blount St
Raleigh, NC 27601
About this event
TO LIVE A LIE RECORDS PRESENTS -
BRAIN TOURNIQUET:
Listen to Brain Tourniquet here.
Back from the bowels of forced-shut-in sessions with their 2nd EP, BRAIN TOURNIQUET amplifies the frustration and bitterness of the all too familiar life pause that was 2020. Not that life is all that great in the first place. Senseless murder and hate surround everything. There is no freedom. There is pain. You know what would feel good right now? Throwing a brick through an actual person. We could laugh at all the parts that fall out and wash down the gutter. Now take all that violence and put it to grinding distortion. That is BRAIN TOURNIQUET. Hardcore, power violence, whatever you want to call it, it's angry. Members are in GENOCIDE PACT, RED DEATH, PROTESTER, PURE DISGUST, TRUTH CULT, GUILT PARADE, CDR, ZTUPED, and DELIRIANT NERVE.
UNDER ATTACK:
UNDER ATTACK is a band focused on "vicious precision hardcore" made up of vocalist Alex Copeland, guitarist Mark Telfian, bassist/vocalist Jason Hodges (SUPPRESSION, OOZING MEAT), and drummer Dave Witte (MUNICIPAL WASTE). Collectively, the band has an extensive "ex members of" list including LIMP WRIST, DISCORDANCE AXIS, HUMAN REMAINS, HAIL MARY, EUCHARIST and many, many more. The band began a few years back, when Dave Witte and Mark Telfian connected at a party in Richmond, VA. After many meetings at Dave's food truck, Go Go Vegan Go, they talked about forming a brutal hardcore band with no gimmicks, in the spirit of predecessors like Negative Approach, Straight Ahead, and, in general, old school 80s punk and hardcore. After figuring out two other old friends to bring into the mix, the band started practicing nonstop in February of 2019. By March, they recorded a 5 song demo released in the US on Vinyl Conflict and in Europe on AutoReverse. In August of 2019, their first 7" came out on Iron Lung Records called "Through the Blade." In February of 2021, they had a split 7" with the Dutch hardcore legends Seein Red on Autoreverse and Way Back When Records, as well as another split 7" in the works with Loose Nukes on Mutant Sound Records and a split 12" with Fright on Gloom records. Needless to say, the band is relentless in both musical approach and work ethic. "Preservation's Crash" continues with the band's dark and aggressive driving force of 80s punk and hardcore influence-- with this release, really commiting to leaning into Dave's impossibly fast, hard-hitting, manic, but uncompromising drum skills to complement Alex's scummy vocals. This sonic assault is a mere extension of the lyrical message: in short, anger and frustration with life and society. The hostility of religious institutions that ferment self loathing. Coping with depression through life's hardships. New release coming out soon on 625 Thrashcore/To Live A Lie Records.
With support from EXCAVATE (Memphis, TN) and a local band TBA.