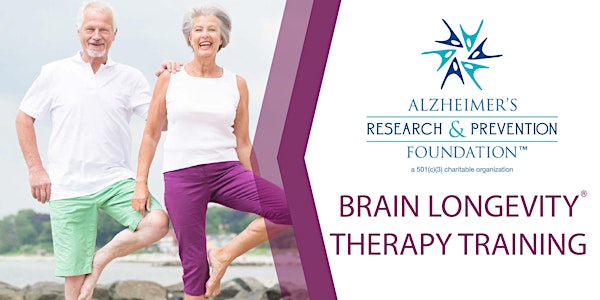 Brain Longevity® Therapy Training
When and where
Location
DeNeve Plaza 351 Charles E. Young Drive West Los Angeles, CA 90024
Description
When Dharma Singh Khalsa, M.D., Founding President of the Alzheimer's Research and Prevention Foundation (ARPF), first created this program in the early 1990's, it was a revolutionary idea. Since then, we at ARPF have seen first-hand how the 4 Pillars of Alzheimer's Prevention® have helped people of all ages and backgrounds improve their brain function. We now want to share the research and clinical results with you, so that you can bring these tools to your community and become part of the movement to help prevent Alzheimer's disease and other forms of memory loss and cognitive disability.
Want to learn more? Listen to our educational webinar
"The science behind this course has shown in our research at UCLA that yoga and Kirtan Kriya practice helped reduce depression and improve mental health and cognitive functioning, as well as reverse cellular aging and inflammation, and provide brain fitness effects in stressed dementia caregivers when compared to relaxation while listening to music. Research also found positive effects of Kundalini yoga practice on mood, memory and executive function, and brain connectivity in older adults with mild cognitive impairment compared to memory training." –Helen Lavretsky, M.D., M.S. Professor of Psychiatry In-Residence / Director, Late-life mood, stress, and wellness research program / Semel Institute for Neuroscience and Human Behavior / Geffen School of Medicine at UCLA / Los Angeles, California

Benefits of This Training
In-depth examination of the science behind the 4 Pillars of Alzheimer's Prevention® (Diet and Supplements; Stress Management; Exercise; Spiritual Fitness), including ARPF-sponsored studies on integrative medicine and healing modalities like yoga and meditation.
Presentation of new standards and methods to assess and understand Alzheimer's and dementia, brain health and longevity
For yoga teachers/therapists: Specialization in yoga and meditation for middle aged and older adults
Meeting new industry experts and fellow professionals
Module system of training, so that course topics and materials can later be used individually or in entirety – offering an amazing breadth of options for consulting and teaching
Certification from the leader in "the integrative medicine approach to preventing Alzheimer's disease and maximizing your Brain Longevity."
Increase your knowledge and credibility around neuroscience and yoga and the impact meditation has on the brain.
Ways to help others and yourself – at home or on the job
"I value the most my exposure to the superior level of development and education of Dr. Khalsa. Thank you for all of the groundbreaking work regarding the brain and also making this symposium possible." –B.Q., Fresno, CA
Training Modules
Lectures and discussion on the 4 Pillars of Alzheimer's Prevention Program
What is Alzheimer's? Review of medical and lifestyle risk factors, including easy brain anatomy
The integrative medicine or holistic approach to healthy aging and optimal brain function:

Diet and Supplements - Discover the benefits and drawbacks of the most common dietary trends of today. Discuss the state-of-the-art prescriptions for vitamin and mineral supplementation, including brain-specific nutrients.
Stress Management – Explore the particular impact that stress has on the brain and body, symptoms, and causes. Learn the effectiveness of various stress-management techniques, including the techniques backed by 14 years of research by ARPF.
Physical and Mental Exercise – Learn to plan an exercise program to keep your brain and body in top shape; how to adapt it to different abilities; and how to customize a mental exercise routine for individual needs.

Spiritual Fitness – Guide clients on a path to discovering their purpose in life, or to find meaning in life's routines. Realize how you can bring this awareness to your clients and students, and how this work helps to maintain optimum brain health.
Sleep – Why sleep matters and how to improve your sleep routine.
Combat Social Isolation – Learn the importance of being social, and how even simple tips can make a significant difference in the lives of so many people in our community- and keep their brain sharper.
Easy morning yoga/stretching and meditation, geared to all experience/ability levels
Translational Skill Building
Group Discussions
Teaching Practicum (teaching practice time within the course)
Role Play
Special Tips for Caregivers
Sharing Meal time with the Group
Certification Evaluation
"The seminar really opened my eyes to the need for prevention measures for a multitude of age related problems. The yoga and meditation was really beneficial. I feel I gained a tremendous education and insight." –R.C., Austin, TX
This Training is for Anyone Who Works with Baby Boomers and Older Adults, but in Particular for:
Clinical Psychologists, Clinical Social Workers, Marriage and Family Therapists, and Mental Health Practitioners
Integrative/Holistic Medicine Practitioners, such as Acupuncturists, Art Therapists, Massage Therapists, Ayurvedic Practitioners
Yoga teachers (of all traditions)
Music and Movement Therapists
Registered Nurses and NP's
Veteran Care Providers
Occupational Therapists
Life/Wellness Coaches
Yoga Therapists
Activity Directors
Chiropractors
Nutritionists
Caregivers
"My experience at this seminar has been truly blessed. I have been given tools to heal myself and others." –S.D., Phoenix, AZ
If you have any questions, please email us at register@alzheimersprevention.org.
At the end of the course, you will receive:
Brain Longevity® Specialist Certificate
Comprehensive training manual with essays on every course topic and Instructor Notes to help you lecture about it
A set of PowerPoint slides, ready to use, so you can immediately give a presentation or workshop in your community and advertise your new knowledge
One-year membership and directory listing on the Medical Fitness Network website
Mentoring and coaching support
Yoga credit hours
This course provides Yoga Alliance Certified Education Provider credit hours for the following faculty:
Dharma Singh Khalsa, M.D.
Chris Walling, Psy.D.
Kirti Khalsa, RYT
"The course was very educational and had great health information. It was well worth the time and money, and I would do it again with no hesitation." –R.E., Dallas, TX
This Training Program Includes:
All lectures, practicum sessions, and activities listed above
PowerPoint slides (in print and downloadable)
Comprehensive training manual with essays on every course topic and Instructor Notes to help you lecture about it
One-year membership and directory listing on the Medical Fitness Network website
Mentoring and coaching support
Dinner Reception on October 19th
Coffee Breaks
"The seminar met my needs – it was stimulating, rewarding and motivational. 'Quality of life work' which is key for my age. I especially appreciate the non-dogmatic approach and the extensive manual which was helpful to minimize note taking and assisted in 'taking more home with me'." –J.P., Rancho Santa Fe, CA
If you have any questions, please email us at register@alzheimersprevention.org.
Trainers:
Dharma Singh Khalsa, M.D.

Helen Lavretsky, M.D.

Arti Prasad, M.D., FACP

Chris Walling, Psy.D.
Kirti Khalsa, RYT
Additional Allied Health Professionals To Be Announced
"The combination of lectures, mind/body experiences and support for the path increased my energy. I loved being with people with similar mindset." –J.G., Cincinnati, OH
---
About Dr. Dharma Khalsa

Dharma Singh Khalsa, M.D., was born in Ohio and was raised in Florida. Since 1993, he has been the President and Medical Director of the Alzheimer's Research and Prevention Foundation in Tucson, Arizona– the original voice in the integrative or holistic medical approach to Alzheimer's prevention and treatment. ARPF is dedicated to fighting Alzheimer's disease and finding a cure through research and prevention. Dr. Dharma graduated from Creighton University School of Medicine in 1975, and received his postgraduate training in anesthesiology at the University of California, San Francisco where he was chief resident. As chief resident, he conducted highly acclaimed research on anesthesia for cardiac surgery and obstetrical anesthesiology. He is also a graduate of the University of California, Los Angeles Medical Acupuncture for Physicians Program, and has studied mind/body medicine at Harvard Medical School's Mind/Body Medical Institute. Dr. Dharma is board certified in anesthesiology and pain management, and he is a diplomat of the American Academy of Anti-Aging Medicine. In 1987, Dr. Dharma established the first holistic pain program in the Southwestern United States at Lovelace Medical Center in Albuquerque, New Mexico. In 1990, he was recruited to become the founding director of the Acupuncture, Stress Medicine, and Chronic Pain Program at the University of Arizona, College of Medicine's teaching hospital in Phoenix. In this position, he became the first director of acupuncture in an American medical school. After founding ARPF in 1993, he became the first physician to advocate a lifestyle approach to the prevention and treatment of memory loss, which included Alzheimer's. He is among the world's leading authorities on integrative medicine, and has written extensively on a wide range of health and healing issues. His book Brain Longevity (Warner Books, 1997) is the original work of this kind to be written for the general public, and has been translated into twelve languages. Since then, Dr. Dharma has been honored as a medical pioneer by the integrative medical establishment, the media, and the public many times over. Dr. Dharma has also authored six other books for the general public, including Meditation as Medicine and Food as Medicine, as well as several medical textbook chapters, including the Harvard Medical School and the University of Arizona, Huffington Post blogs, and medical articles. He has been invited to share his work at workshops and seminars, as well as medical meetings, in the United States and around the world. In May 2003, Dr. Dharma was invited to testify before the Congress of the United States of America about his pioneering work in the area of lifestyle influence on Alzheimer's disease. He called on Congress to fund a national education and outreach campaign designed to inform the public of the benefits of an integrative medical approach to Alzheimer's prevention. At that time he also met with the U.S. Surgeon General, Vice Admiral Richard Carmona, M.D., M.P.H. At this meeting, Dr. Carmona stated, "Your work in the field of memory loss should now be considered mainstream." Dr. Dharma spearheaded the groundbreaking research projects carried out by the Foundation since 2003. Dr. Dharma and ARPF continue to fund and support innovative research, including the FINGER study, the largest study in history on preventing Alzheimer's disease through a lifestyle approach. Visit our Research page to see more about these studies. In March 2015, Dr.Dharma was appointed Clinical Associate Professor, Division of General Internal Medicine, Geriatrics, and Integrative Medicine at the University of New Mexico Health Sciences Center in Albuquerque, New Mexico, where he continues innovative research work on behalf of ARPF. He also serves as Associate Editor for the Journal of Alzheimer's Disease. Dr. Dharma adopted the Sikh faith in 1981, and wears a distinguished full beard and white turban. He lives in Tucson, Arizona.
---
About Dr. Helen Lavretsky
Helen Lavretsky, MD is a Professor of Psychiatry and Biobehavioral Sciences at the Semel Institute for Neuroscience and Human Behavior, UCLA Department of Psychiatry in Los Angeles, California. She is a geriatric psychiatrist with research interest in geriatric and caregiver depression, as well as complementary and alternative medicine and mind-body approaches to treatment and prevention of mood and cognitive disorders in older adults. She received the 2001-2007 and 2010-2015 Career Development awards from NIMH and other prestigious research awards. Dr. Lavretsky is the principal investigator of important research studies, include an NIMH-funded randomized trial of methylphenidate augmentation of citalopram to improve clinical and cognitive outcomes in geriatric depression, and the NCCAM funded study of complementary use of Tai-Chi to improve antidepressant response in geriatric depression, as well as a meditation study for family dementia caregivers, and a study of milnacipran for treatment of pain in older adults with rheumatoid arthritis. She has developed an elective rotation in clinical research for Medical Students at UCLA. After receiving her Medical Degree from the Moscow Medical Institute, Dr. Lavretsky performed her residency in Psychiatry at UCLA-San Fernando Valley Residency Program, followed by the UCLA Fellowship in Geriatric Psychiatry, and the national VA Research Fellowship in Neurosciences. She received her Degree of Master of Science in Clinical Research from UCLA in 2004.
---


About Dr. Chris Walling

Chris Walling, Psy.D, MBA, C-IAYT has been an active leader in healthcare for nearly two decades. His work integrates the developmental, biological, and somatic aspects of the lifespan. His work in academic medicine has included the administration of multidisciplinary leadership teams in hematology-oncology, physical medicine and rehabilitation, and geriatric psychiatry. Dr. Walling's service in geriatric psychiatry began as the Executive Administrator for the UCLA Longevity Center and Division of Geriatric Psychiatry in 2010. It was there through his work with world class physician researchers he began to explore the applications of yoga therapy in mental health. He currently serves as Chairman of the Education Advisory Committee for the Alzheimer's Research and Prevention Foundation. He is a certified yoga therapist through the International Association of Yoga Therapists, and a Certified Yoga and Meditation instructor through Yoga Alliance. Dr. Walling is the President of the United States Association of Body Psychotherapy. His clinical focus in the behavioral sciences has examined the intersections of neuropsychotherapy, affect regulation, and body psychology. He has trained with some of the leading experts in contemporary psychotherapy including Dr. Peter Levine, Dr. Stephen Porges, Dr. Sue Johnson, and Dr. Allan Schore. His research on Proprioception and Interoception in Somatic Experiencing Praxis received the 2016 President's Award for Research Excellence at California Southern University. Dr. Walling is the Clinical Director of Soma Psychological Services in Los Angeles, California where he specializes in stress related disorders, trauma, couples work, and addiction recovery. His passion and expertise in resilience, mindfulness, and psychological wellbeing make him a sought after speaker for several Fortune 500 companies where he has helped executives learn how to harness the power of peak performance via the innate resources of the body.
---
About Kirti Khalsa, RYT

Kirti serves as the Chief Executive Officer and Secretary of the Board of ARPF. Before moving to the United States, she worked for a multinational pharmaceutical company in the export, marketing and Regulatory Affairs departments in Italy, America, and Switzerland. She was responsible for single-handedly implementing, managing, and overseeing the opening of a branch office in Neuchatel, Switzerland.
Kirti's main ARPF responsibility is to keep the foundation running smoothly. She handles all organization and administration relations. Kirti has spearheaded the ARPF Memory Screening Initiative for the past 14 years and is an avid supporter in helping seniors through lectures and wellness programs. She is a graduate of the Senior Suicide Prevent Program as well as the Grief Recovery Program. Her passion is to keep our elders healthy and a vibrant part of our community.
Being fluent in five languages, Kirti is a master communicator and an integral part in developing ARPF's international presence. Although much of her work has been over a worldwide platform, Kirti is also very active in her local Tucson community. As an experienced yoga practitioner, she has taught yoga classes to seniors and people with disabilities for over 20 years. She also supports the local Senior Companion Program and works with her Rotary Club to promote health awareness.
Kirti is a black belt in Indian Martial Art "Gatka" and a brown belt in Kung Fu. She also enjoys gardening and cooking in her free time.
"I love Dr. Dharma's humor and expertise. I feel that it motivated me to be more consistent again with my meditation practice." –C.R., Knoxville, TN
If you have any questions, please email us at register@alzheimersprevention.org.
ARPF understand that sometimes plans change and that is why we have the following ARPF following Cancellation/Refund Policy: All cancellations must be submitted in writing to register@alzheimersprevention.org Cancellations received by September 20th will be refunded entirely, except for a minimal credit card processing fee. Cancellations received by October 5th will be processed minus a $100 administrative fee. Cancellations received after October 5th are non refundable.
Grievance Policy
The Alzheimer's Research and Prevention Foundation (ARPF) is committed to conducting all activities in strict conformance with accreditation agencies and boards. ARPF will comply with all responsibilities to be nondiscriminatory in activities, program content, and in treatment of participants. The monitoring and assessment of compliance with these standards will be the responsibility of the Chief Executive Officer, Kirti Khalsa.
While ARPF attempts to assure fair treatment of all participants, we recognize grievances that may require intervention. Grievances are handled in the following manner:
When a participant, either orally or in written format, files a grievance, the Chief Executive Officer (CEO), will evaluate the nature of the complaint. If it is meritorious, CEO will instruct the staff to implement any necessary changes in the course. The complainant will receive a response from the CEO, or designated staff within 5 working days.
You may file a complaint by telephone or email.
Telephone #: 888.908.5766
Email: kirti@alzheimersprevention.org