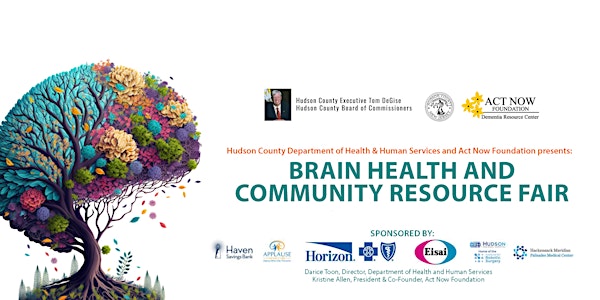 Brain Health & Community Resource Fair 2023
The Brain Health & Community Resource Fair is a FREE day-long event that focuses on the importance of brain health and aging.
By Act Now Foundation - Dementia Resource Center
Date and time
Saturday, June 10 · 10am - 2pm EDT
Location
Lincoln Park Lincoln Park Jersey City, NJ 07304
About this event
FREE REGISTRATION TO ATTEND
We are bringing back the Brain Health & Community Resource Fair with the Hudson County Department of Health and Human Services! We estimate over 100 vendors and 500 attendees, and you are all invited to attend!
The Brain Health & Community Resource Fair is a FREE day-long event that focuses on the importance of brain health and aging.
The event will include:
- Brain Games 🧠
- Free Health Screenings 🩺
- Workshops and Services 🗣
- Resources 💛
- Substance Abuse & Mental Health Information 😌
- 75+ Health & Human Services Vendors 🧑‍⚕️
- Music, Zumba, Tai Chi 🧘‍♀️🥁
- and Giveaways 🎁
About the organizer
Act Now Foundation is a 501(c)(3) organization co-founded by Cary Lopez, Executive Director and Kristine Allen, President who previously owned and operated a successful corporation in the fragrance industry for over 16 years.
It happened in 2009, that both Ms. Lopez and Ms. Allen were faced with the devastating disease known as Alzheimer's. After several years of living, caring and comforting their loved ones with Alzheimer's, they decided that something more had to be done. They spent several years researching the disease to learn everything they could to become better caregivers and became experts in their field due to their extensive reading, training and hands on experience. It was only then, in November of 2012 that they realized the need to change the direction of their lives. So they sold their business in the fragrance industry and Act Now Foundation was created.
For the last six years, Ms. Lopez and Ms. Allen have worked tirelessly to raise awareness, advocate and educate New Jersey about Alzheimer's disease, prevention and early detection. Ms. Allen and Ms. Lopez are Certified Dementia Practitioner's and Certified Cognitive Assessment Screeners. Ms. Allen is also a Certified Alzheimer's Disease and Dementia Care Trainer, and a Certified First Responder Dementia Trainer.
Act Now Foundation is a member of the Alzheimer's Foundation of America, and an Alois Society Member of the Alzheimer's Association. Ms. Allen is a founding member of the Hudson County Caregiver Coalition, Board Chair of the Community Networking Association of NJ, and a member of the Advisory Board of the Hudson County Department of Disability Services. Ms. Lopez is a Board member with the Hudson County Department of Mental Health and a member of the advisory committee for CarePoint Health Hospitals. They have received several Citation Awards, Proclamations, and Congressional Awards – all for their dedication to reducing the impact of Alzheimer's disease in the State of New Jersey.
They also co-wrote a two-bill legislation package to ensure that Alzheimer's disease receives the attention it deserves in the state of New Jersey. The bills clarify law regarding the listing of Alzheimer's disease on death certificates and expands the scope of training of home health care aides; both of which the Governor signed into Law in January of 2016.
Ms. Lopez and Ms. Allen have the experience in both the for-profit and the non-profit sector of business, and know the intricacies of owning, operating, and funding an organization. They are well known and respected by their community, peers and politicians of New Jersey.
On a personal note, Isa Lopez, Cary's mother and the inspiration for Act Now Foundation passed away after a 14-year battle with Alzheimer's in August of 2016. Her legacy lives on in the community now through each home visit, each support call, each memory screening, and each smile and hug.
Currently, there is no way to prevent, cure or slow the progression of Alzheimer's – a disease that each year kills more Americans than breast cancer and prostate cancer combined. Scientists believe we are now at the tipping point. We have the ideas, the technology and the will. Now we need the support.
Please join us in honoring those we have lost, those we love who are still struggling, and those caregivers and community members who go above and beyond in the fight against Dementia.