| | |
| --- | --- |
| Brain Aneurysm/AVM Support Group of San Joaquin County and Beyond, 2015 | |
Event Details
Many live with an aneurysm all of their life and it never burst.   A brain aneurysm is an abnormal bulging of an artery.  It is estimated that 1 out of every 15 people in the United States have an aneurysm during their lifetime.  Most people live with an aneurysm and never even know it because it doesn't burst or cause any disabling effects.
Brain aneurysms are often discovered when they rupture, causing bleeding into the brain or the space closely surrounding the brain called the subarachnoid space, causing a subarachnoid hemorrhage or a hemorrhagic stroke, brain damage and death. Unfortunately the mortality rates are high.
 The average age of a person having a brain aneurysm is between 40-60 years of age.  oftentimes during the prime of life.  Those who survive often have neurological impairments, physical and cognitive damage and recovery is a lifetime project.  Since the average age of those having a brain aneurysm is younger than the average age of those having an Ischemic stroke, traditional stroke support groups,  may not be fulfilling for these survivors.  They are active and want to talk about ways to renew life again and have a full social life again.
 In our Support Group we will share stories, plan excursions and support one another in the quest for recovery.  We will also work to create greater awareness about brain aneurysms. Each month we have a theme that guides our discussions.  We are always open for change if someone has a special need or support.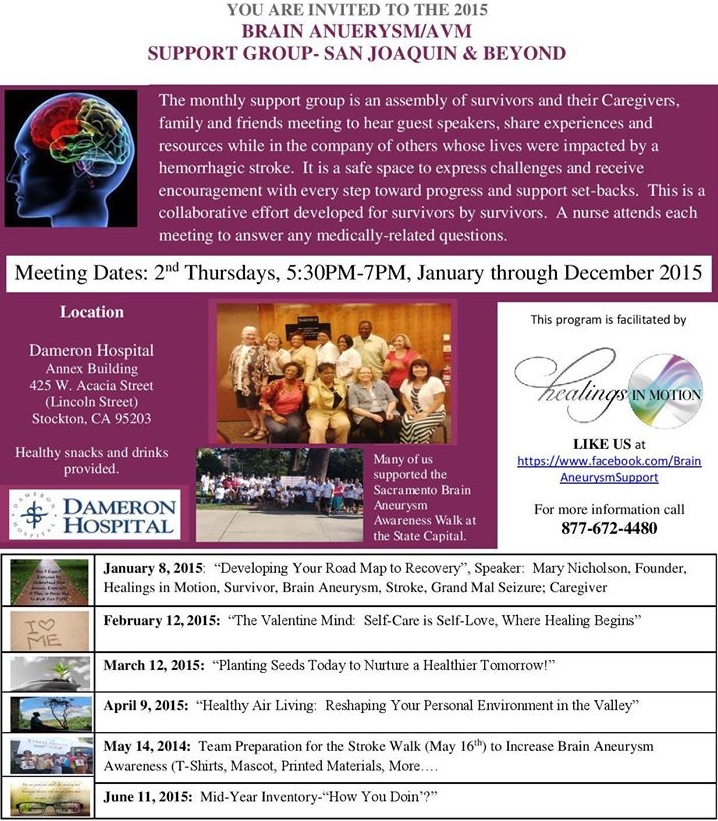 There will always be a medical professional participating.  
There is no charge to participate in this group.  It is a self-help engaging program, but do everything at your own pace. We are here to support you.
Special thanks to Dameron Hospital for hosting this program, providing the space and for providing evening snacks.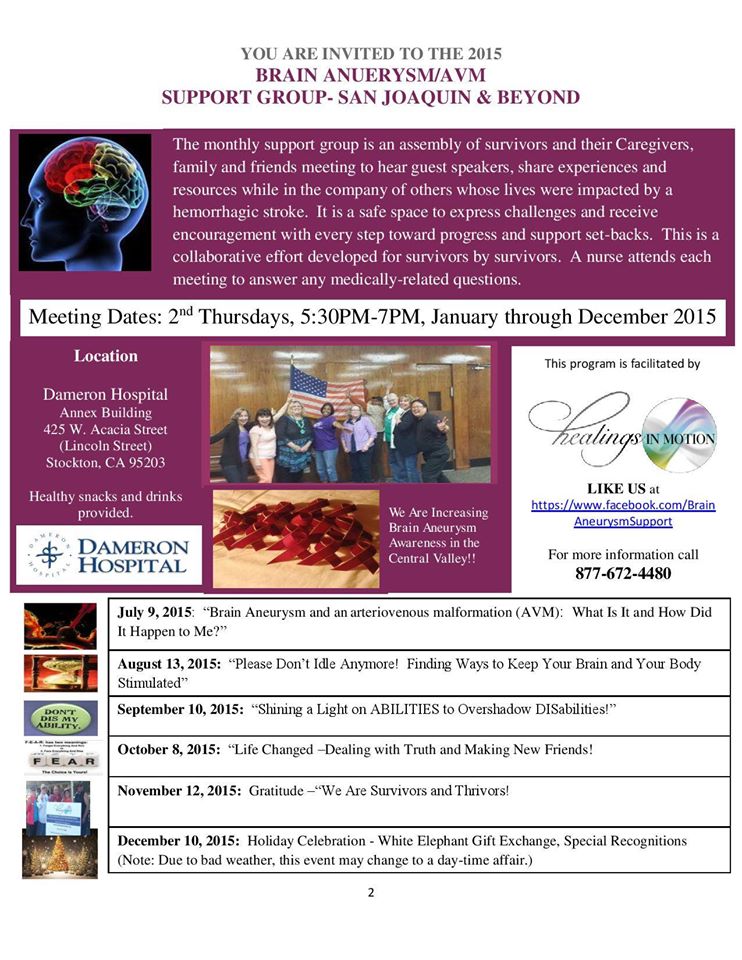 When & Where

Dameron Hospital
525 West Acacia Street
Stockton, CA 95203


Organizer
Healings in Motion, Inc.
Healings in Motion is a 501(c)3 non-profit agency focusing on stroke prevention and recovery from stroke, Traumatic Brain Injury("TBI") and some neurological impairments.  Healings in Motion integrated Caregiver education and support as an intricate part of its services because of the significant role Caregivers play in continuum care for chronic illnesses, long-term disabilities, wounded veterans, the elderly and more. Healings in Motion has been offering services since 2007.
Healings in Motion offers the following services:
The Central Valley Recovery, Awareness, Preventing Strokes program ("CV-RAPS")
The Brain Health to Beat Stroke 5k and Expo
Coach for Life's Champions Awards Dinner & Show
INNER SAFARI Caregiver Conference
Professional Health Coaching
Support Group-"Brain Aneurysm-AVM Support Group!"  
Partners for Stroke Awareness & Progress
New In 2017:  Hospital Stroke Designation Team, San Joaquin County 
Healings in Motion was founded by Mary Ann Nicholson, after surviving a subarachnoid aneurysm, grand mal seizure and stroke.  This life-changing event followed the loss of her husband after fighting a rigorous battle with pancreatic cancer..  Within a short window of time, Ms. Nicholson learned the challenges of caregiving and the vital role Caregivers play in recovery.  The programs offered by Healingsin Motion are based largely on services she uses to nurture her continued recovery.
For more information about Healings in Motion visit our website at www.healingsinmotion.org
Brain Aneurysm/AVM Support Group of San Joaquin County and Beyond, 2015