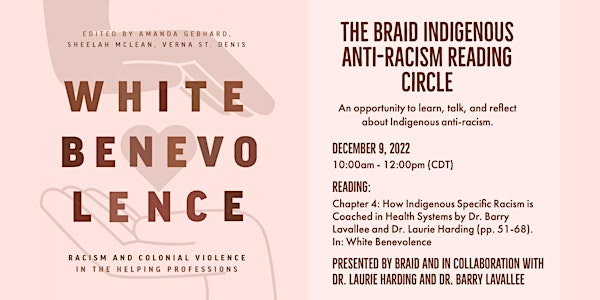 BRAID Indigenous Anti-Racism Reading Circle: White Benevolence
This event is part of the BRAID Indigenous Anti-Racism Reading Circle learning series by the BRAID Network for Health Educators.
About this event
The BRAID Indigenous Anti-Racism Reading Circle provides educators in the Rady Faculty of Health Sciences with the opportunity to engage in a critical exploration of contemporary writing on issues of racism, colonialism, and the health care system. The goal of this learning series is to create a space of support and shared learning that will promote anti-racist practice and teaching within Indigenous health curricula in Rady's professional health education programs. Learning sessions will occur every 6 weeks.
In the fifth session of the BRAID Indigenous Anti-Racism Reading Circle, Dr. Laurie Harding will facilitate an exploration of the book chapter, "How Indigenous Specific Racism is Coached in Health Systems", written by Barry Lavallee and herself in the book White Benevolence: Racism and Colonial Violence in the Helping Professions. Registered participants will receive a brief outline to help guide their reading and will have the opportunity to engage in a facilitated discussion during the learning session on December 9, 2022.
In order to facilitate optimal conditions for discussion, registration for each session in this series will be limited to 20 participants, and priority will be given to educators who teach in one of the University of Manitoba's professional health programs.* We will maintain a waitlist, and may add an additional session if there is sufficient interest.
About the Facilitators:
Dr. Barry Lavallee is a member of the Métis community of St. Laurent, Manitoba and a descendent of Duck Bay and Lake Manitoba First Nations. He is CEO of Keewatinohk Inniniw Minoayawin Inc. (from Cree to English this means Northern Peoples Wellness), which supports the transformation of clinical and wellness services with and for First Nations in Manitoba's north. He has over thirty years of hard-earned leadership skills as an Indigenous physician and educator with extensive knowledge of the insidious and pervasive role racism continues to play in health care provision and for the people in accessing health care. Dr. Lavallee has focused his entire career on improving care and outcomes for First Nations and Métis people – as a practicing physician and as an educator, researcher and advocate. His current interest clinically is the emergence of chronic diseases in First Nations in Manitoba and understanding the influence of colonialism and Indigenous specific racism as significant causation variables.
Dr. Laurie Harding identifies as a White settler of English and Scottish colonial decent, occupying Quw'utsun homelands, also known as Shawnigan Lake, BC. She works closely with and credits Indigenous mentors for her Indigenous anti-racism knowledge, awareness and skill. She is an author and adjunct professor at UVIC with extensive experience in facilitation and education in the area of Indigenous Cultural Safety and Indigenous anti-racism. Her workshops are tailored to support and mentor health care educators, providers, leaders, teams, ministries, health authorities or corporations, or anyone who would like to improve their Indigenous Cultural Safety & Anti-Racism Response knowledge, self-awareness, and skills. Her doctoral thesis examines Indigenous specific racism in health services.
About BRAID:
The Building Relationships for Anti-Racist Indigenous Development (BRAID) Network for Health Educators serves to provide resources, training, and a sense of community for Rady faculty to promote anti-racist practice at the University of Manitoba. To find out more about BRAID, our resources and upcoming events for health educators in the Rady Faculty of Health Sciences, please contact us at braid@umanitoba.ca. To receive notification of our upcoming workshops, please join our e-mail list by contacting us at braid@umanitoba.ca.
*This includes the programs within the Rady Faculty of Health Sciences and the Department of Human Nutritional Sciences.