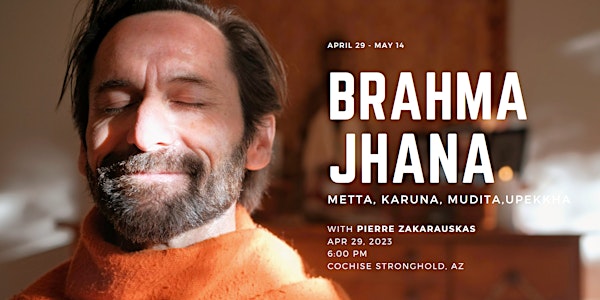 Brahma Jhana
A two weeks residential retreat on jhana and the brahma viharas
Date and time
April 29 · 5pm - May 14 · 1pm MST
Location
Dharma Treasure Retreat Center at Cochise Stronghold 2126 W. Windancer Trail Cochise, AZ 85606
Refund Policy
Contact the organizer to request a refund.
Eventbrite's fee is nonrefundable.
About this event
14 days 20 hours

Mobile eTicket
Pierre will be offering guided meditations and discussions on the cultivation of the Brahma Vihara (divine abodes of metta, compassion, joy, and equanimity) as a basis to enter and dwell in the states of mental unification known as the jhanas, that can lead to enduring changes in the mind.
Yogis are welcome to attend or not these sessions and include these practice as much or as little as they feel.
About the Retreat
The retreat will take place in the beautiful surroundings of the Dharma Treasure - Stronghold Retreat in the canyon of the Cochise Stronghold, Dragoon Mountains.
During the retreat, we will not use phones and internet, and you will be able to maximize the amount of time each day that you spend meditating, walking, and working creatively while at the same time participating in a community of practitioners and receiving support from teachers. Processes for intentional dialogue will be utilized.
The retreat is offered on Dana (a Pali word meaning generosity), which means the registration prices are at cost and don't include the cost of the teachings. Pierre will teach on Dana in an effort to make the retreat as accessible as possible.
If you'd like to attend, but the costs of this retreat prohibit you from attending, full and partial scholarships can be applied for at Open Dharma Foundation.
This is a bring your own food retreat. You will have access to a private or shared kitchen.
It is also possible to participate in the community meals. Email henrik@dharmatreasure.org for details.
Schedule
6:00 am Morning session
8:00 am Breakfast
9:00 am Late morning session
12:00 pm Lunch & Hike
2:00 pm After-noon session
5:00 pm Dinner / tea
7:00 pm Evening Session
9:00 pm Rest
The schedule is subject to change
About Dharma Treasure Retreat Center
Dharma Treasure is a non-profit retreat center located in the Dragoon Mountains of southeast Arizona. This wilderness retreat has long been considered sacred — first by the Chiricahua Apaches and later by hundreds of meditators grateful to practice in this quiet canyon. While being the birthplace of TMI, the Mind Illuminated method, the retreat center welcomes spiritual sojourners from all traditions, while providing support aimed at spiritual awakening, rooted in the teachings of the Buddha.
Cochise Stronghold, the specific site where Dharma Treasure is located within the Dragoons, is a magnificent natural wonder. Granite peaks rise to the east, south and west, spotted with chromatic, lichen-covered boulders, precariously balanced rocks, and charismatic formations that take on a life of their own. An evergreen juniper and oak forest grows in the valley, providing shelter for abundant wildlife including javelina, deer, and hundreds of species of birds. A seasonal stream flows from mountain top pools down through the canyon. Sharing a border with the Coronado National Forest, the retreat center is surrounded by hiking and horse trails that snake up into the mountains for miles.
The retreat center is located 90 minutes from the Tucson Airport, 45 minutes from Benson and Willcox, and 20 minutes from the small village of Sunsites. While remote, we are part of a close-knit rural community.
The Teacher
Pierre Zakarauskas
Pierre was drawn to practicing the Dharma to line up his understanding of the world as a physicist with how it felt to be human. Science provided him with a particular understanding of the world, including the mind, but it had nothing to say on how to live a good life, a happy and full life.
A meditator since 1995 and a daily practitioner since 2002, in 2004 Pierre decided to devote a substantial portion of his time meditating, both at home and on silent retreats. Pierre's main teachers have been Ayya Khema and
Leigh Brasington, in the Theravadin tradition, who teach the sutta jhanas to cultivate the mind prior to, or alongside, insight practice, along with a good dose of metta. Pierre also practiced using TMI as a guide for several years, and lately Tranquil Wisdom Insight Meditation. He also dabbled in Zen and Dzochen.
Pierre's joy de vivre is contagious. Pierre is happy to work with practitioners of all traditions and belief systems.