Missed an opportunity to donate and grab your Bragg Jam 2021 Bragg On shirt?
About this event
Missed an opportunity to donate and grab your Bragg Jam 2021 Bragg On shirt?
Never fear, we have you covered!
We are taking a second round of T-Shirt orders due to this year's demand.
Orders can be placed between August 1, 10:00 AM - August 7, 11:59 PM.
Donate today and secure your 2021Bragg On Shirt!
You will receive an email when your shirt is ready for pick-up. Location for pickup to be announced.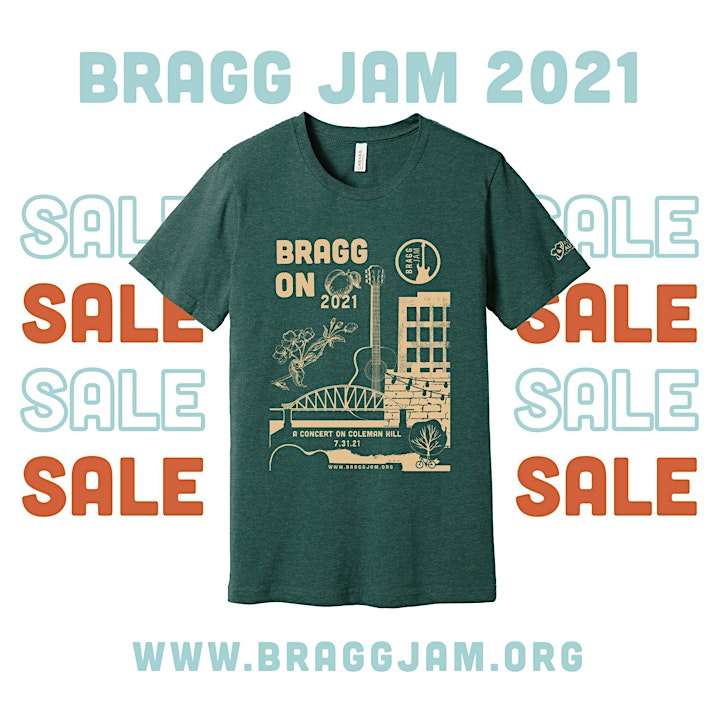 Organizer of Bragg Jam - Bragg On T-Shirt
During the summer of 1999, Macon singer/songwriter Brax Bragg was on the brink of something big. He had just recorded a CD with his new band, the Buckleys, and they were scheduled to set out on a national tour. Before hitting the highway with his band, Brax took his baby brother Tate, an accomplished classical guitarist, on a cross-country road trip. While traveling through Texas on July 3, the brothers' lives were tragically cut short by a car accident.
Back in Macon, friends were reeling at the news of the brothers' tragic deaths. Russell Walker, a friend of the family and fellow musician, organized an impromptu jam session of local musicians to celebrate and honor the Bragg brothers' talented lives. The healing power of music began to perpetuate, and a year later, the jam session resumed. "Bragg Jam" had officially been born. What began as an untimely tragedy, has evolved into a way to give back to the community.
21 years later, and countless hours of time put in by an all-volunteer board, Bragg Jam has culminated into Macon's biggest weekend of music with a two-day, multi-venue concert crawl on the last weekend of July. What started out as a handful of bands at a couple stages, has grown to 50+ bands at 10+ stages all around the heart of downtown Macon. Money raised from Bragg Jam is donated to the Ocmulgee Heritage Trail, Amerson River Park, as well as other local causes in memory of the brothers.
Today, Bragg Jam has grown to envelop the Second Sunday Concert Series, Arts & Kids Fest, and the legendary Concert Crawl.