Refund policy
Contact the organizer to request a refund.
Eventbrite's fee is nonrefundable.
Read on for important registration and book order details!
About this event
Celebrate the release of True Raiders with author Brad Ricca, in conversation with Daniel Barbarisi!
How to Register
Register on this page to receive a Zoom link
Register free, pay what you like, or buy the book to enter the event
If you don't receive a confirmation email after registering, contact us right away
Get Your Books
Books are held for pickup or shipped after ticket sales have closed.
STORE PICKUP- Pick up your book in person at Brookline Booksmith (Click here for directions). You will receive an email alert when your book is ready.
SHIPPING - Have your book shipped via USPS priority mail. Shipping is only available in the United States.
If you have trouble checking out, check the Eventbrite FAQ located here.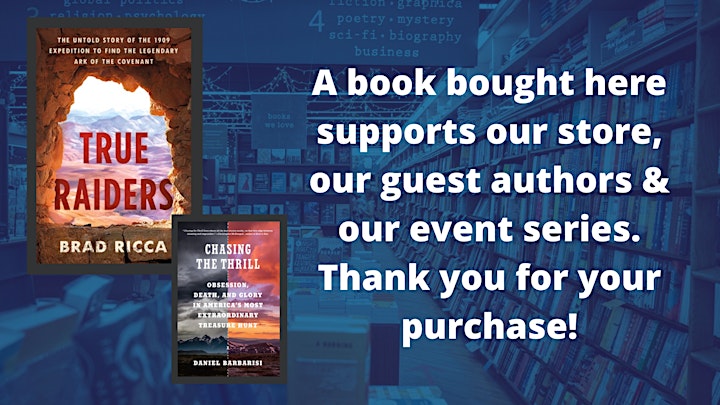 True Raiders
This book tells the untold true story of Monty Parker, a British rogue nobleman who, after being dared to do so by Ava Astor, the so-called "most beautiful woman in the world," headed a secret 1909 expedition to find the fabled Ark of the Covenant. Like a real-life version of Raiders of the Lost Ark, this incredible story of adventure and mystery has almost been completely forgotten today.
In 1908, Monty is approached by a strange Finnish scholar named Valter Juvelius who claims to have discovered a secret code in the Bible that reveals the location of the Ark. Monty assembles a ragtag group of blueblood adventurers, a renowned psychic, and a Franciscan father, to engage in a secret excavation just outside the city walls of Jerusalem.
Using recently uncovered records from the original expedition and several newly translated sources, True Raiders is the first retelling of this group's adventures—in the space between fact and faith, science and romance.
Brad Ricca is the author of the Edgar Award-nominated Mrs. Sherlock Holmes, Olive the Lionheart, and Super Boys, winner of the Ohioana Book Award for Nonfiction. He won the St. Lawrence Book Award for American Mastodon. Ricca lives and works in Cleveland.
Moderator Daniel Barbarisi is the author of Dueling with Kings. He is currently a Senior Editor at The Athletic, after years as a reporter at The Wall Street Journal and The Providence Journal. He resides with his wife and two sons outside Boston, Massachusetts.
About Brookline Booksmith
We are one of New England's premier independent bookstores, family-owned and locally run since 1961. We offer an extensive selection of new, used, and bargain books; unique, beautiful gifts; award-winning events series; and specialty foods. Every day, we strive to foster community through the written word, represent a diverse range of voices and histories, and inspire conversations that enrich our lives. Find more at brooklinebooksmith.com!
Barring technical difficulty, auto-transcription is enabled on all Brookline Booksmith Zoom Webinar events.