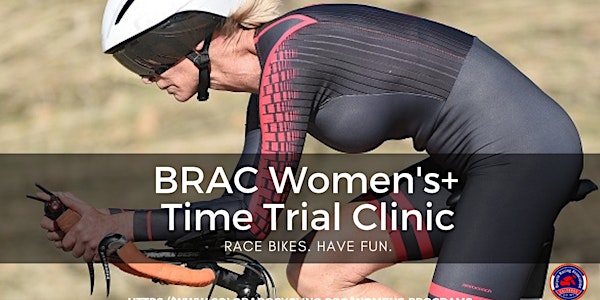 BRAC's Women's+ Time Trial Clinic
When and where
Location
Superior Marketplace 301 Center Dr Superior, CO 80027
Description
What is a time trial?
It's usually called "the race of truth" because it's one rider against the clock, coming down to an individual's strength and endurance. Racers are not allowed to draft. Starting times are at equal intervals, usually 30 seconds up to one-two minutes apart. The rider with the fastest time is declared the winner.
Skills learned in the clinic (plus more depending on group needs):
Maintaining a steady power output or controlled heart rate (otherwise known as "pacing yourself") for long periods of time

Maintaining a smooth pedaling technique

Positioning self for optimum aerodynamics
**New racers (Category 5) who attend this clinic will receive 50% off of the Superior Morgul Time Trial scheduled May 18th, 2019.**
Please bring appropriate bike-riding gear (bike, helmet, etc.) as this will be taught on bikes.
About the Women's+ Development Committee:
The Women's+ Development Committee aims to inspire and provide skills to the women's+ (women, trans women, femme, non-binary) cycling community to encourage more participation in Colorado bicycle races in an inclusive environment. The Committee and BRAC (Bicycle Racing Association of Colorado) will provide support for women+ relating to:
1. Recreational riders interested in racing
2. Group rides, clinics, and events in relation to racing
3. Bike-related questions