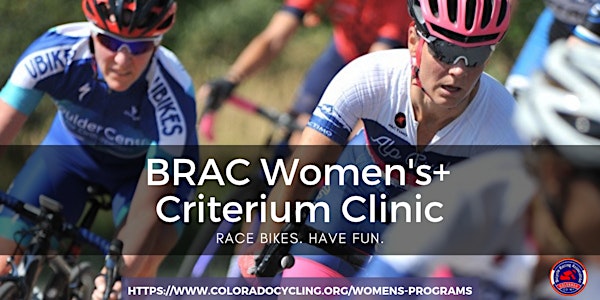 BRAC's Women's+ Criterium Clinic
When and where
Location
Chatfield State Park W. Deer Creek Canyon Rd. and S. Wadsworth Blvd Littleton, CO 80127
Description
What is a criterium?
A criterium, or crit, is a bike race consisting of several laps with tight turns, around a closed circuit. The length of each lap ranges from about .5 to 2 miles. Race length can be determined by a number of laps or total time, in which case the number of remaining laps is calculated as the race progresses.
Location: Meet at the entrance to Chatfield on W. Deer Creek Canyon Rd. and S. Wadsworth Blvd. Park along W. Deer Creek Canyon Rd. Bike across S. Wadsworth Blvd. Meet at the gates to Chatfield.
Skills learned in the clinic:
How to safely take a corner

Bike-handling skills

Positioning on the bike and in the pack

Racing tactics and strategies
**New racers (Category 5) who attend this clinic will receive 50% off of the Stapleton Criterium scheduled July 28th, 2019.**
Please bring appropriate bike-riding gear (bike, helmet, etc.) as this will be taught on bikes.
About the Women's+ Development Committee:
The Women's+ Development Committee aims to inspire and provide skills to the women's+ (women, trans women, femme, non-binary) cycling community to encourage more participation in Colorado bicycle races in an inclusive environment. The Committee and BRAC (Bicycle Racing Association of Colorado) will provide support for women+ relating to:
1. Recreational riders interested in racing
2. Group rides, clinics, and events in relation to racing
3. Bike-related questions