Description
Brooklyn and Queens continue to make headlines as new development and investment in the boroughs surge. With many prime locations already under development, panelists will examine what neighborhoods and asset classes are hot (or not), office supply and demand, concerns over infrastructure, key policy initiatives and why Brooklyn and Queens will continue to flourish for years to come.

Attendees will also hear firsthand from companies that moved from Manhattan to the boroughs, including what factors influenced their decision to relocate, followed by an exclusive tour of Dock 72, the much-anticipated tech-focused office building rising at The Brooklyn Navy Yard.
GETTING THERE:
Buses, Citi Bike, Uber and Lyft all provide options for easy commuting. New Lab is located directly behind the Cumberland Gate, located at Cumberland Street and Flushing Avenue. In addition, a free shuttle service is available between the Navy Yard's Cumberland Gate and select subway lines in Brooklyn. For more information, please visit
http://brooklynnavyyard.org/transportation/
.

TOURS OF DOCK 72: Tours of Dock 72 will immediately follow the event. If you plan on taking a tour, you will be visiting an active construction site and must wear closed toed shoes (no heels or ballet flats), pants or slacks and long sleeves. Attendees who do not meet the attire requirements will not be permitted on the Dock 72 site. Before the tour, you will be asked to sign a waiver and will be provided with hardhat that must be worn at all times.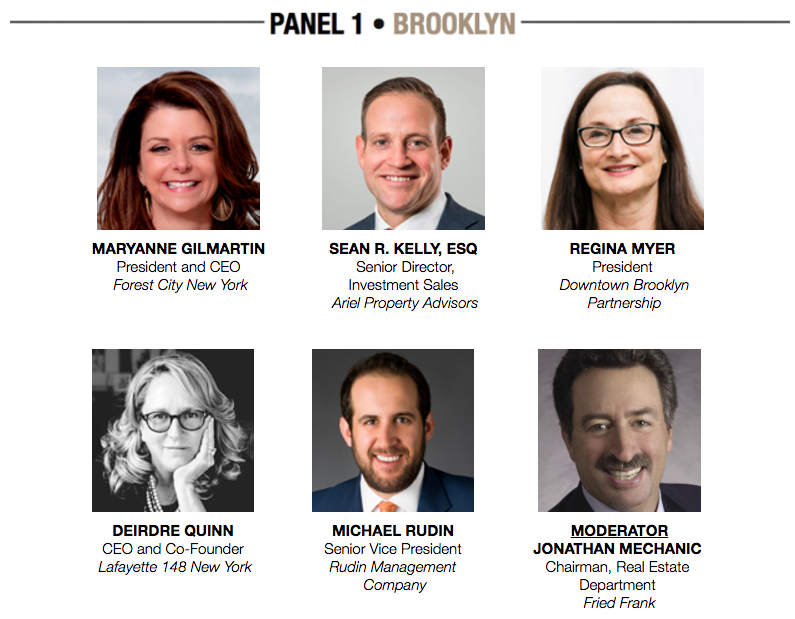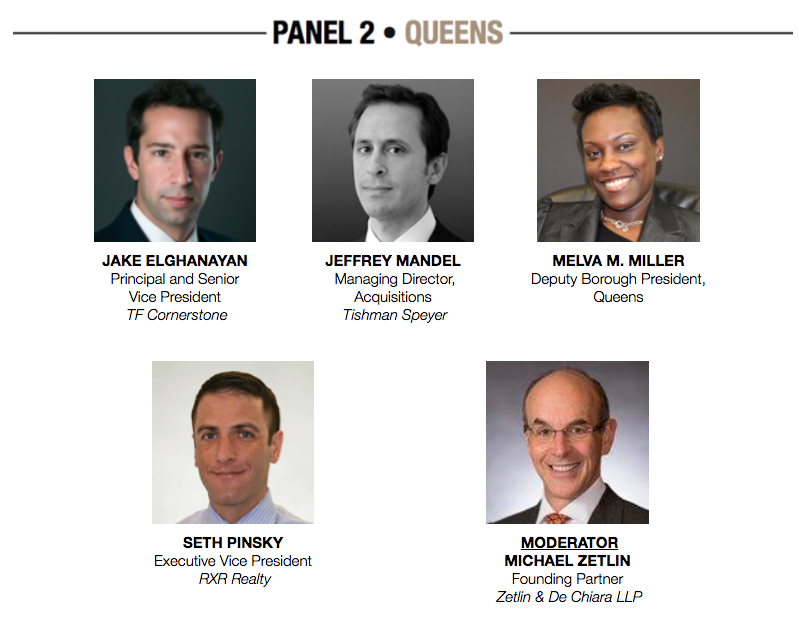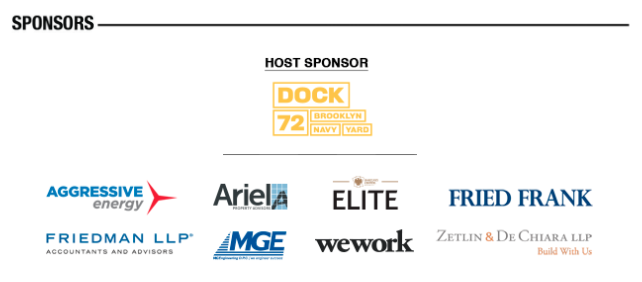 AGRESSIVE ENERGY
At Aggressive Energy we're striving to power New York and beyond with affordable fuel oil, biofuels, natural gas and electricity. In addition to competitive pricing, we're committed to our customers and have been offering reliable energy service for more than 30 years. As a leading energy supplier throughout the northeast, we promise to uphold our premium service while doing what's right for our environment and our economy.
ARIEL PROPERTY ADVISORS
Ariel Property Advisors is an investment real estate services and advisory company located in New York City.

Our company is unique to the industry in that it is structured like an investment bank, with separate divisions for investment sales, capital services and research. This strategic approach to commercial brokerage services allows our professionals to deploy greater resources and provide consistent, seamless execution to every transaction.

We cover all major commercial asset types throughout the New York metropolitan area, but maintain a very sharp focus on multifamily, mixed-use, development, commercial and industrial properties. From consultation through closing, our professionals are dedicated to achieving optimal results for our clients. Combining the insights of veteran brokers with the latest real estate market intelligence, we find solutions that meet the specific needs of both the client and the asset.

Cultivating long-lasting relationships with the real estate community is essential to the success of both our firm and our clients, so we encourage all market participants to use our company as a resource.
BARCLAYS CENTER ELITE
From the luxury of the suites to the excitement of having the action in your face, Barclays Center Elite offers a unique premium experience at one of the world's most popular arenas. Home of the Brooklyn Nets and New York Islanders, Barclays Center welcomes the world's biggest artists, along with championship boxing and college basketball, with the prestigious ACC Tournament returning to Brooklyn in March 2018.

Barclays Center Elite offers the opportunity to customize a premium experience from our calendar of premier events. We've reimagined our premium ticketing and hospitality options with an emphasis on flexibility to give fans precisely the experience they're looking for. They can rise above it all in one of our luxury suites, with customizable packages that provide access to all of Barclays Center's biggest events. Courtside and Rinkside tickets bring fans up close to the action and all its intensity. Loge Boxes offer the best of both worlds, with a luxury experience in the heart of the crowd.

The 40/40 CLUB & Restaurant by Tanduay Rum, Billboard Lounge and the Calvin Klein Courtside/Rinkside Club offer exclusive dining experiences.

DOCK 72
Dock 72 is the home of 21st century manufacturing in the digital age – a laboratory for the production of ideas and innovation. The 675,000 square foot building was designed to integrate state-of-the-art modern Class-A office infrastructure with the unique design aesthetic developed for a community of collaborators. The building features 14' floor to floor heights with 8' of vision glass, intensifying the light and air throughout and building and highlighting the unobstructed views of Manhattan and Brooklyn. The building's dual cores and two entrances provide access from the land and water side of the site. 18,000 square feet of private terraces provide an indoor-outdoor working environment and complement the building's active vegetated open space. Dock 72 is a place to plug in, to refuel and to be inspired.

FRIED FRANK
Fried, Frank, Harris, Shriver & Jacobson LLP's Real Estate Department is the top in its field. With broad experience in all aspects of commercial real estate law, we are capable of successfully representing our clients in all facets of commercial real estate transactions. Our clients are industry powerhouses that are responsible for contributing to the development and reshaping New York City's skyline and other major cities around the world. Our team advises on the acquisition and disposition of single assets and portfolios; mortgage, mezzanine, and construction financing and restructuring on behalf of borrowers and lenders; leasing on behalf of landlords and tenants; joint ventures; real estate investment trusts; real estate litigation; environmental; and land use and development. We work closely with, and regularly advocate before, various NYC agencies. By collaborating with our tax, restructuring and insolvency, and litigation attorneys, we are able to address all challenges that impact a transaction. The Firm advises the world's leading corporations, investment funds and financial institutions on their most critical legal needs and business opportunities. Our approximately 500 lawyers are based in North America and Europe.
FRIEDMAN LLP ACCOUNTANTS AND ADVISORS
Founded in 1924, Friedman LLP Accountants and Advisors brings a profound understanding of the real estate industry — the result of more than 8 decades serving clients involved in a wide variety of real estate entities spanning commercial, retail, residential, and more. We have built long-term relationships with some of the largest and most sophisticated privately owned and publically held real estate companies in the New York area and beyond. Our dedicated Real Estate Group brings a rare combination of highly specialized knowledge and vast experience in the tax, accounting, and business planning aspects of real estate ownership, investment, operation, and development.

Beyond our core audit, assurance, and tax services, Freidman provides several unique services customized to our real estate clients' specific needs. Our State and Local Tax Services Group is well versed in helping real estate organizations manage compliance demands that arise from multistate activities. Our dedicated International Tax Practice brings broad experience and deep expertise advising inbound investors into U.S. real estate and outbound U.S. investors into foreign real property. We provide real estate clients with the tools and cutting-edge insight that they need to evaluate opportunities, make critical decisions, and achieve their strategic objectives. When a transaction is on the table, we ensure that our clients are armed with the most accurate and useful information and analyses— from valuing acquisition and merger targets to structuring deals to meet financial, tax, and reporting objectives to providing restructuring and/or divestiture/exit advice.

For more information, visit http://friedmanllp.com/industries/real-estate.
MG ENGINEERING
For over 25 years MG Engineering (MGE) has provided best-in-class, full service MEP engineering and technology design services. Their experience covers a broad range of sectors including corporate, residential, hospitality, retail, healthcare and building infrastructure. The firm has been named one of the top 500 design firms nationwide for the past five years and one of the best places to work in NYC by Crains NY.
WEWORK
WeWork is a platform for creators. We provide beautiful workspaces, an inspiring community, and meaningful business services to tens of thousands of members around the world. From startups and freelancers to small businesses and large corporations, our community is united by a desire for our members to create meaningful work and lead meaningful lives—to be a part of something greater than ourselves.

Co-founded by Adam Neumann and Miguel McKelvey in New York City in 2010, WeWork is a privately held company with over 2,500 employees.
ZETLIN & DE CHIARA LLP
Zetlin & De Chiara LLP, a leading construction law firm, provides sophisticated legal counsel and business advice to real estate owners and developers as well as architecture and engineering firms in the New York Metropolitan area and around the country. Many of its attorneys have direct experience with construction and design issues through their work as in-house construction counsel, education and training as architects and engineers, and by earning LEED accreditation. The firm provides counsel throughout the planning, design, and construction process — from drafting and negotiating contracts to advising on risk management strategies. Zetlin & De Chiara represents clients in litigation and alternative dispute resolution, and also advises on business formation, licensing and corporate issues.
LOOKING TO REACH THIS AUDIENCE?
For sponsorship information, contact Robyn Reiss at rreiss@commercialobserver.com or 212.407.9382

For all other inquiries, contact rsvp@commercialobserver.com