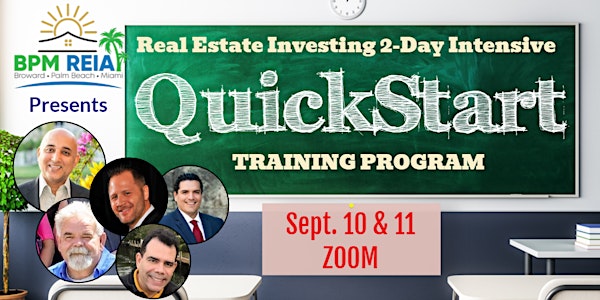 BPM REIA 2- Day QuickStart Bootcamp
DO YOU WANT TO GET A REAL START, REAL EDUCATION IN REAL ESTATE?
About this event
THIS 2-DAY QuickStart BOOTCAMP IS THE PLACE TO START!
The QuickStart Bootcamp is a 2-day intensive workshop that brings the crucial knowledge of the highly successful BPM REIA Mentor Program straight to you.
Our Lead Mentors, along with experts in contracting, taxes, and titles will guide you to leverage your career in real estate investing--and you'll get chances to speak DIRECTLY with them!
During the QuickStart Bootcamp you'll receive some of the knowledge and skill the BPM REIA Team have acquired over the past 20 years and apply it to your career in becoming a successful real estate investor in South Florida!
What You Will Learn:
How to be out in the field & evaluate houses
Effective marketing techniques
How to flip properties with other people's money
How to analyze properties & make offers
Which properties are the best to go after
How to do assignments of contract
MUCH, MUCH MORE!
Let this be the year you level up in the industry that produces more millionaires than any other!
Sat., September 10 - 9:00 AM to 5:00 PM
Sun., September 11 - 9:30 AM to 5:00 PM
EARLY BIRD $297 register before July 5th
Members: $525
Non-Members: $595
SEATS ARE LIMITED to ensure quality time with our experts!
Need to know more, visit www.bpmquickstart.com? Want to become a member? Email us at alexa@bpmreia.com or call (954) 585-2274
Register using this link. CLICK HERE!