Description
Re-Certifying? BPI recently introduced a NEW Renewal Policy for Certified Home Performance Professionals. Please click here for more information.
!! Please Note: The Ticket Type, "Building Analyst Initial Exam - Wx Staff ONLY" is reserved for those currently employed at one of the 26 Washington State Weatherization Agencies (as recognized by the Washington State Department of Commerce). The list of Weatherization Agencies can be found here. !!!
***IMPORTANT: Please click here to review the Study Packet documents, including the BPI technical standards, sample test questions and recommended study materials for the Building Analyst certification. The orientation packet will provide you with the information you need to prepare for the certification exam and an overview of BPI's standards and code of conduct. It is strongly recommended candidates review combustion safety testing and action levels before the exam.***
Building Performance Institute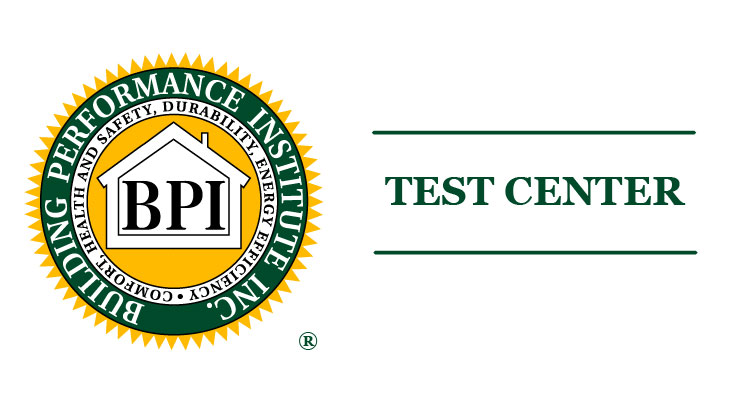 Building Analyst 1 (Auditor) Initial Certification
Initial Exam (Field and Written) - $850.00
Initial Exam (Field and Written) - Weatherization Agency Staff - $425
Re-Test Initial Exam - Written - $275.00
Re-Test Initial Exam - Field - $575.00
Building Analyst 1 (Auditor) Certification - Re-Certification
Field Exam Only (30+ CEU Credits) - $575.00
Short Exam (Field AND Written - Between 10 - 29 CEU Credits) - $750.00
Short Exam (Written ONLY - Between 10 - 29 CEU Credits) - $175.00
Full Exam (Field AND Written - Less than 10 CEU Credits) - $850.00
Schedule:
FIELD Exam
7:30 a.m. - 9:30 a.m.
10:00 a.m. - 12:00 p.m.
1:00 p.m. - 3:00 p.m.
3:30 p.m. - 5:30 p.m.
WRITTEN Exam:
8:30 a.m. - 10:30 a.m.
1:30 p.m. - 3:30 p.m.
Knowledge and Skill Areas for Testing
Health and Safety Diagnostics: health and safety of client and crews, familiarity with indoor air contaminants and moisture-induced problems, knowledge of building codes and OSHA standards and National Fuel Gas Code venting standards, must perform comprehensive combustion safety tests ( CO, spillage, draft, CAZ depressurization, and identify IAQ/moisture issues and recommend remediation strategies
Intermediate Building Science: building construction, materials, and knowledge of interaction of zones found within the structure, basic math, determination of R- and U-values of building components.
Air Flow Diagnostics: use of blower doors to determine air leakage locations in the thermal envelope, pressure pan tests for duct leakage evaluation, calculation of air-tightness limits and appropriate applications, basic pressure diagnostics
Construction Management: client education and management skills, ability to accurately document measurements and diagnostic results, specification of appropriate shell and heating measures for subcontractors, work-scope development including prioritization of measures.
Cancellation: In the event of cancellation the following fees apply:
Fourteen (14) calendar days or more prior to date: 25% of fees

Thirteen (13) calendar days to 72 hours prior to date: 50% of fees

Less than 72 hours prior to exam date: 75% of fees
Please note: Circumstances beyond control of the candidate will be evaluated on a case by case basis.
***IMPORTANT: Please click here to review the Study Packet documents, including the BPI technical standards, sample test questions and recommended study materials for the Building Analyst certification. The orientation packet will provide you with the information you need to prepare for the certification exam and an overview of BPI's standards and code of conduct. It is strongly recommended candidates review combustion safety testing and action levels before the exam.***