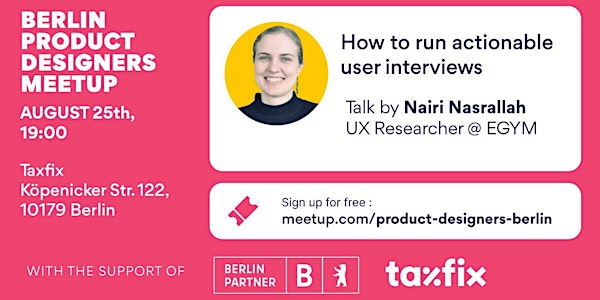 BPD#7 - User Interviews w/ Nairi Nasrallah
After we had to cancel the last meetup because of COVID-19, Nairi is back to help us conduct great User Interviews. This time at Taxfix.
When and where
Location
Taxfix Köpenicker Straße 122 10179 Berlin Germany
About this event
Come meet fellow product designers, and learn how to run actionable user interviews alongside Nairi Nasrallah from EGYM
About this event
Join 50+Berlin Product Designers in our monthly meetups where we bring new and relevant topics in UX and Product Design in events free to attend, and with drinks on us!
This time we meet at Taxfix's offices and the topic is "How to run actionable user interviews"
About the speaker
Nairi is a user researcher who is currently aiming to make her user research more actionable. She's run over 100+ hours of in-depth interviews. She currently works at EGYM as a user researcher and facilitator. She previously worked at AJ&Smart, where she ran, and synthesised in-depth interviews for 11+ design sprints.
About the talk
This talk will cover:
Quick overview of types of in-depth user interviews and when to run them.
Best practices for moderated in-depth user interviews.
How to make the outcomes of user interviews more actionable.
Further resources on how to up your research game.
See you there!