Description
Presented by Hutchinson Builders
THIS EVENT ENTRY FEE INCLUDES ONE FREE GATE PASS FOR THE EKKA SHOWGROUNDS
All event tickets, lanyards, pre-purchased merchandise, swag bags and gate entry passes must be collected from Netherworld prior to heading to the showgrounds. All items can be collected from Netherworld from Monday the 6th of August.
The barcode from each gate pass will be logged to the relevant competitor so gate passes can not be sold, swapped and if lost can be easily cancelled and replaced.
Further information regarding formats, ticketing, sponsors and merchandise can be found at bnepac.org
By purchasing this ticket you agree to abide by the BPAC code of conduct and etiquette guidelines transcribed at bnepac.org/general-etiquette and bnepac.org/pinball-etiquette.
Remember mates:
Yellow and red card system in use throughout the BPAC Showcase
- no load swearing
- aggressive or intimating behaviour
- rage tilting or shoving a machine after a ball has drained
- machine abuse or slapping/hitting the glass or lock-down bar
Also
- have fun
- be kind
- introduce yourself
- the machine you're playing is someones baby
- have fun
- play well
- play fair
- play better
- have fun
- be kind to the TD's
- be kind to the Ekka staff
- be rad
- have fun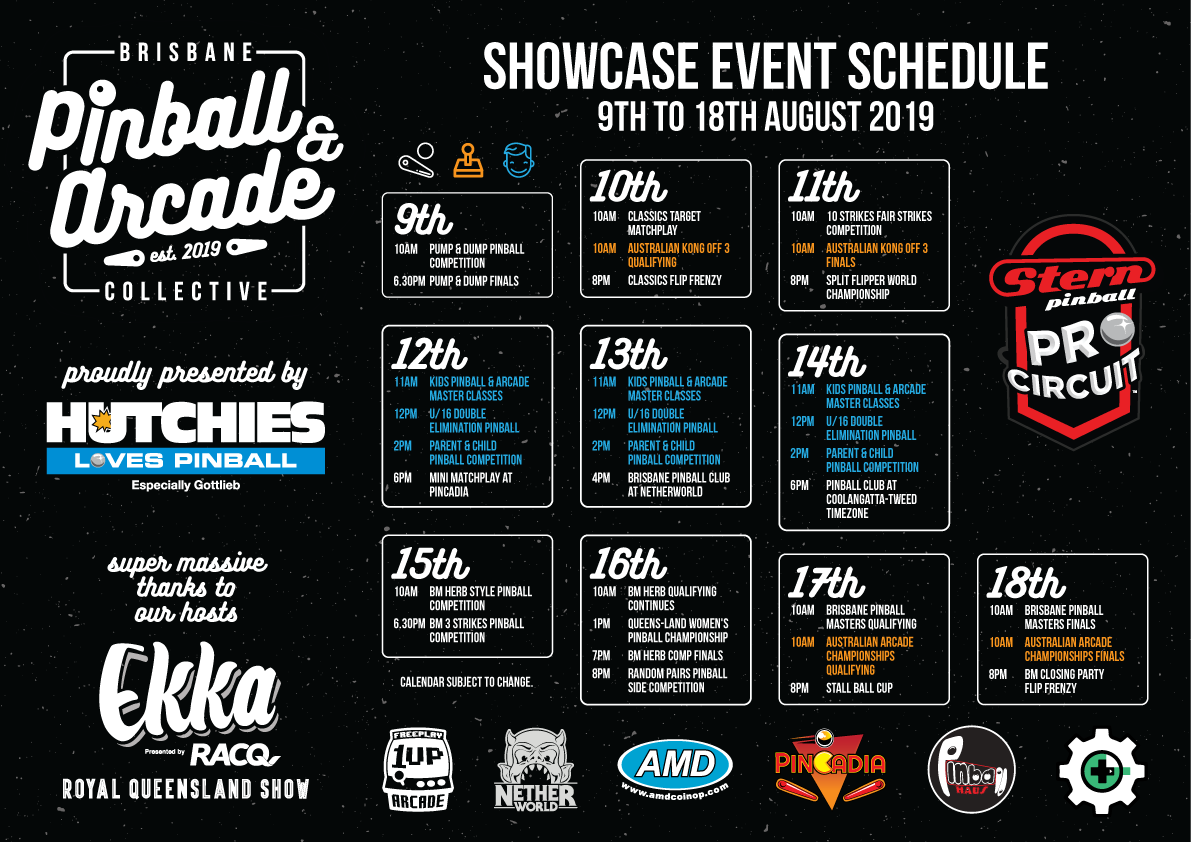 Tournament format details:
- First, each machine is randomly assigned two players. The remaining players are placed in one central queue
When a match is completed:
- the winner returns to the tournament directors desk to record result
- the loser stays on the machine they just played, unless he/she has lost twice consecutively, in which case the winner stays on
- the other players goes to the rear of the queue
- the player staying on the machine moves to the player 1 position
- the player at the front of the queue moves up to compete against the player staying on the machine
- At the end of 3 hours no more games may start. Ties will be broken by the most wins.
- Extra balls and ball saves turned off where possible
- All rulings and malfunctions will be based on the rules for the IFPA World Pinball Championship