Description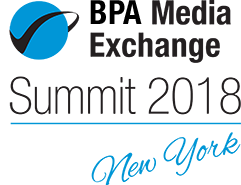 Join BPA Worldwide as we host the BPA Media Exchange Summit: Programmatic 101 – NYC, Friday, September 7, 2018, 8am-4pm at Convene, 101 Park Avenue, New York, NY. A continental breakfast and lunch will be served.
Success in the digital media begins with an informed staff to sell and execute programs that meet the ever-changing demands from advertisers. In this summit, you'll learn practical programmatic insights to engage with your advertisers from sale to activation including programmatic-direct, private marketplaces, account-based marketing and audience extension. The sessions will provide tutorials for publisher implementation as well as demonstrations of the buyer workflow. The highly-interactive program features immersive sessions led by experts from BPA, 614 Group, as well as the Publishing and Advertising communities.
The day's sessions will cover:
The Evolution of Programmatic Advertising

Technologies and Transaction Types

The Value of Data and How it is Used Cooperatively

Automation, Campaign Process and Measurement Strategy

Hands-On Demonstration of the Demand-Side Platform Process

Panel Discussion – The Digital Advertising Ecosystem: A View from Sellers and Buyers

The fee for the Media Exchange Summit is $599 for those with a site(s) that have contracted to participate in the Media Exchange, and $699 for those without a site in the Exchange.
Click on the green REGISTER button to sign up now!
Media Exchange Participants Save $100 On Registration!
Click here to view the event speakers

Agenda:

SUMMIT PROGRAM: MORNING
8:00 AM - 8:30 AM Registration
8:30 AM - 9:15 AM Panel: The View of the Market from Programmatic Buyers Join this panel of leading industry executives shaping the strategies of digital media buying. The panel will offer perspectives on the evolution of digital advertising and vision on buyer expectations and requirements for media partners.
9:15 AM - 10:00 AM Panel: Publisher Sales Strategies Publishers will learn how to talk about programmatic sales with their customers. There's a difference between using programmatic sales as a tactic and programmatic as a sales strategy. You'll benefit from lessons of successful experiences and road blocks to avoid.
10:00 AM - 10:15 AM Networking Break
10:15 AM - 11:15 AM Programmatic: 101
Speaker: Rob Rasko, 614 Group
Attendees will have a chance to learn and ask questions about: First Price / Second Price, Private Marketplaces, Preferred Deals and Deal ID, Programmatic Direct, Understanding the Publisher Waterfall, Price Floors, Header Bidding, Planning & Fore-casting Techniques, Deal Discovery, Optimization Best Practices, and more!
11:15 AM - 12:15 PM 3rd Party Demand
Speakers: David Hills, CEO, Spectrum Media Services and Eric Wheeler, CEO, 33Across One benefit of programmatic advertising for publishers is exposing inventory to advertisers, or demand, generated independently of the publishers' sales teams. These third-party demand channels use a network of pipes to connect and bid on inventory. David and Eric will explain how inventory (or supply) is represented and monetized through these channels.
SUMMIT PROGRAM: AFTERNOON 12:15 PM - 1:00 PM Lunch
1:00 PM - 1:30 PM Demand-Side Platform (DSP) Demonstration A walk-through demonstration of a buyer activation.
1:30 PM - 2:00 PM Supply-Side Platform (SSP) Demonstration
33Across
This "How-To" session will take participants through the implementation, activation and reporting process within an SSP.
2:00 PM - 2:30 PM Monetizing Audience Data
Bombora
Learn how publishers are realizing the benefits of synchronizing site level, non-personally identifiable, audience data. The session will explain how the data is used in anonymity within a cooperative and present use cases to monetize it, including account-based marketing.
2:30 PM - 2:45 PM Networking Break
2:45 PM - 3:45 PM Panel: Buyers and Sellers Idea Exchange Attendees are encouraged to join the panelists in this interactive discussion between mar/tech, media buyers and sellers on how to create a healthier digital media environment.
3:45 PM - 4:00 PM Closing Remarks/Summit Adjournment
NEED LODGING? NEARBY HOTELS INCLUDE:

Affinia Fifty
155 E. 50th St
New York, NY 10022
(212) 751-5710
The Renwick
118 E. 40th St
New York, NY 10016
(212) 687-4875
The Lexington
511 Lexington Avenue
New York, NY 10017
(212) 418-6742
Grand Hyatt Grand Central
109 E 42nd St
New York, NY 10017
(212) 883-1234
Westin Grand Central
212 E 42nd St
New York, NY 10017
(212) 490-8900