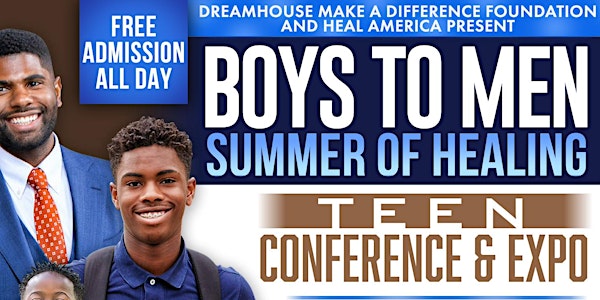 Boys To Men Summer Of Healing Teen Empowerment Conference & Expo
Boys To Men Summer of Healing Teen Empowerment Conference & Expo brought to you by DreamHouse Make A Difference Foundation & Heal America
When and where
Location
Atlanta Metropolitan State College 1630 Metropolitan Parkway Southwest Atlanta, GA 30310
Refund Policy
Contact the organizer to request a refund.
About this event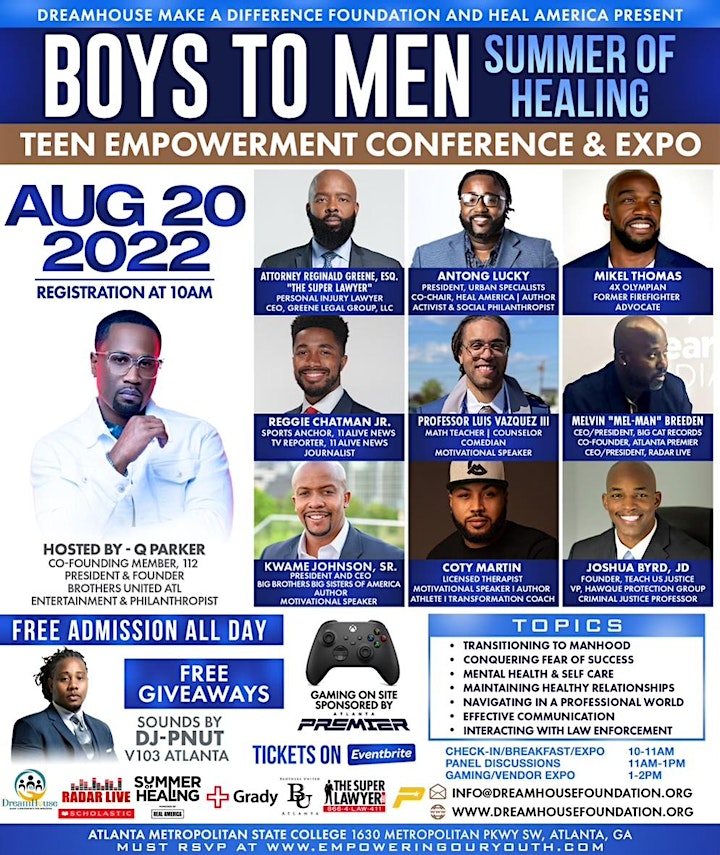 DreamHouse Make A Difference Foundation, in partnership with The Stand Together Foundation and Heal America, are honored to invite you to the Boys To Men Summer Of Healing Teen Conference & Expo happening on August 20, 2022, in Atlanta, GA. The primary purpose of the Boys To Men Summer of Healing Teen Conference & Expo is to empower, develop, and motivate young males (teenage boys ages 11-17) by providing resources, education, and opportunities that maximize their potential for success. The Boys To Men Summer Of Healing Teen Conference & Expo will also provide a safe space for young men to have healing conversations. This event is FREE for all attendees.
The Boys To Men Summer of Healing Conference & Expo will benefit our community's young men of color by providing a safe space for discussing pressing issues affecting our youth. The conference will allow these young men to gather and ask males from all walks of life about what it's like to be a Black man in America and how to navigate society, establishing healthy habits that promote success. The young men will be able to act out real-life situations, such as interacting with the police at a traffic stop. These demonstrations will be led by local law enforcement officials in the Atlanta Metro area.
Topics to be covered include, but are not limited to:
Transitioning to Manhood
Conquering Fear of Success
Mental Health and Self-Care
Maintaining Healthy Relationships
Navigating In A Professional World
Effective Communication
Interacting With Law Enforcement
Speakers:
Hosted by Q Parker - Co-Founding Member of R&B Group 112, Entertainer, Founder and President of Brothers United ATL
Reginald "The Super Lawyer" Greene, Esq. - Attorney, CEO of The Super Lawyer of Greene Legal Group LLC
Antong Lucky - President of Urban Specialists, Co-Chair of Heal America, Activists, Author, Speaker & Social Philanthropist
Mikel Thomas - 4x Olympian, Former Firefighter, Speaker, Advocate)
Professor Luis Vazquez - Math Teacher, Counselor, Comedian
Melvin "Mel-Man: Breeden - CEO/President of Big Cat Records, Co-Founder of Atlanta Premier, CEO/President of Radar Live
Kwame Johnson Sr.- CEO/President of Big Brothers Big Sisters, Author
Reggie Chatman Jr.- Sports Anchor/TV Reporter, 11Alive News
Joshua Byrd - Founder of TEACH US, VP of Hawque Protection Group, Criminal Justice Professor
Coty Martin - Licensed Therapist, Motivational Speaker, Author, Athlete, Transformation Coach
Hosted By DJ PNUT of V103 Atlanta
The highlight activity for the event is a gaming competition sponsored by Atlanta Premier, a professional esports team. Members of Atlanta Premier will also speak to careers in esports. Here's some additional information about Atlanta Premier: https://atlantapremier.gg/merger-between-atlanta-natives-aims-to-fuse-atls-hip-hop-culture-with-competitive-esports/
Sponsors:
***Now accepting sponsor and vendor applications.***
***Ad space in the event program/resource guide are also available for purchase.***
Visit the Boys To Men Summer of Healing Teen Empowerment Conference & Expo Event Page at https://www.empoweringouryouth.com/ to learn more about the event.
For additional information about the event,
Email info@dreamhousefoundation.org for more information.
To learn more about the DreamHouse Make A Difference Foundation, visit https://www.dreamhousefoundation.org/ .