Boys to Men - Equipping Our Children for Success - Temperament to Character
Sales Have Ended
Registrations are closed
Thank you for registering. See you on May 26th!
Sales Have Ended
Registrations are closed
Thank you for registering. See you on May 26th!
Description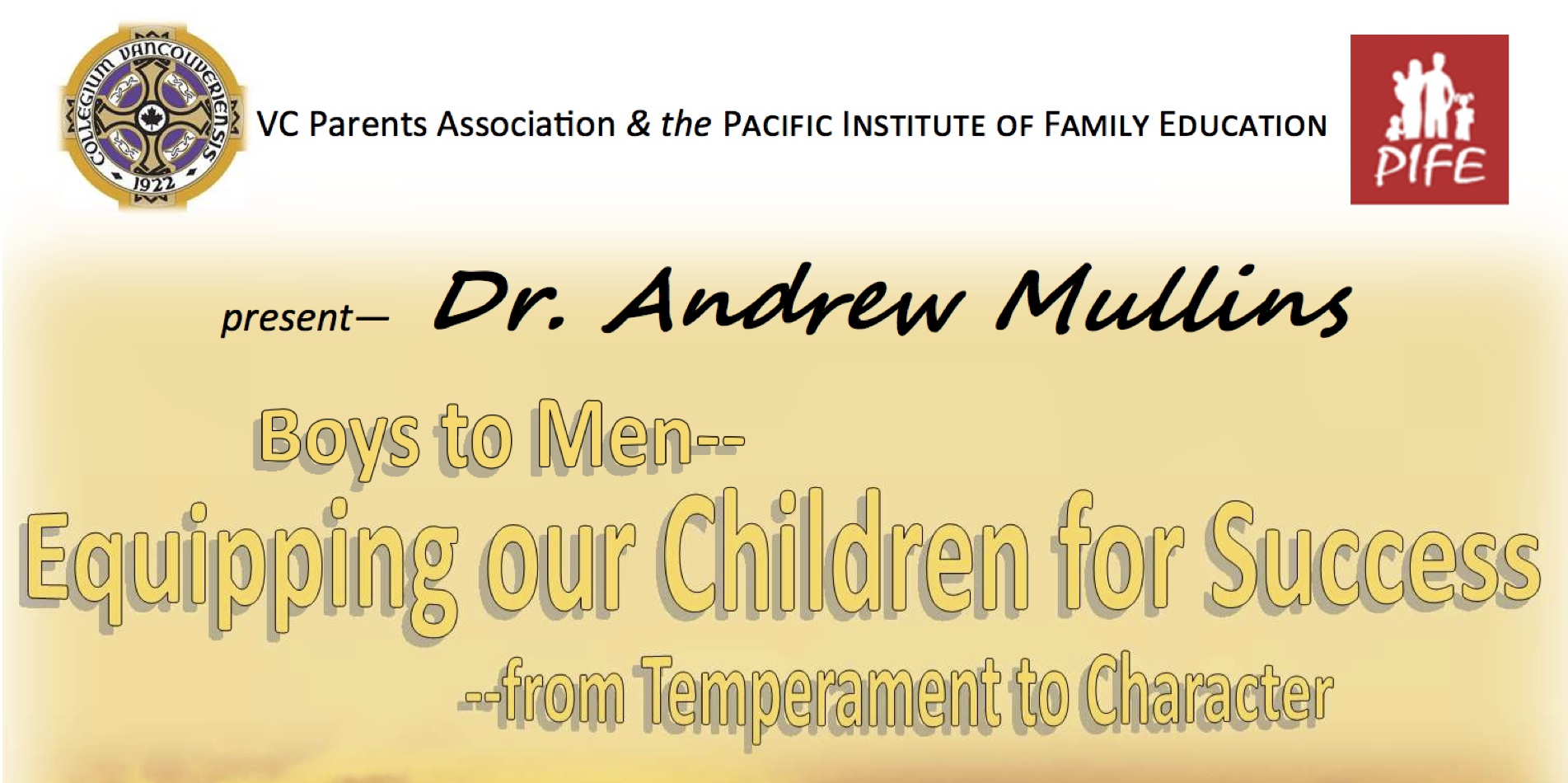 6:30 - 6:45 pm Check-in
6:45 - 8:15 pm Talk and Q&A
8:15 - 9:00 pm Reception
Please REGISTER to ensure you have a seat for this event. Advanced registration will help us plan the appropriate venue at Vancouver College.
Dr. Andrew Mulllins' book Parenting for Character: Equipping Your Child for Life will be available for pre-purchase. Please visit www.pife.ca for details.
Dr. Andrew Mullins' Canadian tour (six cities) is sponsored by Family Development Canada. For more information please visit www.familydevelopment.ca.


Boys to Men - Equipping our Children for Success - from Temperament to Character:
Temperament consists of our genetic and naturally learned behaviours that are with us from infancy; character is the sum total of our good and bad habits; and personality is all we are: our distinctive traits of temperament, our habits, and our talents and preferences.
By temperament one person may be more naturally impatient than another, but by character they might overcome this natural trait with a learned habit. The artform in parenting is to train each child to take full advantage of their temperamental strengths but to overcome the liabilities of their temperament. Dr. Andrew Mullins talk will help us understand how we can raise our boys to men of character exploring the potential that is within them to help others and to succeed in life.
Dr. Andrew Mullins is an Adjunct Associate Professor at University of Notre Dame Australia. He is past Headmaster of Redfield and Wollemi Colleges, in Sydney, and currently on the Board of Harkaway Hills College in Melbourne, all schools of the Parents for Education (PARED) Foundation.
He collaborates with other academic entities, such as the Australian Defence Forces Academy in Canberra, the John Paul II Institute for the Family in Melbourne, and the Universidad International de Cataluña, based in Barcelona. He has given numerous lectures and seminars in Australia and overseas on parenting and character development, and recently was a keynote speaker at the International Federation for Family Development Biennial Conference in Mexico City.
He is the author of Parenting for Character: Equipping Your Child for Life, with editions in several languages. His doctoral studies focused on virtue development and neuroscience.
For more information email office@pife.ca. Please leave your phone number if you would like to be contacted by phone.