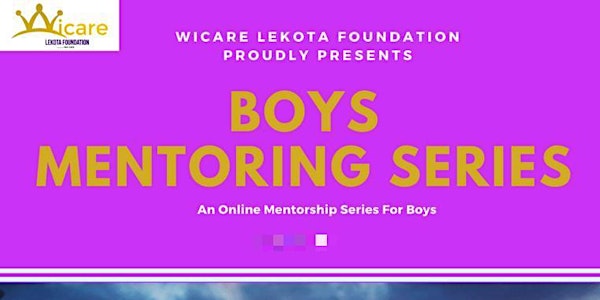 Boys Mentoring Series (An Online Mentorship For Young Boys)
Boys Mentoring Series is an initiative of WiCare Lekota Foundation setup to enable boys to realize their potentials.
About this event
Boys Mentoring Series is a platform setup to promote positive changes and choices in the lives of young boys through mentoring.
We focus on ensuring that young boys develop great self-esteem, become self-reliant, socially competent and capable to embrace the purpose God has designed for them.
Targeted at Young boys within the age of 7-17
Objectives
B-Building
O-Overseeing
Y-Yielding
S-Support
M-Mentoring
E-Edifying
N-Nurturing
T-Tutoring
O-Outstanding
R-Reliable
I-Intentional
N-Noble
G-Growth
What We'll Be Discussing
Role of a man in the home
Emotionally intelligent boy
Manscaping
Avoiding sibling rivalry
Time management
Financial fitness