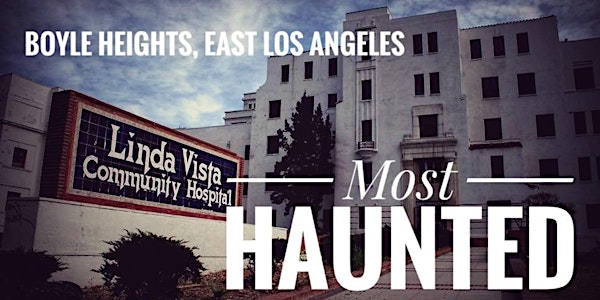 Boyle Heights: Most Haunted
Ghostly Stories from Historic East Los Angeles
When and where
Location
Boyle Heights History Studios and Tours 2026 E. 1st Street Los Angeles, CA 90033
About this event
3 hours 30 minutes

Mobile eTicket
WALKING-TOUR BACK BY POPULAR DEMAND
We are going to be continuing our ghost story and haunted history walking tour series with an exciting new adventure! Join Shmuel Gonzales (the Barrio Boychik), a sixth-generation local, historian and community organizer in Boyle Heights; and founder of BOYLE HEIGHTS HISTORY STUDIOS - our grassroots museum and cultural center. Together we will share the ghostly storytelling of our culturally rich community, and along the way learn how not to be afraid in the dark!
Join me and some of my ghostly storytelling enthusiasts on this all new tour. This time we are going to visit these key historic sites that you have all asked about and that we have only talked about until now. We are also going to swing by some important sites and institutions relating to the diverse ethnic groups of historic Boyle Heights, and reveal some interesting information about how these cultures traditionally handle death and mourning, as well as haunting and poltergeist activity; though all the while focusing on how the people historically related to these sites might have tried to help people's souls rest in peace.
We are going to be taking an evening walk through part of the historic core of Boyle Heights and go past some of these spooky sites:
The Linda Vista Hospital – This building has long been recognized as the most haunted building in America! It was originally opened as a hospital to treat railway workers of the Santa Fe Railroad in 1905. It later became a local hospital with a shady reputation, that ended-up closing in the early 1990s. For many years it remained vacant and run down, and often used to film horror film. We will explore both the facts and the urban legends which sound this site. And how it has been positively reclaimed as low-income housing for seniors.
Hollenbeck Park – One of the most fashionable parks in its day, it is still a central part of the community. And maybe we might even run into the ghosts of silver screen actors such as Laurel and Hardy, who filmed their famous classic film Men 'O War in this very lake!
The Sanatorium and Orphans Home – In the shadow of many beautiful places for people to convalesce in the warm weather of Southern California, sat this Sanitarium with a very dark history and run by madmen doctors. Later on this building got a redeeming second chance, as the location of the Jewish Orphans Home; bringing the first Jewish residents to the neighborhood. We will learn how orphans and senior homes drew many original residents to the neighborhood, and identify these sites. Are there still happy spirits hanging out at these places? We will talk all about that.
Breed Street Elementary – Many children have rumors about their schools being haunted. Did you know that many of our local schools were built on top of old cemeteries or on sites where graves were once moved from? We will talk about this gruesome history together.
The Shrere Synagogue – Boyle Heights was once the largest Jewish community on the West Coast. They had many synagogues great and small, and this was one of the smallest ones. It was also the personal synagogue of the local rabbi who served as the undertaker for the Jewish community of Boyle Heights. Here we will learn a bit about the Jewish traditions regarding death and mourning; and regarding ghosts and malevolent spirits. And we will also talk about reports of local ghostly disturbances, after changes were made to this and other local buildings; we will talk about how it's often said that renovations of old buildings can disturb spirits.
Japanese Hospital – In 1927 local Japanese Americans had to fight all the way to the Supreme Court of the United States to pave the way for this building of this institution. We will talk about the trials of the Japanese American community of Boyle Heights over the years; the figurative ghosts of which still linger with us. And we will also talk about some amazing discoveries over the years, which some believe have helped some dear souls find their rest.
The Little Sisters of the Poor Home for the Aged – Boyle Heights had many homes for senior citizens, caring for the most needy of our society who would have been destitute otherwise. Many senior citizens lived out their final years at local charity homes in Boyle Heights. We will visit the site of one these sites. We will go the to location of the only remaining part of this old home for the elderly run by the nuns; the bell tower which now sits in the middle of a parking lot. We will give everyone a chance to feel the vibes and see if they pick-up on anything!
And we will discuss so much more along the way!
This tour is intended to be both an informative and lighthearted tour. We will embrace both the cultural and oral histories of the neighbor. We will also talk about how in many ethnic traditions there are healthy ways to come to terms with death and to also perpetuate the memories of our loved ones which will live on in us. On this tour will we honor the souls of all those who came before us, and commit ourselves to always helping the souls of our forebears into the Light!
THE WALKING TOUR will begin at 6 pm check-in at BOYLE HEIGHTS HISTORY STUDIOS - located at 2026 E. 1st Street, Los Angeles, 90033.
This is a complete walking tour and you must be able to walk and stand the entire time; there will be no locations for sitting during this walking tour, as we make our way through the community. This will be a 2.4-mile circuit it total, all walking. People in wheelchairs are welcomed, and we will modify our route accordingly.
There will be opportunities to use the bathroom at some of the locations. Do feel free to use the restrooms at our museum before and after our walking tour.
PARKING: We do not have a parking lot. There is limited parking in the neighborhood. Do not park in metered parking, as they only allow 1-hour parking until 8pm and are very strict; the best parking is located on Cummings Street. Our location is walking distance from both of the Gold Line stations, equal distance from Mariachi Plaza and Soto Station. We are located near the corners of St. Louis and 1st Street; across the street from Hollenbeck Police Station. We are on the southwestern corner of the intersection, with a big funky public mural out front.
COVID-19 POLICIES AND PROCEDURES: Due to the coronavirus we are taking precautions in order keep you and our staff safe. In accordance with city and county policy we do require all attendees to wear a mask covering one's mouth and nose during the duration of the tour when within 6-feet of other guests . We are required to maintain social distancing of 6-feet between families, so encourage family units we ask to remain together; this will enable us to maximize the ability for everyone to hear the presentation and see the visuals.
To help people social distance we will be sending you links to our guided tour e-book of historic pictures to enjoy, so no one has to crowd together or every miss a single stunning historical image from our presentation.
REMINDERS: There are no refunds. If you are ill, please stay home and contact to make arrangements to attend a future event.
TERMS AND CONDITIONS: https://www.bhhistorytours.com/terms-and-conditions
The proceeds of this tour go to the funding of our Boyle Heights History Studios - museum and cultural center.