Boy Harsher LIVE in San Francisco. One night only.
About this event
Noise Pop Presents:
Boy Harsher
Hiro Kone
Saturday, February 5th 2022
Gray Area
San Francisco, California
Doors 8 PM / Show 9 PM.
This show is 21+ with ID.
Per city and county of San Francisco policy, proof of full COVID-19 vaccination (two weeks after final dose) required. Masks required indoors when not actively drinking. No exceptions!
Boy Harsher
Since 2014, Boy Harsher have steadily released what some might call the gold standard of darkwave and new industrial. Matthews and Muller met in Savannah, GA while both studying film and their initial interest in music began with cinema. Matthews would write screenplays and Muller would compose scores for the non-existent films. Their first EP, Lesser Man, was originally released on a small run of cassettes, but rapidly gained online traction and became an underground hit. 2016's Yr Body is Nothing LP and 2017's Country Girl EP, propelled the duo into extensive tours and sold out shows across the US and Europe where they became known for their reckless and enveloping live performances. Boy Harsher rode this momentum into 2019's LP Careful, which was praised by NPR Music, Pitchfork, Resident Advisor, VICE and beyond. 

Last year, in the midst of the obvious chaos, but additionally with Matthews' MS diagnosis, Muller started working on moody, cinematic sketches. It was uncertain what these pieces would become other than catharsis — the duo were unable to tour and making "club music" did not feel right. In Matthews' period of convalescence, she kept thinking about a sinister character: a woman running through the woods. Together, the duo developed this idea further into a film that explores lust, compulsion, and the horrific tendencies of seduction.


Featuring the dark pop that Boy Harsher is known for, the album also embraces the soundtrack ethos by including eerie instrumentals with tracks featuring guest vocalists that feel like they are from different musical groups — "Machina" is a HI-NRG homage performed by Mariana Saldaña of BOAN, sung in both Spanish and English. "Autonomy'' is a bright and heartfelt new wave anthem featuring  Cooper B. Handy aka Lucy. Boy Harsher's latest project is a reconciliation of uncertain times made into sound and moving image. The Runner and its soundtrack are both a return to form and an evolution for the duo. 
This month, Boy Harsher will play their first live shows since 2019, including performances at III Points Festival in Miami and Levitation in Austin. A 2022 tour of North America and Europe in support of 'The Runner (Original Soundtrack)' will follow. More information on the release and screenings for The Runner is to come.
Opening set from HIRO KONE (NYC)
Hiro Kone is a New York based musician and producer: she uses a combination of hardware, synths, and modular to cultivate her sound - a visceral meditation on rhythm, noise, and melody that has seen her release on leading experimental labels including DAIS Records and BANK Records. No stranger to manipulating macabre disorientations into enchanting new shapes, her music exposes the unsettling and sublime. Taking a deconstructive approach she is known to draw upon a combination of modular synthesis, noise and field recordings.
Instinctively responding to the precariousness of humanity, Kone's cascades of twisted field recordings find an inherent partner in the effervescent current of synthesis and, in the process, forge new terrains. She often shares stages with her close collaborant Drew McDowall (Coil).
Kone's last record is 'A Fossil Begins To Bray', released on DAIS in November 2019. Described as her most personally narrative work to date, the album uses equal parts melodic sculpture and striking absence to propel a "journey of discovery and self-analysis, proposing a potential reorientation towards absence in hopes of illuminating potential futures." As impactful and rich as any contemporary electronic music with political intent, the record explores the persistent threat of techno-fascism and the potential of reinterpreting our recollection and interpretation of existence.
The album follows 2018's 'Pure Expenditure', which was widely acclaimed by publications including The Quietus ("Hiro Kone cements her position as one of the finest electronic musicians working today"), and Boomkat, who celebrated the album as "stunning." The record's live iteration, premiered at the 2018 edition of Berlin's Atonal Festival, won equally enthusiastic plaudits from Resident Advisor, who selected it as one of the top five performances of the event, owing to a blend of "pulsating industrial rhythms to quiet bouts of ambience… the message comes across in the music's sense of purpose."
She has performed an array of shows in Europe and working on artist residences at Pioneer Works in New York and the prestigious EMS studios in Stockholm. She has recently made appearances at the Red Bull Music Festival in Melbourne, playing live and appearing in conversation, as is a fixture at cutting-edge electronic events including Sustain-Release, Norbergsfestival, LEV Festival and an appearance at MoMA PS1.
Her forthcoming release, "Silvercoat the throng" is due out on DAIS, September 24th. It captures Hiro Kone at the peak of their powers, alchemizing disruption and decomposition into regenerative interior worlds: "Within the darkness and absence is an opportunity for discovery."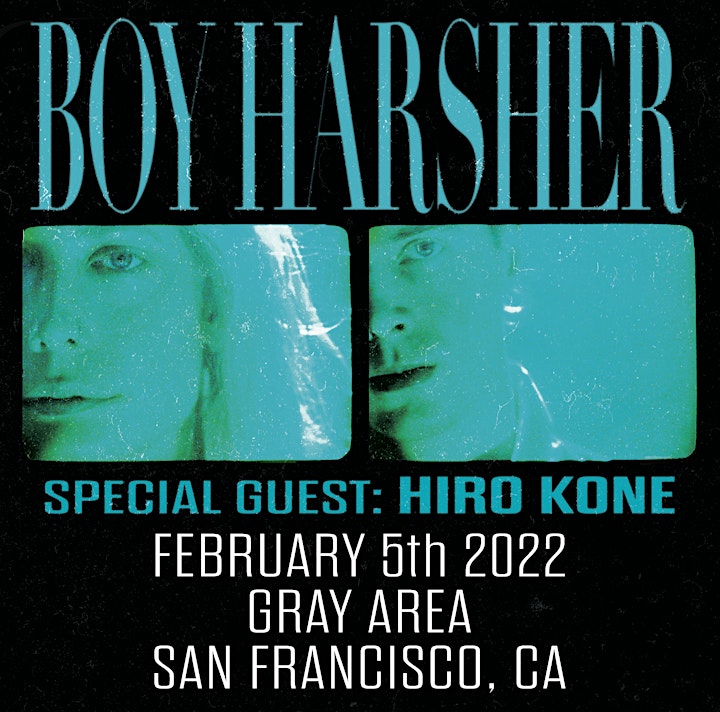 Organizer of Boy Harsher - SOLD OUT!