Event Information
Location
Slowdown (Main Room - Do Not Use)
729 North 14th Street
Omaha, NE 68102-4702
About this Event
If you missed out on tickets, or already have them but can no longer go, try using our Ticket Exchange powered by Lyte to buy/sell tickets to this sold out show!
Good Vibes & High Fives Tour
Doors at 7:00pm
Main Room
Sold out. Thanks!
All ages show. Check entry requirements at http://theslowdown.com/All-Ages
About Bowling for Soup
There's a song on Bowling For Soup's 2014 Greatest Hits Album (Songs People Actually Liked: Volume 1) -"20 Years, That's A Lot Of Beers", a lighthearted autobiographical sprint through all the things the band had achieved together in their first two decades. It's a song full of fun and camaraderie, which sums up Bowling For Soup perfectly; they have always felt like your friends as well a band, and of course, they are the band you can wave to! Well, you can add a whole load more beers to that, because as the band approach their twenty fifth anniversary in the coming Summer of 2019, the world of Bowling For Soup is a very exciting place to be a part of. Natives of Denton, Texas - which may now hold the record for town or city named dropped in the most songs by any band ever thanks to "BFS," Bowling For Soup's unique brand of hooked filled pop punk music has gone all around the world and back again. Songs such as "High School Never Ends," "Punk Rock 101," "1985" and of course the Grammy nominated "Girl All The Bad Guys Want" resonate as much today as when they were written and are proving extremely popular in the modern streaming world.
Finding their niche back in the 1990's would be tough when the musical climate was in serious shift. "We were just the stereotypical, small town guys with nothing else to do - starting a band to keep ourselves out of trouble" recalls frontman Jaret Reddick looking back. There was certainly no trend to follow, every other band seemed to be genre jumping to try and catch "the next big thing" without knowing what "the next big thing was," leaving the members of Bowling For Soup with no option to just go out and have fun. Brought up on a heady diet of 80's John Hughes Movies, LA Hair Metal, Steve Martin comedy routines (which spawned the band's name) and hook laden punk rock, BFS hit the ground running on the simple blueprint - have a good time and pretty soon, everyone else will join in!
Bowling For Soup are a band who've moved with the times throughout a period of turbulence for the music industry. From their DIY roots, through to being on a major record label for many years (Jive Records) and onto setting up their own operation, they are a band who've found success in every way. The last decade has seen Bowling For Soup go on to form their own cottage industry, recording and releasing albums on their own terms. "We're in control of everything now. If we decide we wanna do something, we just do it - we don't need to ask anyone's permission. It also makes you feel super proud when you do something yourself and it's a success," reveals Reddick. Being early adopters of fan funded music, the band have fan interaction to the next level with each project proving more and more rewarding and successful for both the band and their fan base.
The last couple of years have seen Bowling For Soup hit heights equal to when they first truly grabbed the world's attention with Drunk Enough To Dance back in the early 2000's. They returned to the UK with a bang in early 2016 with the huge "How About Another Round Tour" to wild acclaim. The success of that tour brought a new experience for the band with their first ever arena tour in the UK alongside Steel Panther in October of that year, winning rave reviews and proving without a doubt, that even on the largest of stages, a Bowling For Soup show is always intimate and always entertaining. Within days of the arena tour, the band released their most recent studio album Drunk Dynasty. The album was lauded by the fans and the music press on both sides of the Atlantic Ocean alike. If that wasn't enough for one year, they still had time to release their inaugural Acoustic live album and DVD, Acoustic In A Freakin' English Church.
Spring 2017 brought Bowling For Soup's most high profile UK festival slot when they headlined the Fireball Stage at the May bank holiday weekend triple Slam Dunk Festival. They followed this up with the announcement of the return of The Get Happy Tour to the UK for the first time in over a decade. That tour, alongside The Aquabats and Get Happy alumni Army Of Freshmen, was to become Bowling For Soup's biggest ever UK tour, culminating in the band's biggest ever headline show at London's Brixton Academy on the 17th of February 2018. That show was a magical evening that would later become their new live album and DVD (Older, Fatter, Still The Greatest Ever: Live From Brixton). Taking things back to the US for the Summer of 2018, Jaret, Gary and Chris, joined by new bassist Rob Felicetti, went back to their roots by taking part in the final cross country touring edition of the Vans Warped Tour, bringing in enormous crowds no matter what time of day they played on Warped's revolving line up. The end of 2018 saw yet another first, returning to their home-away-from-home for their first ever UK tour in the holiday season, The Almost Christmas Tour.
Plans are in the works to celebrate their 25th anniversary in true Bowling For Soup style in the great state of Texas with full details soon to be announced. After that, there's the small matter of their impending return to the UK's Reading and Leeds Festivals, having not played there since 2003. In an industry that is ever evolving, Bowling For Soup are ready for their next chapter, armed with their infectious personality, they will always be Bowling For Soup you know and love. And let's not forget, they'll always be the band that waves back!
About Less Than Jake
Twenty years into its pioneering journey, Gainesville, Fla., natives Less Than Jake – comprised of lyricist/drummer Vinnie Fiorello, vocalist/guitarist Chris DeMakes, vocalist/bassist Roger Manganelli, saxophonist Peter "JR" Wasilewski, and trombonist Buddy Schaub – have had their fair share of moments. For a band obsessed with interacting with its fans, both online and after shows; for a band that is so concerned with making sure the fan gets the perfect experience, with well-known hijinks in every live performance; for a band with seemingly unlimited creativity in the form of physical products, from custom-made cereal boxes to unique vinyl packaging; and for a band that is so passionate when writing new music, 20 years begins to seem like an even longer amount of time. A lot of moments add up over two decades – teenagers grow into men over two decades – dare we say, things change?
Ever-adapting to the constant change in an unsure music industry, Less Than Jake is still making cannonball-sized splashes in the deep end while many of its peers timidly eye shallow waters. With the release of Greetings And Salutations this sentiment is as true as ever. The twelve-track release recorded at The Moathouse in Gainesville and produced by Less Than Jake's own Roger Lima, includes both limited edition EP's Season's Greetings and Greetings From Less Than Jake plus two unreleased songs.
The twelve tracks are pure unfiltered LTJ, Sunny ska mixed with barn-burner punk rock, more intended to get long-time fans and first-time listeners warmed up and moshing in their living rooms and singing along to every lyric. Keeping its signature mix of punk roots and horn-driven melodies, songs like "A Return To Headphones" and "Finer Points of Forgiveness" take the best of old-school Less Than Jake and put on a fresh coat of paint for an amped-up listening experience.
Drummer Vinnie Fiorello puts the release into perspective "We had been writing music in short creative bursts for the last year but looking back at all the songs they wound up more of a cohesive thought, following the moods of the seasons of the year, from the winter through the summer. Greetings And Salutations is as much moody and tense as it is casual and laid back…"
Greetings And Salutations is the follow up to 2010's TV/EP and the band's last full-length, 2008's GNV FLA and is being released in Europe and the UK via Rude Records on October 16th. With the rest of the year of worldwide touring ahead, the group is still following through on its mission to please the fan, wherever the fan may be. More so than many bands that have been doing this for so long, Less Than Jake continues to provide output that loyal fans love. From a 16-minute EP of TV theme show cover songs to re-releases of their classic back catalog to live shows of genre staples Losing Streak or Hello Rockview in their entirety, Less Than Jake has done it all. Less Than Jake will continue to do it all.
"We're constantly pushing ourselves to come up with new ways to present the band," says Schaub, "whether it be within the writing of our songs, ideas for keeping our live shows fresh, coming up with crazy new merch ideas, or just coming up with the best joke in the van. Keeping your band new and innovative is the key to lasting around for more than a minute in the minds of fans."
As the release of Greetings And Salutations proves, this isn't a band content to rest on the laurels of past success. In fact, 2012 is more about pushing forward and breaking new ground, rather than contemplatively reflecting on the success of yesteryear. A constantly innovative force in the industry, DeMakes says the band has managed to stay around so long by staying true to themselves. "Twenty years of blood, sweat and beers," DeMakes says. "It's been a privilege and a pleasure. We have survived more trends than we can count and have managed, so far, to leave a legacy of music two decades long.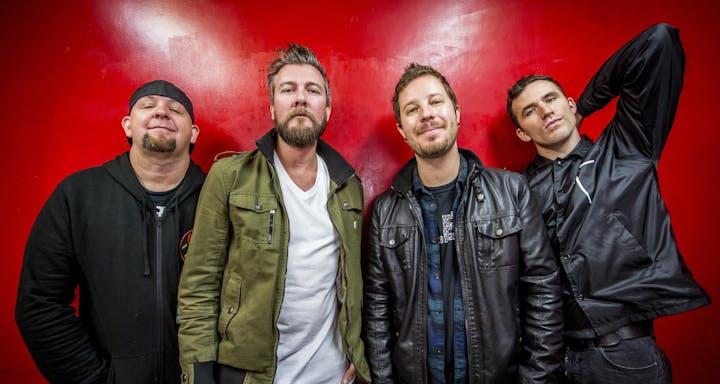 About Authority Zero
Since '94 Authority Zero has brought their unique blend of anthemic melodic-punk, ska, and reggae tone to the masses. A lot has changed in their 20 plus years since the band's inception but they have always found a way to persist and thrive in todays ever-changing music landscape. "It's been a long and adventurous trek", says Jason Devore (singer/songwriter). The band was formed in Mesa, Arizona by a group of high school friends with ample ambition but no lofty expectations of what the project could become. With the release of their debut album, A Passage in Time (2002, Lava Records), the band's career gained momentum and they quickly found themselves on the road, touring extensively with acts such as Pennywise, Sum 41, Flogging Molly, H20, and many more. Over the past ten years Authority Zero has gained international acclaim, spending time on the European festival circuit as well as stints in Australia, Russia, Japan. They have released a total of six full length studio albums, many holding spots on Billboard's Chart and their music has been featured in numerous video games, tv shows, and movie soundtracks. The band's many successes have been accompanied by a few bumps in the road including a slew of line-up changes, music industry letdowns, as well as having their van, trailer and equipment stolen while on tour in Texas. The secret to their longevity is simple; keep it pure and believe in your music.
Now, 24 years since the band's inception, the future remains as bright as ever for Authority Zero, consisting of singer Jason DeVore, bassist Mike Spero, guitarist Dan Aid and drummer Chris Dalley. In June of 2018, the guys got back to work at legendary Fort Collins studio, The Blasting Room (Rise Against, Descendents, NOFX) to record their seventh full length album, Persona Non Grata with producer and iconic punk drummer, Bill Stevenson (Black Flag/Descendents/ALL). "The writing process for recording our new album (Persona Non Grata) was simply awesome. The music and lyrical content came together so organically in such a short amount of time given that our last record, Broadcasting To The Nations, only came out a year ago. Mike, Dan, Chris, and I put our hearts into this one and we are all extremely proud of the work we were able to do as a collective. The music and sound are classic Authority Zero but with a slightly revised approach. For the the fans as well as ourselves we strive to give each record its own individual character and life." Said DeVore.
The new album, Persona Non Grata will be Authority Zero's first self-released studio album and will be available on December 7, 2018. There will be an album release show on December 8th at the Marquee Theater in Tempe, Arizona. The release of Persona Non Grata will be followed by an early spring European Tour in 2019 and a summer headlining tour of the United States.
Performers
Date and Time
Location
Slowdown (Main Room - Do Not Use)
729 North 14th Street
Omaha, NE 68102-4702