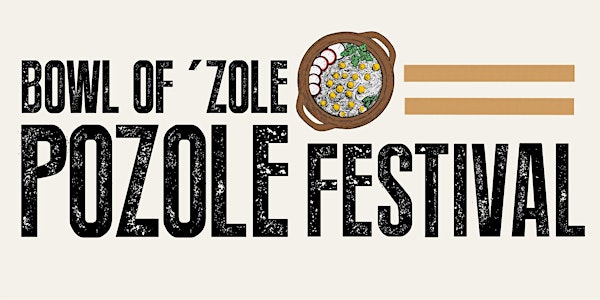 Bowl of 'Zole
A new and original food festival celebrating mezcal and pozole!
When and where
Location
110 Kent Avenue, Williamsburg 110 Kent Avenue Brooklyn, NY 11249
Refund Policy
Contact the organizer to request a refund.
About this event
Food Karma is premiering a new and original food festival curated by Arik Torren, owner of Fidencio Mezcal, and chef, restaurant owner, and cookbook author, Danny Mena.
10 Pozoles and 50 Mezcals
Join us on Saturday February 29 for this first of its kind food festival in Williamsburg, Brooklyn.
Pozole
Far too long has pozole been relegated to the back corner of the menu behind the tacos, ceviches, and guacamole. With this event, we honor this great Mexican comfort food. Similar to ramen, this stew will warm the heart and soul. At Bowl of 'Zole, enjoy 10 flavorful iterations of this Mexican stew made with chicken, seafood, pork and tofu!
Chefs will Include:
Cosme Aguilar, Casa Enrique
Julian Medina, Toloache and La Chula
Danny Mena, La Loncheria
Ivy Stark, Casa Bocado
Fernando Nevas, Balvanera
Luis Arce Mota, La Contenta
Chai Trivedi, Kitsch, Indigo Williamsburg
Gonzalo Rivera, La Esquina
Ivan Garcia, Mesa Coyoacan
Hugo Orozco, Las Santas
Fany Gerson, La Newyorkina
Mezcal
Bringing together top importers, this event will feature 50 distinct bottles of mezcal. Get to know this flavorful and smoky agave spirit, distilled using in-ground fire pits. Celebrate the modern renaissance of this ancient beverage when you sample products from 10+ producers.
Brands will Include:
Del Maguey Mezcal
Tequila Fortaleza
Mezcal Wahaka
Mezcal El Buho
Mezcal Los Vecinos
Mezcal El Silencio
Skurnik Wines and Spirits
Mezcal Mayalen
Mezcal Siete Misterios
Mezcal Ilegal
Priess Imports: Mezcal Espiritu Lauro and Sotol Coyote
Mezcal Montelobos: Mezcal Montelobos and Ancho Reyes
Back Roads Imports: Mezcal Bañuelos, Raicilla Bonete, Bacanora Yawee
Sampson and Surrey: Mezcal Vago and Tequila Ocho
Haas Brothers: Mezcal Don Amado, Mezcal Mina Real, Tequila Arte Nom
Mezcales de Leyenda: Mezcales de Leyenda, Mezcal Peleton de la Muerte, Sotol Fabriquero
Fidencio Mezcal: Mezcal Fidencio, Mezcal Derrumbes, Raicilla La Venenosa, Bacanora Rancho Tepua and Sotol La Hiuera
Sombra: Mezcal Sombra and Tequila Astra
Laika Spirits: Sotol Flor Desierto, Mezcal Cruz del Fuego
More Food
Just Add Beer Sauce
Cheese with Rocketfuel Gotsauce
Craft Beer and Wine
Allende Beer
Jabali Beer
VOS Selections - Baja Wine
Monte Xanic
Tickets:
General Admission: $55 - All Inclusive Access to Food and Drink
VIP: $125: Early admit at 12pm that includes a guided mezcal tasting at 12:15pm as well as early access to chefs,. Plus receive a copy of Danny Mena's "Made in Mexico" cookbook.
No Refunds.
Rain or Shine.
21+
About Event Curators Arik Torren & Danny Mena
Arik Torren
After 20 years of front of the house experience in the restaurant business, Arik launched his own mezcal brand Fidencio Mezcal in 2009. Now in 2020, his portfolio, Fidencio Sprits offers Traditional Mexican Spirits made by 19 Maestros, from 24 species and 10 states...and counting.
Danny Mena
Mexico City-born Danny Mena began at New York landmarks Blue Hill and The Modern before opening Hecho en Dumbo in 2010 and La Lonchería in Brooklyn's Bushwick neighborhood in 2017.
In his new book, Made in Mexico, Dany Mena mixes recipes inspired by Mexico City street food, local eateries, and multi-starred restaurants, combining regional traditions and global trends. Each recipe is inspired by a different Mexico City restaurant, and in more than 100 dishes, Danny Mena shows American home cooks the depth and diversity of true Mexican cooking in the capital city.
Read More
Timeout: "New York gains Bowl of 'Zole festival on February 29th. The event in Williamsburg will have pozole and mezcal to try and is curated, in part, by Mena, with chefs Gerson, Ivy Stark (Casa Bocado and Time Out Market New York vendor), Cosme Aguilar (Casa Enrique) and more."
Grub Street: 10 Excellent Things To Eat, Drink, and Do in NYC This Februray: "1. Go to a festival that's all about pozole and mezcal. Pozole is one of of Mexico's favorite dishes, a pork and hominy soup that inspires obsession and longing. The New York chefs Danny Mena and Fany Gerson are so obsessed they recently launched the pozole pop-up La Pozoleria, and now Mena is doing one better: He's curating the first Bowl of 'Zole in Williamsburg, a February 29 festival dedicated entirely to pozole and, for good measure, mezcal."
Gothamist: Best Things To Do In NYC This Week: "Warm yourself up at Bowl of 'Zole, a feast of Mexican comfort food and drinks. The star of the day is pozole, a hearty stew made with hominy, greens, and a variety of meats (with vegetarian options too, of course), prepared by 10 different chefs including Casa Enrique's Cosme Aguilar, Toloache and La Chula's Julian Medina, La Loncheria's Danny Mena, and Casa Bocado's Ivy Stark. To wash it down, there will be 50 different smoky mezcals, an ancient beverage traditionally distilled in in-ground fire pits."
Bklyner: Bklyner: Celebrate Pozole at Bowl of 'Zole Festival this Saturday in Williamsburg: "Chef Danny Mena and Arik Torren, both veterans of the New York City mezcal and restaurant scenes, wanted to create an event that elevated mezcal and pozole, both of which tangibly represent the regional diversity of Mexico's cuisine. They called up Jimmy Carbone, a seasoned event producer, to help bring it to fruition."
Beer Sessions Radio: Tastes from Mexico: Mezcal and Pozole: In honor of the upcoming Bowl of 'Zole Festival, Jimmy talks about the festival's featured food and drink: pozole and mezcal. He is joined by one of Bowl of 'Zole's curators, Arik Torren of Fidencio Spirits, in addition to Leslie Vinyard of Roberta's Pizza and Chris Crowley of Grub Street.
Bowl of 'Zole is Proud to Partner with City Harvest
Part of this event's proceeds and food will got to City Harvest, New York City's largest food rescue organization. City Harvest will rescue 66 million pounds of food this year and deliver it free of charge to hundreds of food pantries, soup kitchens, and other community food programs, helping to feed the nearly 1.2 million New Yorkers struggling to put meals on their tables. Learn more.