Sales Have Ended
Registrations are closed
To schedule your appointment, please call: 808-284-9298, email: mrbabes@gmail.com, or visit: BowieShowie.com
Sales Have Ended
Registrations are closed
To schedule your appointment, please call: 808-284-9298, email: mrbabes@gmail.com, or visit: BowieShowie.com
About this Event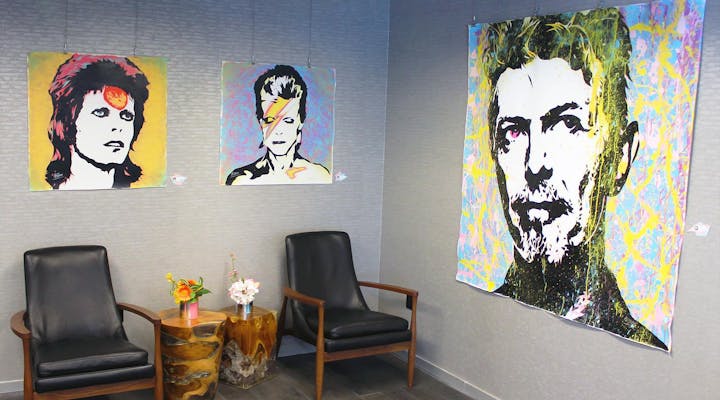 MR.BABES & Intelligent Design Present: "BOWIE-to-BOWIE: An Exhibition Of Sound & Vision"
Downtown Miami, Florida: Opening June 2nd, 2019 at The Intelligent Design Center in Downtown Miami, "BOWIE-to-BOWIE" is an exclusive, appointment-only, visual and musical celebration of the many changes of David Bowie. Artist MR.BABES has created 21 new paintings of Bowie's most celebrated personas, as well as a few lesser-known characters for the die-hard enthusiast. Complementing the artwork, Intelligent Design will be showcasing music videos and movies spanning David Bowie's entire career, on 8 screens and 80 speakers, across their state-of-the-art showroom.
About MR.BABES: James "Babes" Kopp (b.1983), professionally known as MR.BABES, is a Miami-based neo-pop artist whose vibrant paintings are exhibited and collected around the world. After receiving his BFA from The Art Institute of Fort Lauderdale, Kopp found 15 years of notable success across South Florida as an investment art broker, fine art educator, and gallery curator. During this time, he privately developed and sold his own artwork under the alias MR.BABES. With a clear influence and adoration of '80s and '90s pop culture, MR.BABES vividly captures the heroes and icons of his youth on canvas. The artist's unique style of painting is a colorful fusion of pop, expressionism, and street genres (e.g. Andy Warhol, Jean-Michel Basquiat). Every work of MR.BABES art is original, hand painted, and one of a kind.
About Intelligent Design: Intelligent Design is a full-service custom electronics company located in Miami, Florida, providing the best in entertainment, comfort, convenience, and security technologies found in intelligent homes. Each easy-to-use system is designed from the ground up, based on the individual needs and desires of the customer, as well as the dynamics of each project, whether modest or highly sophisticated. Intelligent Design works hand-in-hand with the client and all related trades to ensure seamless integration into homes, yachts, and offices.
For appointments and more information, please call: 808-284-9298, email: mrbabes@gmail.com, or visit: BowieShowie.com