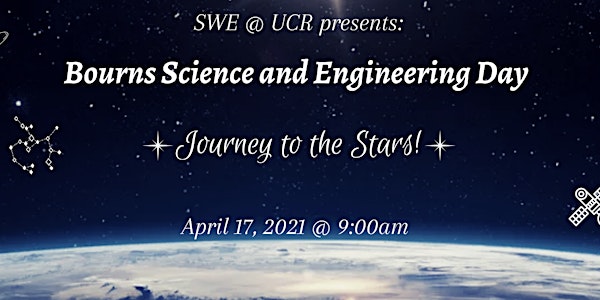 Bourns Science and Engineering Day
Bourns Science and Engineering Day (BSED)
About this event
What is Bourns Science and Engineering Day?
Bourns Science and Engineering Day (BSED) is UCR's biggest STEAM outreach event geared towards K-8 students, but all who are interested in learning more about engineering are welcome to come.
This year, BSED will be held online through Zoom to maintain social distancing. There will be demonstrations of fun and academic activities, guest speakers with Q&A sessions, coding workshops, and fun games for students to participate in.
Our theme this year is BSED 2021: Journey to the Stars, focusing on space science and becoming curious about understanding the unknown!
Time: 9AM - 12PM
Facebook Page: https://www.facebook.com/bournsengineeringda
*Please order a ticket for each individual that will be attending and write the attendee's name on the order form.
Materials Needed:
Zoom account that is up-to-date (https://zoom.us/download), a device to access Zoom (i.e laptop, phone, ipad, etc.) Camera is optional.
No other specific supplies will be needed for this event. Just be present and have fun!