An online, interactive tasting looking at the differences between Bourbon, Scotch, and Irish Whiskies.
About this Event
Interactive and engaging, the Bourbon, Scotch, and Irish Whisk(e)y Tasting is the perfect class for whisk(e)y newbies and those who are interested in learning more about different styles of whisk(e)y than what they're used to drinking.
Join Julia Menn, WSET and Whisky Ambassador Certified owner of The Wee Tipple, LLC, as we learn about and taste the differences between Bourbon, Scotch, and Irish Whiskies. From local laws and histories to grains, distillation techniques, and noted styles, participants will gain solid knowledge of these three pillars of the whisk(e)y industry, and have a great time doing it! Participants will also receive a fun pdf workbook, aroma guide, and tasting sheets.
This isn't your typical whiskey webinar, where you watch someone taste and talk. Julia's performance background connects her with participants in a fresh new way, inviting questions and a shared experience.
Normally a $25 value, I'm excited to offer this class at a 40% discount - making it only $15!!
Class sizes are kept small to encourage group interaction, so book now!
What Participants are Saying:
Not only is Julia knowledgeable, but her enthusiasm for the topic makes the experience so much fun! - Karen
If you want to learn about whiskey, she is the person to go to. It's a fun and engaging time. - Jonathan
We joined one of Julia's Whiskey tasting group classes with a sub-group of 5 friends, in separate locations. It was a fun thing that we could do "together" without being in the same room. Very informative & a fun social interaction for our personal group within the context of a larger group! Highly recommend! - Wade & Annette
DO I NEED TO BUY THE WHISKIES PRESENTED?
You don't have to but it is encouraged! The whiskies I've chosen are all widely available in half bottle sizes (and minis!), so no worries about splurging on a full bottle you might not enjoy. But you're also welcome to bring whatever Bourbon, Scotch, and Irish whiskies you have on hand.
Bottles I'll be tasting: Maker's Mark, Glenfiddich 12, and Jameson.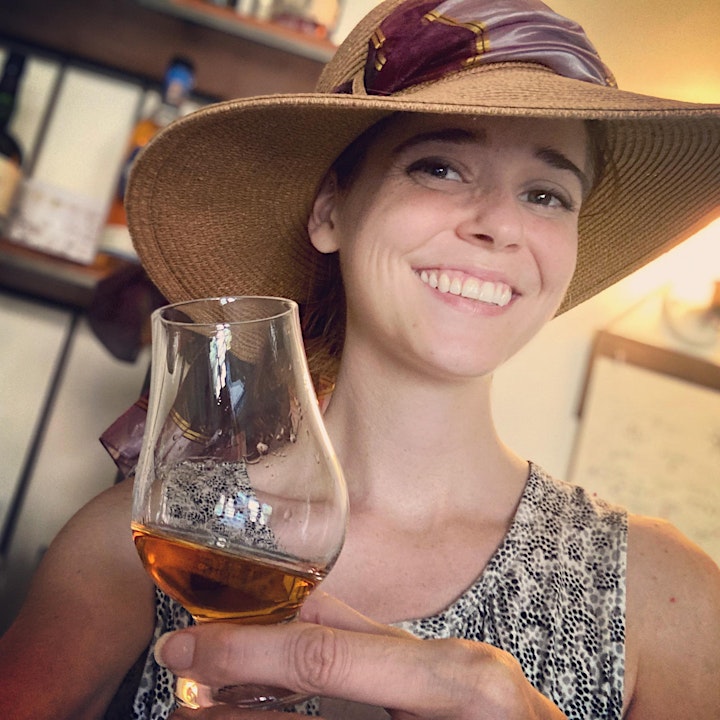 PLEASE NOTE: Class capacity is limited due to the interactive nature - participation is highly encouraged, so if you are interested, please book ASAP. Booking is required to participate. After registering via Eventbrite, participants will be emailed a Zoom access link to enter the class.
For the latest Tipple, please visit the website.
- - - - - - - - - - - - - - - - - - - - - - - - -
FREQUENTLY ASKED QUESTIONS:
HOW DOES THE CLASS WORK?
At the scheduled class date and time, you will enter a virtual classroom via the Zoom link provided. (More on Zoom below)
HOW LONG WILL IT LAST?
Each class is approximately 1.5hrs and is using Eastern Time. This provides ample opportunity to go over the material while allowing for participant interaction and questions.
WHAT TECHNOLOGY IS NEEDED FOR THE CLASS?
You will need an internet connection and the ability to stream audio and video to participate. Your confirmation email will include the link and details on how to join the Zoom webinar.
HOW DO I ENTER THE CLASS?
To access your class, you will be sent a Zoom link to the email address you provided when purchasing your ticket, along with a meeting ID and password. By clicking on the link, you will automatically be prompted to open Zoom and join the class. Everyone is encouraged to join the class a few minutes early to ensure that you have a good connection with Zoom.
DO I NEED A ZOOM ACCOUNT TO PARTICIPATE?
No, you will not need to register for a Zoom account to join. Simply click to "Join the meeting" via the link provided. You will be prompted to download and install the Zoom app. Once downloaded, open the Zoom program you will need to give Zoom access to your computer/phone microphone and camera. When you are ready to join the class, select "Join with Video" and "Join Audio" buttons in the bottom left corner of the Zoom application.
WHAT IS THE REFUND POLICY?
All ticket sales are final. If you're not able to attend, please reach out to DrinkUp@TheWeeTippleLLC.com to see if there's another date you can transfer to or to at least open up the available slot on the day you were scheduled to attend.
IS JULIA ON SOCIAL MEDIA?
She sure is! Follow her on Instagram, Youtube, and Facebook for fun news, videos, and articles!
MAILING LIST:
By registering for a The Wee Tipple, LLC event, you agree to be added to our mailing list in order to receive class notifications and updates, along with other news and promotional materials. You are able to opt out of this at any time via the link at the bottom of each email.
DISCLAIMER:
Please drink responsibly. These virtual tastings are open only to those 21-years-of-age and older. By registering for any of The Wee Tipple, LLC events, you agree to assume any risk that is associated with participating in the event and release The Wee Tipple, LLC and its representatives from any and all claims of injury, damage, and loss that may be as a result of participation.
Date and Time
Location
Refund Policy