About this Event
Doors at 8. Main show starts at 9 sharp.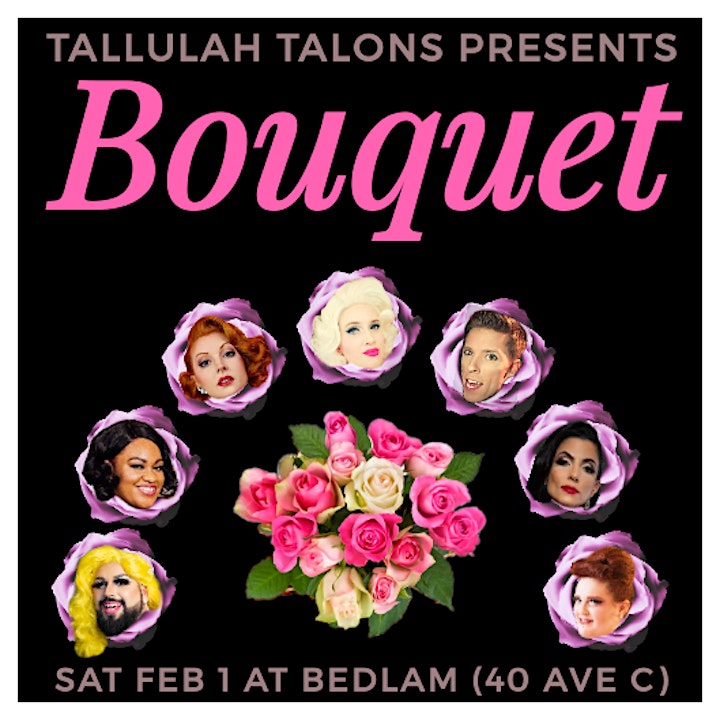 Featuring...
ANGELICA LAVALIER, a glamorous, tattooed showgirl known for her high sparkle costumes and classic fan dances. Her world class performances have been featured in the 2019 London Burlesque Festival, The Vermont Burlesque Festival, and The Visionary Tattoo Arts Festival.
TWINKY BOOTS, who was crowned NYC's best boylesque artist at the 2018 Gay Nightlife Awards, has appeared at the 2019 New York Burlesque Festival, and co-produces a critically acclaimed revue called Members Only Boylesque. His jaw dropping routines showcase his technical dance ability and naughty sense of humor. 
ROSIE TULIPS, the alter ego of a professional ballerina with credits including several national ballet companies and a cameo in the movie Black Swan. She'll be performing a ballet-infused striptease en pointe in our show. 
 RITA N. WINK, burlesque performer, costumer, and living ray of sunshine in perfect Rubenesque feminine form. She's appeared at the Capital Burlesque Expo in Ottawa, the Oklahoma Burlesque Festival, the Empire Burlesque Festival, the New Jersey Burlesque Festival, the Vermont Burlesque Festival, and at the Caput Mundi International Burlesque Awards in Rome. 
 TEMPLE GRANDE, the hirsute honey and the reigning queen of the NYC Gay Men's Chorus. This bearded babe will wow you with a sultry sing and strip routine.
TALLULAH TALONS, 6'1 glamazon and cabaret diva, will be your singing mistress of ceremonies. She produces critically acclaimed shows at Bedlam including Gills Gills Gills and The Cha Cha Show. She appears regularly at The Slipper Room, Coney Island's long running Burlesque At The Beach series, and Sid Gold's Request Room. 
 SUSIE DAHL, our stage kitten, is a published pinup model and professional makeup artist. She's a Viva East Pinup Pageant winner and was recently featured in The New York Post.