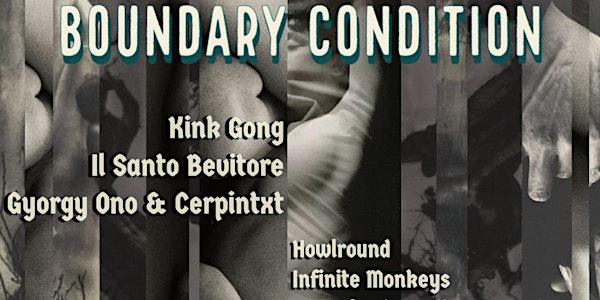 Boundary Condition: Kink Gong / Howlround / Gyorgy Ono
Location
IKLECTIK
20 Carlisle Lane
London
SE1 7LG
United Kingdom
Refund policy
Contact the organiser to request a refund.
Eventbrite's fee is nonrefundable.
Durational sonic immersion for the rabidly sentimental: investigating the parallelization between dark-jazz, hauntology, and music concrete
About this event
Boundary Condition engulfs the collective mass longing for a past that never was, through studies in its sonic materialization stretching across the hyper-romantic limbo of post-Lynchian Darkjazz, the flickering scenarios and found sounds of Musique Concrète, and inert cyclicality of hauntological loops, projecting the residue of all that which could have been, as prosthetic sentiments. Via post instrument instrumentals, permutated compositions, site responsivity, missing fundamentals, severe interdependence, and retrograding structures.
In a hybrid of duo live-sets, TV installations, and immersive projections, this episode includes CV-controlled turntables, generative & interdependent performance, text-sound, percussive electronics, vocal compositions, augmented acoustics and mud-drenched drone, set up in a candlelit, projection-heavy sleeping seating within the AMOENUS 17-speakers quadrophonic sound system.
Ticketholders for this event will be given free entry to 'Boundary Condition: Hardcore Ambient Edition' at Boat.Live on 9th June https://fb.me/e/3csHKpN7i
Line-up:
Kink Gong
Under the name KINK GONG you find two activities, the first one is to record ethnic minority music mostly in south-east Asia, the second is to transform, collage, recompose the original recordings into experimental soundscapes. Since 1999, over many trips to Southeast Asia, KINK GONG has documented the local music traditions of ethnic minorities whose cultures are threatened by modernisation. He collects and compiles these unedited recordings into an ever-growing audiovisual archive. With extensive releases depicting vivid sonic landscapes, he uses these recordings, which focus mostly on vocal and percussion music, as the starting point for his emotionally-charged electronic experiments. Excerpts of this archival work are published on the labels Discrepant, Sublime Frequencies and his own label.
https://www.discrepant.net/artists/kink-gong/
https://kinkgong.bandcamp.com/music
Howlround
Howlround is a quintet (four slightly battered machines machines, one slightly battered operator in the shape of sound artist Robin The Fog) that create recordings and performances entirely from manipulating natural acoustic sounds on vintage reel-to-reel tape machines, with all additional effects or artificial reverb strictly forbidden. Howlround's live events are always a spectacle in which haunting and uncanny soundscapes are created – part sound design, part chaotic performance art. Their records have been compared to William Basinski (who I toured with in 2015), Burial and Selected Ambient Works-era Aphex Twin. Robin produces sound designs for several BBC Radio 4 dramas, broadcast packages for Radio 4 and BBC World Service, as well as contributions to Radio 3's Between The Ears, ABC Australia, NTS, and many more.
http://www.howlround.co.uk/
https://robinthefog.com/video/
Il Santo Bevitore: Water & Tears album launch (Opal Tapes)
Nicola Serra is an Italian born musician, producer, sound engineer and drummer based in London. Active in the DIY electronic scene since 2013, Nicola's music explores experimental approaches in electronic music, blending different genres and musical styles such as noise, drone, ambient, electroacoustic, extreme metal among others. He's the founder and curator of Dronica, renowned East-London DIY experimental sound-art festival, which has been featured over the years on established press and radio stations such as The Wire and NTS, to name a few.
http://www.nicolaserra.co.uk/il-santo-bevitore/
https://opaltapes.com/album/water-and-tears
Gyorgy Ono
Gyorgy Ono is a Georgian artist whose work explores fragmentation through a spice of occult exotica from spoken word, hissy cassette experiments, and slithery snake rhythms amongst blissfully delinquent ambiances of borrowed sounds. A timelessness arises from this sonic archaeology, whether in his audiovisual Netil radio 'Icarus Blue' residency, curation of the diverse and genre-spanning Creatures rave, or all the rogue frequencies he traces from thin air
https://soundcloud.com/gyorgy-ono
https://vimeo.com/user91277231
Cerpintxt
Cerpintxt is an electroacoustic and darkjazz post-ape progress report from the cosmic madhouse, through the medium of voice, auto-destruction, wind-guided experiments in protoconversation. Her work is concerned with generating an invented language of a particular strain of softness through phonetic entropy and augmented instrumentation.
https://www.youtube.com/watch?v=Kb-zM3GwuBQ https://youtu.be/UYnnezFrpOA
Ruben Sonnoli
Ruben is an Italian key and synth performer, trained as a jazz pianist but fascinated by electronic music, he combines harmonic and melodic material with electronic processing and samples
https://www.rubensonnoli.com/bio
Iris Colomb & Nik Yourknots
Iris Colomb is a poet, artist, performer, curator, editor, and translator based in London. Her practice explores various relationships between visual and verbal forms of text through projects involving performance, book objects, improvisation, and experimental translation.
Nik Yourknots is an internationally recognised rope artist and educator. Nik's versatile work ranges from photo and video to performance and installation art. His interests reach beyond bondage to include poetry, dance, sound and video design, all of which feed into his work as a shibari artist.
https://vimeo.com/384761575
Infinite Monkeys
Infinite Monkeys Theorem states that monkeys with projectors, synthesizers and an infinite amount of time could produce an AV version of "Selected Music From Washing Machines 85-92". This theorem was tried in real life, but only for a month. The seven monkeys involved produced 9 minutes of cow sounds, slammed projectors and synthesizers with a stone and ate 21kg of bananas. Infinite Monkeys will try the theorem again live at IKLECTIK. The Monkeys performing on the show will be available for adoption, please adopt a Monkey, and bring one to your home after the show.
https://www.youtube.com/watch?v=2jkQE5wW0bY
Tom White
Tom White's multidisciplinary practice spreads across sound, moving image, installation and live performance. Past projects include commissions and appearances for Radiophrenia, Glasgow (CCA); BRAUBLFF (KRAAK & De Player); Whitechapel Gallery, London & Colour out of Space Festival, Brighton. He won the British Composer Award in 2014 (Sonic Art) for Public Address, commissioned by South London Gallery.
https://www.youtube.com/watch?v=nluRD6sRQ2k&t=22s
Tom Richards
Tom Richards is an artist and instrument designer walking the line between sonic art, sculpture and music. Richards researched the work of Daphne Oram, culminating in a functional build of Mini Oramics, which she conceptualised over 40 years ago but never realised during her lifetime: a machine that can translate drawings into sound and compositions. Richards' own output often features textured, evolving, polyrhythmic improvisations. He has performed and shown works throughout the UK – including CTM, Tate Britain and the Queen Elizabeth Hall – in the USA, Germany, Peru, Japan, and Sweden.
https://www.youtube.com/watch?v=I__qe0vfB6Y
The Seer
The Seer is a multimedia live performance that blends music, theatre, video art and performance. The project is based on unpublished writings that narrate the story of a prophet living in the Four realms of the Earth, floating between homeric myths, memoirs and dreamscapes. The Seer was nominated by Red Bull Academy as one of the "7 women audiovisual artists pushing boundaries and challenging perceptions." The Seer was also named by The Quietus as part of the "New Weird Britannia" music phenomenon.
https://www.youtube.com/.../UCNzvTSYx_F_KT1_mDaN6p5A/videos
Listening Circuits
Tarik is an artist interested in sound. Originally from Slovenia and currently based in the UK. In his creative practice, Tarik explores the possibilities of listening through field recording, experimental music and performative installation. He focuses on the therapeutic properties of listening and sound engagement, which he often translates into participatory group performances or free improvisations with handmade music instruments from recycled material.
https://listeningcircuits.bandcamp.com/
MAW
Theresa Elflein is a German-born composer, vocalist, producer and sound artist currently based in Leipzig, after spending her formative years in London, Brighton and Cambridge. As a member of art pop projects MAW and AMORE MEOW, she has released numerous self-produced recordings and toured across Europe. Katie Gerardine O'Neill is an artist from Dublin, Ireland. O'Neill's experimental sound combines voice, field recordings, analogue recorders, and electronics.
www.collidinglines.com/team/theresa-elflein
www.katie-oneill.com
Bubble People
Bubble People is a neo-psychedelic electronica act from London, UK. Jasper Sdougos has 10 years of performance experience, previously appearing at Iklectik, H0L0 NYC, Limelight Belfast & Gonzo Club Zurich. His euphoric live set veers through a Utopian miasma, recalibrating the listener's sense of self-worth
http://bubblepeople.co.uk/
Sin Of The Father
Sin Of The Father is London based Dj and graphic designer. Exploring elements of brutality and beauty through art and sound to create a rich contrast of visceral emotions. Firstly a visual artist, working within mediums of collage work and digital manipulation, his approach to DJing is much in the same vein, exploring depths of power electronics, noise, ambience and sampling various characters of religious rhetoric go create a narrative which represents the project in all facets.
https://soundcloud.com/marco-conway
Marina (DJ Set)
Ross (DJ Set)