Description
A Sustainability Panel Featuring the Leading Green Minds and Thought Leaders in Colorado
We're bringing our sustainability talks to Boulder! We're hosting the first ever Boulder Green Forum at Niche Coworking to discuss sustainability via a panel of green thought leaders. Plus, we'll be featuring local green businesses from Boulder and Colorado exhibiting at the event. Exhibitors include Zeal Optics, SolarCity, Americas Latino Eco Festival, Be Zero, PACE (Partners for a Clean Environment), and Boulder Food Rescue. Plus, you'll be able to try (and take home) some of Justin's Almond Butter!
Green Happy Hour
The first hour of the event, from 5:30 - 6:30 pm, will be a networking happy hour featuring local green business with free food from Aloy Modern Thai and free drinks. Come network with a room full of like-minded people, including business owners and citizens like yourself who care about sustainability and the environment.
CU Student Discount
CU Students get 60% off tickets! Purchase your tickets here, then show your CU student ID at the door of the event. This deal is reserved for University of Colorado Students only!
Panelists for the Event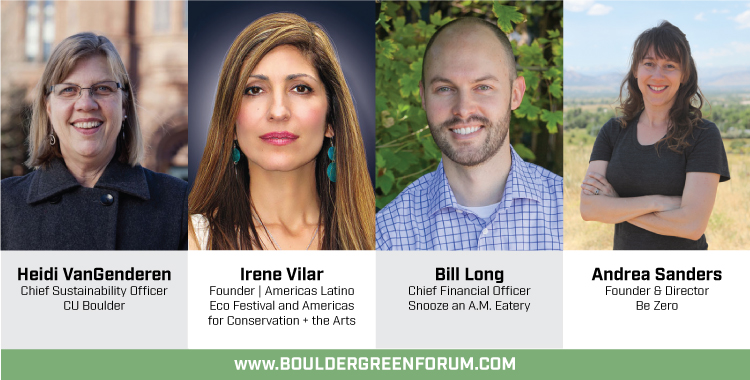 Heidi VanGenderen | Chief Sustainability Officer for the University of Colorado Boulder
Irene Vilar | Founder, Americas Latino Eco Festival and Americas for Conservation + The Arts
Bill Long | Chief Financial Offier, Snooze an A.M. Eatery
Andrea Sanders | Director & Founder, BeZero.org
Where
The event will be held at Niche Workspaces Spaces in Boulder. Niche is located at 944 Pearl St. (Alley Entrance), Boulder, Colorado, 80302.
From the Team That Brings You the Denver Green Forum
This event is put on by the same team that brings you the quarterly Denver Green Forum! Visit our website for photos and videos from our previous events and to get more information about our events.
Sponsors
Thanks to our sponsors at Davies Media Design, Zeal Optics, Justin's Nut Butter, and Aloy Modern Thai for helping to make this event possible!
Own a sustainable company and want to reach more like-minded customers? Have a sustainability initiative and want to raise awareness? Become a sponsor for our August 3rd event!