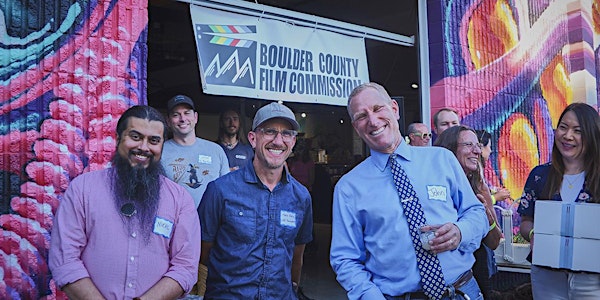 Boulder County Film Commission Fall Schmoozer!
Film Industry Night - meet fellow crewpeople, hear from industry professionals, and demo some cool gear!
When and where
Location
5450 Western Ave 5450 Western Avenue Boulder, CO 80301
About this event
Film Industry Night Fall Schmoozer - meet fellow crewpeople, hear from industry professionals, and demo some cool gear!
Join your fellow filmmakers, videographers, actors & actresses, content creators, grips, gaffers, audio engineers, hair & make-up artists, video editors, still photographers, musicians, and more for an exciting evening on October 26th!
The Boulder County Film Commission will be holding its next big event on October 26th from 5pm to 7:30pm, with a special appearance by Donald Zuckerman, the Colorado Film Commissioner, talking about the State's filmmaker production incentives, along with a presentation by award-winning cinematographer Meryem Ersoz, discussing her career in filmmaking and her company Blackwing. In addition, Boulder's Pro Photo Rental will also be on hand with a large variety of equipment for all types of creators, including cameras, lighting, motion control, and audio production - so you can demo some really cool production hardware that evening! The event takes place at 5450 Western Ave, near 55th and Arapahoe, in Boulder.
The event is free and is a great opportunity for anyone working - or thinking about working - in the film and video industry, as there will be plenty of time for networking and making contacts. This is especially important for all the production SUPPORT SERVICES - hotels, restaurants, caterers, filming "locations", etc. Hors d'oeuvres and beverages are provided, and as a special surprise, some AMAZING raffle prizes!
Food and beverage provided by Pro Photo Rental, desserts provided by Nothing Bundt Cakes, and the space is provided by Westland Development. Special thanks to Coupe Studios and Tom Parkin Films.
Due to space requirements and local liquor licensing laws, you must pre-register here in order to attend!
Since 1985, the Boulder County Film Commission has worked with a wide variety of producers, directors, and production companies to help ensure that their projects go smoothly.
(Photo below: Blackwing ASL's off-road pursuit vehicle photographs the villainous Ned Harris, played by Redmond Ramos, for TV pilot "Raven & Blackjack", created by Boulder County filmmaker Meryem Ersoz, in a scene shot at the Yellow Barn Farm in North Boulder. Photo by Devon Wycoff.)