BOUKMAN EKSPERYANS & ZILI MISIK LIVE IN BOSTON SAT.APRIL.2010

Saturday, April 24, 2010 at 6:00 PM

-

Sunday, April 25, 2010 at 1:30 AM (EDT)
Event Details
Media Contact:
Wan Pierre-Louis
Telephone: 617-308-4634 Wan1978@gmail.com
 Kenia Selamy
Telephone: 617-821-0451
E-mail: Kselamy@comcast.net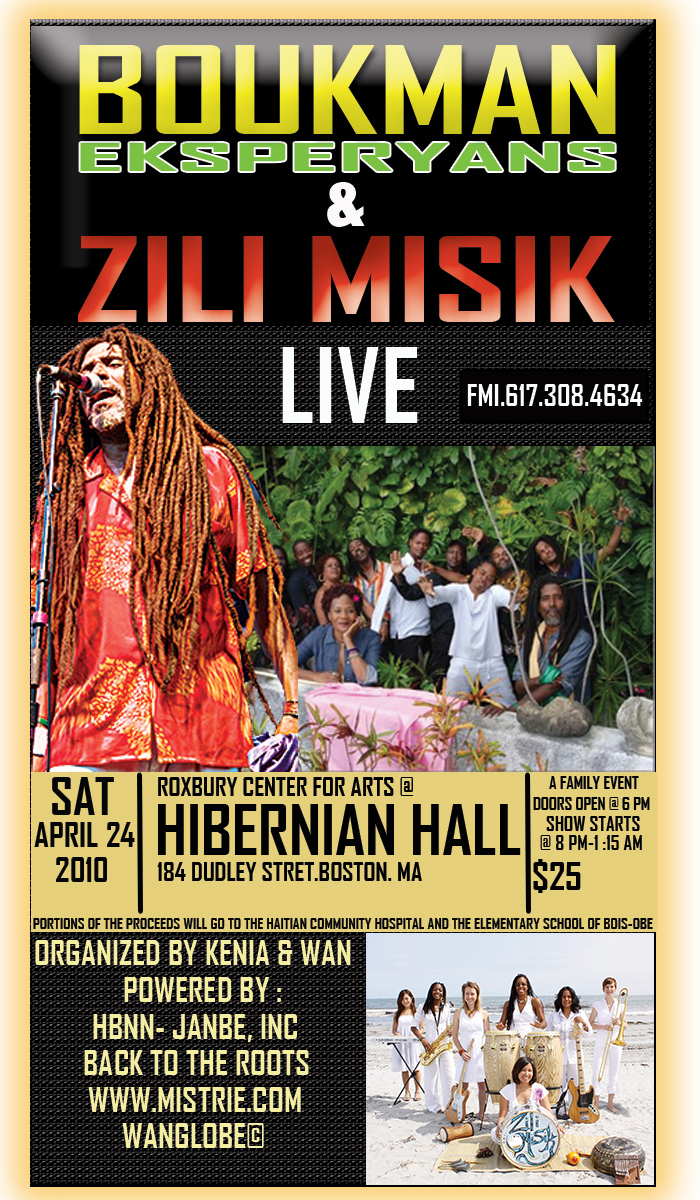 Benefit concert for Haiti with Grammy Nominated Boukman Eksperyans and  Zili Misik, Boston Phoenix and FNX's Boston Best World Music Band 2008 and 2009.
BOSTON, MA, April 7, 2010 - Concerned Haitians and Haitian-Americans will gather to celebrate Haitian culture and its people through a fundraising effort with Boukman Eksperyans, Zili Mizik, and JANBE to be held on April 24, 2010 at the Roxbury Center for Arts at Hibernian Hall in Roxbury, MA.  The Grammy-nominated group, Boukman Eksperyans, is known worldwide for its roots music that celebrates Haiti's rich cultural history.  This benefit will bring together artists, the Haitian community and friends of Haiti to raise funds for two organizations, Haitian Community Hospital and an elementary school, Ecole Mixte Maranatha de Bois-Obe in Leogane, Haiti.
Kenia Selamy, a certified public accountant, and Wan Pierre-Louis, the organizers for this benefit have chosen the hospital and school, for the main reason that these organizations have fallen  off the radar of the ongoing relief work in Haiti.  Ms. Selamy reflects, "We've chosen two organizations that were doing remarkable work in Haiti before the earthquake struck.  Port-au-Prince has received most of the international aid that has flowed into Haiti.  Leogane where the elementary school is found, is located mere miles from the epicenter, but has received little aid.  We want to make sure that organizations such as the hospital and elementary school will be able to continue aiding their communities."
The benefit concert will go from 6:00 PM  to 1:30 AM at the Roxbury Center for Arts at Hibernian Hall in Roxbury.  Tickets for this event will go on sale on Thursday April 7, 2010 and will also be available at local businesses.
                                                    Featured Organizations
THE HAITIAN COMMUNITY HOSPITAL
Built in 1984, the Haitian Community Hospital is managed by the Haitian Health and Education Foundation (FHASE), a non-government and non-profit foundation created in 1972. Through its public health programs, outpatient clinics, and 75-bed inpatient hospital, HCH has provided quality care to upwards of 80,000 people annually. It is committed to and accessible to the most disadvantaged sections of the area. Given its geographic position and services, Haitian Community Hospital aims to serve a population of 250,000 people, mainly from the communes of Pétion-ville (283,052 inhabitants) and Delmas (679,650 inhabitants)
Contact info:
L'Hôpital de la Communauté Haïtienne
Rue Audant, Rte de Frères
Frères, Haiti
Office (509) 2513-0983 * Cell: (509) 3464-0788

ELEMENTARY SCHOOL OF BOIS-OBE.
Bois-Obe is a rural section of Leogane, a city located about 30 miles west of Port-au-Prince, Haiti. Getting an education is a daily struggle and the children there have to walk 8-10 miles in order to find a good school. Jean Claude Charlet visited the area in 2003 and took the initiative to help by establishing a school there in Bois-Obe. The school opened its doors in 2005 and started classes in a rented house serving 40 students.  The school hired four teachers and a caretaker. The school has since grown from 40 students to 211 students and has been struggling to keep its doors open. The school relies on donations from friends and a small fee paid by the few parents who can afford to. The school was greatly affected by the earthquake and has had to take in many more students even though it was already over capacity before the quake.
Contact info:
Ecole Mixte Maranatha de Bois-Obe
Jean Claude Charlet, Executive Director
Boston-617-506-8283
Cell(617) 291-0498
Jacques Rigaud Louis, Assistant Director
509-3493-8454
509-3798-0328
 
Sponsor Organization
For the past 3 years JANBE was blessed to run a dance institute at ENARTS, the National School of the Arts, located in the center of Port Au Prince. As a cultural institution ENARTS maintained a strong legacy of creating artists who have shared the cultural vibrancy of Haiti throughout the world. Many Haitian visual and performing artists who studied at ENARTS have gone on to become renowned artists in Europe and the United States.  Our program recognizes the importance and richness of ENARTS and that is why we have housed our summer program there and hope that the future allows us to continue to be based at ENARTS.
Haiti is in dire need of help. Food and medical concerns are foremost. At the same time the rebuilding of Haiti's fine institutions is just as important. The arts has always fed the spirit of our people and ENARTS is necessary now. The needs of Haiti are grand and numerous today. Let us find a way to pull together and contribute as much as we can.
All of the organizations mentioned above serve Haiti and Haitians in different capacities but the goal is the same, to lift the spirits of the country and its people. It is in this spirit that we celebrate the people and the culture while providing tangible help to rebuilding Haiti.
Donations to the 2 featured organizations
§       Portion of the proceeds from ticket sales after expenses will be donated to the 2 featured organizations.
§       100% of funds collected from vendors participating on the day of the event. Vendors will sell items in exchange for a donation that will go directly to the 2 organizations featured at this event.
§       Sponsors-100% of funds collected from corporate and individual sponsors
 
Interested in being a sponsor:
If you or your organization is interested in being a sponsor for this event, please contact Kenia Selamy at 617-821-0451 or at kselamy@comcast.net for more information.  We have both corporate and individual sponsorship opportunities.
To purchase tickets
Tickets go on sale online on Thursday April 7, 2010 and will also be available at local businesses.
Organized by:
Kenia Selamy, CPA
Sponsor and Logistics Contact
617-821-0451

Wan Pierre-Louis
Vendor, Media and Advertising Contact
617-308-4634
Powered by
HBNN-Pyramid Sound, Back to the Roots, wangloge©, Boston For Haiti on Facebook, JANBE, Inc, Roxbury Center for Arts at Hibernian Hall and others..
Have questions about BOUKMAN EKSPERYANS & ZILI MISIK LIVE IN BOSTON SAT.APRIL.2010?
Contact Wan & Kenia
When & Where

184 Dudley Street

Boston, MA


Saturday, April 24, 2010 at 6:00 PM

-

Sunday, April 25, 2010 at 1:30 AM (EDT)
Add to my calendar