Description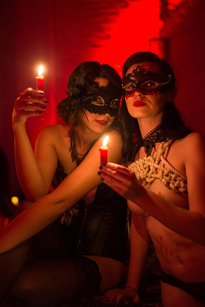 This NYE we are going back in time to Tuileries Palace in Paris, where, on Dec. 31, 1856, Napoleon III threw a most lavishly decadent ball in honor of his mistress, the Countess of Castiglione!

In attendance were dignitaries from around the globe, the city's most beautiful courtesans, carefully selected by La Païva, and many of the bohemian artists and poets of Paris, including Charles Baudelaire (who was about to publish Les Fleurs du Mal), Édouard Manet (had opened his studio a few months earlier), Théophile Gautier (the quintessential bohemian) and Eugène Delacroix.

Join us on Dec. 31 for a night where standard conventions and behaviors are thrown out the door, where everyone is an artist, and is free to be whoever they wish.

Have you ever wanted to escape, to get lost in a foreign land, take a new name, and indulge in the exotic?

For one night we will put on the most exotic outfits and dance with our eyes closed, paint our flesh as though it were a canvass, drip hot wax onto a living sculpture, lay on persian rugs and lounge on bedouin throw pillows.

Boudoir Bohéme is a night of immersive performances, interactive art installations, live music, dancing, and intimate interactions: careful, you might get whisked away by one of our artists to reveal your innermost desires…Join in intimate rituals, mischief, mirth, and luxuriate in a luscious atmosphere complete with all the characters from your most colorful dreams…

This is a night like you've never experienced before. Throw all social mores out the window and dance with a total stranger. Act like an artist from French Bohemia. Wear a mask and take a new name. Become your alter ego. Travel across oceans without ever having to leave…

Immersive Performances
Shibari Rope Bondage Demonstration
Shibari Rope Swing Installation
Hot Wax Play Stations
Naked Fruit Platter
Kidnappings and Intimate One-on-One Interactions
Roaming Spankers & Grape Feeders
Sensual Rituals
Massage Station
VIP Pillow Lounge
Live Musical Performances

Dress code strictly enforced: Tuxedo and bow tie for gentlemen; lingerie, evening gown or thematic costume for ladies.

This event is 21+ | All ticket sales are final

The address of the venue will be sent to you via email on Sunday, Dec. 31, before 3:00 p.m.

You will be required to sign a liability waiver before entering the venue. We reserve the right to deny entry and issue a refund if we believe you are not a suitable participant. You will be denied entry without a refund if you don't observe our dress code, and will be asked to leave if you behave improperly inside the venue.

No cameras are allowed inside the venue. You may take cell phone pictures of yourself only. If you wish to photograph other people, you must first obtain their express consent. Please respect everyone's desire for privacy.
CONSENT RULE
Boudoir Bohéme provides a safe space where people can play and explore their sensuality without pressure or fear of being judged. Our number one goal is the participants' safety, which is why we have the Consent Rule. If you want to get friendly and touch someone, ask first. Obtain the other person's express consent before establishing any type of physical contact.
By the same token, if someone violates the Consent Rule, or in any way makes you feel uncomfortable, let them know your boundaries and ask them to stop. If that doesn't work, let us know so we may immediately address the situation. We have zero tolerance for improper behavior at Boudoir Bohéme.