Description
Federal law allows businesses to pay people with disabilities less than minimum wage. This provision was created to encourage employers to hire people with disabilities, giving them the chance to work in and contribute to their communities.

Instead, it has led to thousands of people with disabilities being employed in sheltered workshops, where they are segregated from their communities and are paid subminimum wages. Nearly 250,000 people are legally paid less than the minimum wage—on average, less than $2 an hour.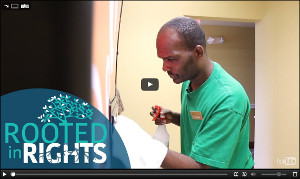 Rooted in Rights, a project of Disability Rights Washington, produced a one-hour documentary on the sheltered workshops and the subminimum wages. "Bottom Dollars" also features programs that have worked to get people with disabilities into competitive employment with fair wages.

Join us for a screening and panel discussion.
Date and Time
Location
Winston-Salem State University
601 South Martin Luther King Junior Drive
Anderson Conference Center, at the corner of Reynolds Park Road and Price Street
Winston-Salem, NC 27110