Bottlerocket's Free Whisk(e)y February Is Back! Free Tastings Every day
Description
JOIN US FOR OUR FIFTH ANNUAL WHISK(E)Y MONTH
EVERY DAY IN FEBRUARY
Do you know what rhymes with February? Whiskey. And lots of it. Whether you're a whiskey enthusiast or a newcomer to the spirit, join us every day in February to taste and learn.
Taste over 65 whiskies in 28 days. Sample whiskies from around the globe: American small-batch bourbons and ryes, smooth Irish whiskies, peaty Scotches, and local craft-distilled treats.
Every day is free to all (of legal drinking age, of course) from 5-8pm. Stop by for a few days or all 28. Taste some great whiskies and educate your palate during dreary February.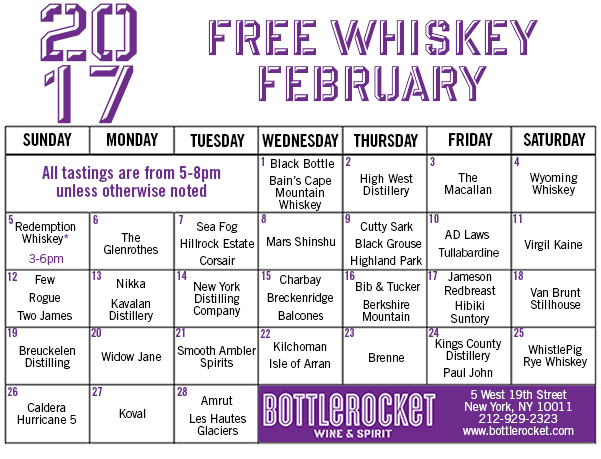 A calendar detailing which spirits will be poured each day can be found on the Bottlerocket website.